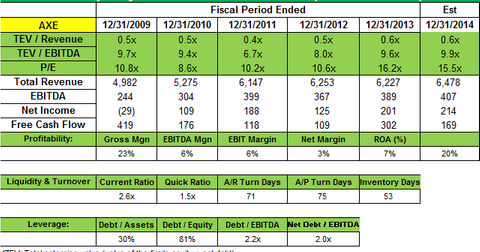 Millennium Management adds new position in Anixter International
By Samantha Nielson

Updated
Millennium Management and Anixter International
Millennium Management has top new positions in Rice Energy Inc. (RICE) and Anixter International Inc. (AXE). Positions were increased in PPL Corp. (PPL), Devon Energy (DVN), Teva Pharmaceuticals (TEVA), and Edison International (EIX).
Millennium Management initiated a new position in Anixter International Inc. (AXE), which accounted for 0.13% of the fund's portfolio.
Article continues below advertisement
Anixter is one of the leading distributors of enterprise cabling and security solutions, electrical and electronic wire and cable products, OEM Supply fasteners, and other small parts. It has four business segments: Enterprise Cabling and Security Solutions, Electrical and Electronic Wire and Cable, OEM Supply, and Corporate. The company is backed by Chicago real-estate mogul Sam Zell.
Anixter notes in its annual filing that, "Our growth strategy is built on a foundation of organic growth driven by constant refresh and expansion of our product and solution offerings to meet changing marketplace needs. Organic growth will periodically be supplemented with acquisitions where the benefits associated with geographic expansion, market penetration or new product line additions are weighted in favor of 'buying versus building.'" The company said that the 2012 mid-year acquisition of Jorvex, a Peruvian wire and  cable distributor, added $60.7 million of sales during fiscal 2013.
Anixter rumored to be up for sale
Unconfirmed reports earlier this year noted that Anixter, the datacom wire and cable distribution giant, has hired Goldman Sachs to find a buyer. An April report on Bloomberg noted that the sale has been "stalled" as it is unable to attract buyers due to a high asking price. The article didn't cite a confirmed source and added that Anixter was looking at offers above $115 per share. French electrical-equipment distributor Rexel SA (RXL) and some private-equity funds had expressed interest for Anixter, the report added.
First quarter revenue increases but misses estimates
Article continues below advertisement
For 1Q14, Anixter's results beat on earnings, but missed on revenue. It reported sales of $1.52 billion for the quarter ending April 4, 2014—a 2.2% increase compared to the year-ago quarter. Adjusted net income for the current quarter was $47.8 million and earnings per share (or EPS) was $1.44—an increase of 12.5% from the prior year quarter. Anister said, "Steadily improving market trends in all of our segments fueled strong performance, particularly in our OEM Supply—Fasteners segment and across all segments in Europe and Emerging Markets."
Among segments, the Electrical and Electronic Wire and Cable segment saw a slight drop in sales due to a decline of approximately 10% in the average price of copper. As a result, global sales decreased by 4.7% versus the 4Q13, largely due to severe weather impacting the North American business in January and February. Enterprise Cabling and Security Solutions sales of $760.1 million was up 2% driven by strong growth in European and emerging markets, combined with an improvement in its core U.S. enterprise cabling business. Security sales, which represent approximately 26% of total segment sales, increased slightly in the quarter. OEM Supply-Fasteners sales of $249.5 million was slightly up from $228 million in the prior year period reflecting the continued increase in customer production levels combined with incremental sales to new customers.
Anixter expects mid-single digit organic growth in 2014
For fiscal year 2014, Anixter said it expects mid-single digit organic growth, compared to a 0.5% decrease in organic sales for 2013. The management commented that, "We have taken aggressive measures to align our cost structure with the current economic environment, while continuing to invest in our strategic growth initiatives, including security, emerging markets, industrial communication and control, in-building wireless, and e-commerce."
In November last year, the company's board declared a special dividend of $5 per common share, or approximately $166.5 million, as a return of excess capital to shareholders.