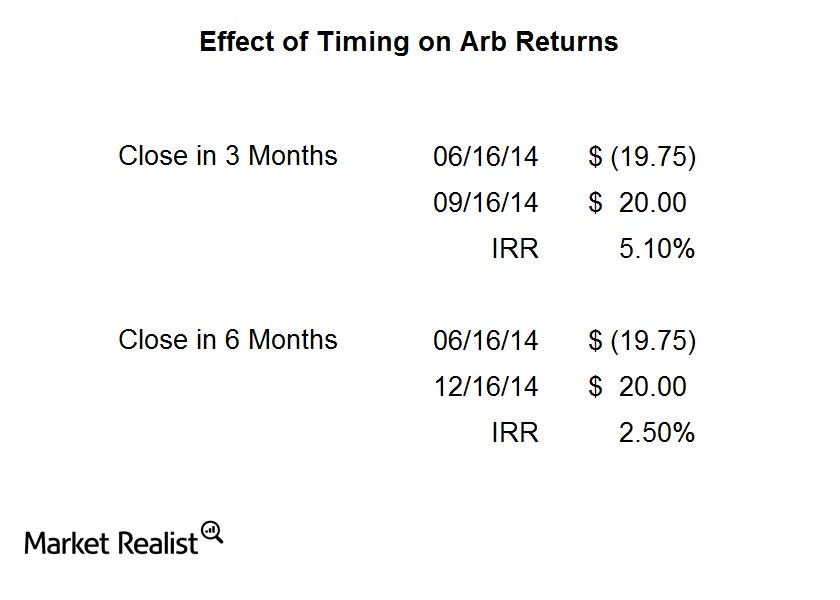 Merger must-knows: The typical timeline for a friendly deal
By Brent Nyitray, CFA, MBA

Apr. 29 2015, Updated 4:59 p.m. ET
The typical timeline for a friendly announced deal
Typically, approaches end up with a deal. Why? The target board of directors has a fiduciary duty to shareholders to get the best price for the company. So once a company is "in play," the board of the target has a responsibility to get the best price for the company. So what's the typical merger arbitrage timeline? The answer: it depends. A cash tender in a highly fragmented industry can be consummated in as few as 45 days. A deal in the regulated utility space can take anywhere from 18 months to two years. As you can see from the chart below, getting the timing right is critical.
Day 1
Article continues below advertisement
Once the companies have shaken hands and agreed on a deal, there will be a press release (usually emanating from the buyer, but sometimes it's a joint press release) that announces the terms of the deal, the strategic rationale, and other important points. If you look on Edgar, it will typically be an 8K. The buyer will usually host a conference call explaining why the deal is happening. Arbs will typically start setting up a position based on the announcement, although they don't usually go to a full position right away.
The next few days
The full merger agreement is released. This will contain all of the important terms of the deal, including the conditions necessary for the deal to close, the required governmental approvals, the representations and warranties for buyer and seller, and most importantly, the material adverse change (usually abbreviated as the "MAC clause"), which spells out the conditions where either party can can walk away from the deal as well as the breakup fee (if any).
The first month
During this period, the parties will make the required regulatory filings. The most common filing is HSR (the Hart Scott Rodino Act of 1976), which is a notification to the government that's required for every deal over a certain threshold. In some highly regulated industries, like banking and utilities, there are other necessary regulatory filings. If the buyer is foreign, there may be a CFIUS (Committee on Foreign Investment in the United States) filing, which looks at the national interest of the deal.
Current deals
Right now, the biggest deals on Wall Street are between Time Warner (TWC) and Comcast (CMCSA) and between DirectTV (DTV) and AT&T (T). Investors who want to invest in M&A deals via an ETF should look at the IndexIQ ETF (MNA).
For access to premium risk arbitrage content, please email singh@marketrealist.com.