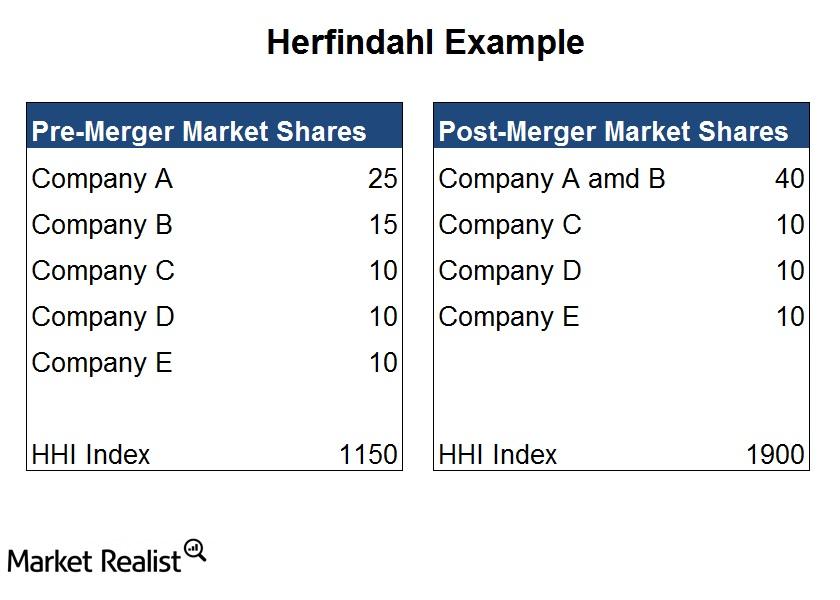 Merger arbitrage must-knows: The basics of antitrust analysis
By Brent Nyitray, CFA, MBA

Apr. 29 2015, Updated 5:00 p.m. ET
Antitrust
Antitrust is usually the biggest risk for a deal to break. All mergers over a certain dollar threshold must pass muster from the antitrust authorities in the U.S. and if they do business overseas, the antitrust authorities there.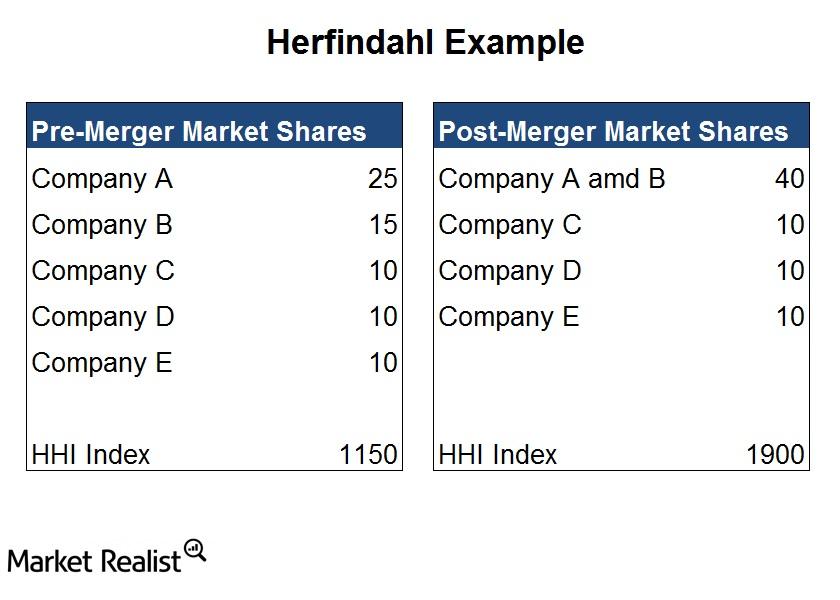 Antitrust in the U.S. is governed under the Hart-Scott-Rodino Act of 1976. For most deals involving publicly traded companies, a filing will be required. In the U.S., both the Federal Trade Commission and the Department of Justice review mergers. Once the companies file HSR, the government has 30 days to approve the transaction or to ask for more information (called a "second request"). For all-cash tender offers, the period is 15 days. Until the waiting period has expired, the deal can't close
Article continues below advertisement
If there's an antitrust issue, the FTC or DOJ will send out a request for more information. Any second requests mean an extended timeline, and often require remedies. For example, say two large cement companies decide to merge. The government is worried about localities going to a monopoly or a duopoly, which means the new company can raise prices at will. The government will look at all of the overlapping markets and determine if the deal will cause the market concentration to get too high. For a cement company, the relevant market could be very small. Concentration is measured with the Herfindahl index, which is the sum of the squares of the market share of the biggest competitors. As a rule of thumb, going to an HFI index of 1,800 is going to get a second request, and an HFI index over 2,500 is going to be a big problem. To get the deal to pass regulatory muster, the seller will probably have to divest some of its overlapping plants to a competitor. See the above example of an HHI analysis where the first and second players in a market propose to merge.
Sometimes, the sticking point is a foreign review. The most famous deal was the General Electric (GE) and Honeywell (HON) merger, which was okayed in the United States but blocked by the European Union. So, even though the deal could be two American companies and blessed by the U.S. antitrust authorities, the deal can still fall apart on antitrust grounds. The HON-GE deal left a mark on a lot of arbitrage portfolios.
Current deals
Right now, the biggest deals on Wall Street are between Time Warner (TWC) and Comcast (CMCSA) and between DirectTV (DTV) and AT&T (T). Investors who want to invest in M&A deals via an ETF should look at the IndexIQ ETF (MNA).
For access to premium risk arbitrage content, please email singh@marketrealist.com.