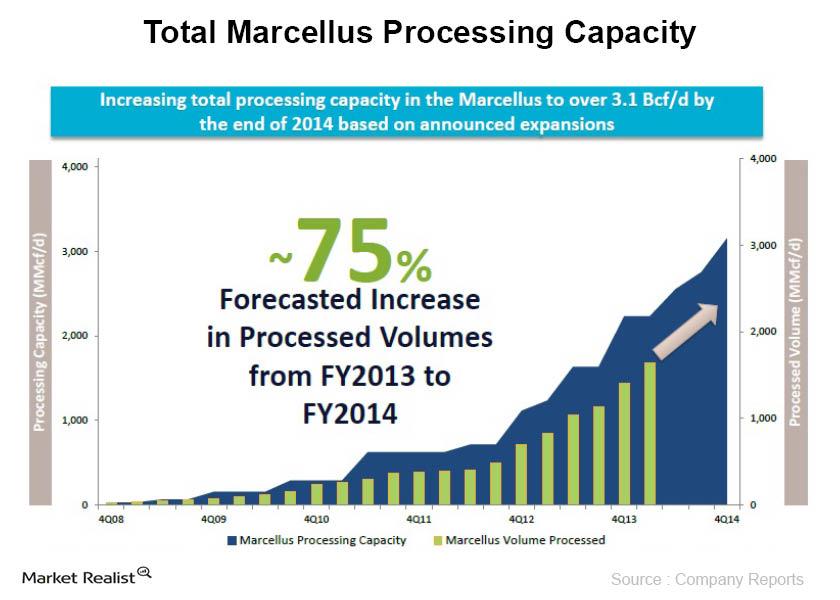 The Marcellus is a key focus area for MarkWest's 2014 investments
MWE's presence in the Marcellus
MWE is the largest processor in the prolific Marcellus Shale, with well-integrated midstream assets including processing, fractionating, and storage assets that are supported by long-term agreements with producers such as Chesapeake Energy (CHK), Range Resources (RRC), and Chevron Corporation (CVX). Most of these companies are part of the Energy Select Sector SPDR Fund (XLE), while MWE is part of the Alerian MLP ETF (AMLP).
Article continues below advertisement
MarkWest has five processing complexes in the Marcellus. These include the Houston Complex and Keystone Complex in Pennsylvania, and the Majorsville Complex, Mobley Complex, and Sherwood Complex in West Virginia. The combined processing capacity at all these complexes is ~2,235 MMcf/d (million cubic feet per day).
MarkWest's other assets in the Marcellus segment include 615 MMcf/d of gas gathering capacity, 2.2 bcf/d (billion cubic feet per day) of gas processing capacity, 172,000 barrels per day of fractionation capacity, and 90,000 barrels of NGL storage capacity with access to an additional 900,000 bbl of propane storage.
Capital spending
MarkWest has forecasted that it will spend $2 billion to $2.3 billion on its major growth projects in 2014. The company will spend 69% of its capex on the Marcellus segment in 2014. The capital spending on the Marcellus in 2014 is stated to be $1.6 billion.
In 2014, MWE plans to increase processed volumes by approximately 75% year-over-year and begin operations at five new processing plants that will increase the total capacity in the Marcellus to nearly 3.2 billion cubic feet per day (or bcf/d). By the end of 2014, MWE's full-service midstream system is stated to deliver approximately 3.1 bcf/d of processing capacity and access to over 200,000 barrels per day of fractionation capacity.
Major constructions under progress include two additional 200 MMcf/d processing plants at the Sherwood Complex in West Virginia, both of which will become operational by late 2014. Another major construction under progress is the expansion of the processing plant in the Mobley Complex in West Virginia, to 920 MMcf/d.
Due to the company's massive investment in the Marcellus Shale, MarkWest management has provided a guidance for a 27% to 43% increase in distributable cash flow per unit in 2014, which will contribute to a strong distribution growth.
Growth prospects in the Marcellus region have caused several midstream names to invest in the Marcellus in 2014. Read our Market Realist series Why midstream names are bullish on the Marcellus Shale gas play to learn about the major companies investing in the Marcellus this year.
Continue to the next part of this series to read about MWE's investment plans in the Utica Shale.