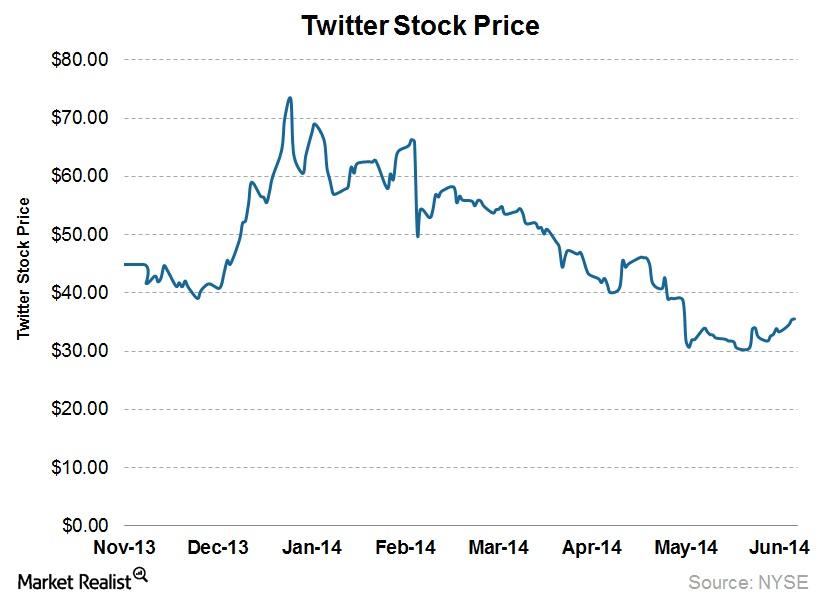 Things to look out for from Twitter over the next few quarters
By Ingrid Pan

Nov. 20 2020, Updated 11:24 a.m. ET
Lockup expiry also caused Twitter's stock price to drop
Twitter's stock price also took a major hit upon the expiration of its lockup period, which occurred on May 6. Prior to this, most Twitter insiders were prohibited from selling their holdings of TWTR stock. In the trading session following lockup period's expiration, the stock dropped 18%—despite many holders' pledges (including top management) not to sell. For more background, see Must-know update: Why did the Twitter stock drop 18%? Notably, however, sources have reported that former COO Ali Rowghani had sold 300,000 shares of TWTR stock in May—despite other senior management members' affirmations that they would hold on to their shares as a sign of confidence in the company. Rowghani has commented that he wished to donate the proceeds towards research in fighting a disease that afflicted his father.
Article continues below advertisement
The combination of Twitter's flagging stock price and disappointing user growth signals that something isn't quite right at Twitter. While part of this may have been the market's overly optimistic expectations, Rowghani's ouster also signals that Twitter itself thinks that the company needs some changes, including shaking up management, to turbocharge growth and fight user attrition.
What the management change signals—and what to watch for from Twitter over the next few quarters
While Rowghani's departure signals some instability at the management level, it's not necessarily a negative. This means TWTR recognizes that it needs to do something different to bring about the results investors expect—and perhaps a management reorganization and bringing in new blood are steps towards generating stronger growth.
What to watch for from TWTR over the next few quarters is likely to remain the company's growth in monthly active users (or MAUs), as the company hit its financials over the past two reporting periods but the market dropped on disappointing growth figures. As the company is still in its early years, growth rates remain on the forefront of investors' minds. Other things to look out for from the company might be which new senior-level execs (if any) the company brings in and their backgrounds in product development and user growth, potential new product or feature rollouts that might attract more users, and potential acquisitions.
Twitter is a minor component of some tech and Internet ETFs, such as the Vanguard Information Technology ETF (VGT), the Social Media Index ETF (SOCL), and the First Trust DJ Internet Index Fund (FDN). Twitter is also a small component of the First Trust US IPO Index ETF (FPX).
Continue here for more of Market Realist's Twitter coverage.