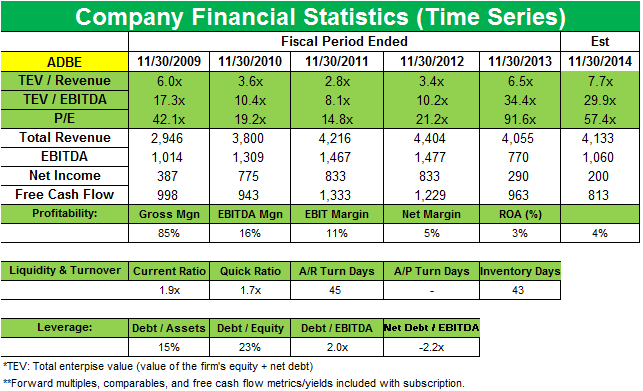 Mandel's Lone Pine Capital starts a new position in Adobe Systems
By Samantha Nielson

Jun. 11 2014, Updated 5:00 p.m. ET
Lone Pine Capital and Adobe Systems
Lone Pine initiated new positions in Actavis PLC (ACT), LPL Financial Holdings (LPLA), Adobe Systems Inc. (ADBE), Equinix Inc. (EQIX), and Jazz Pharmaceuticals PLC (JAZZ). Top positions the fund sold were Dollar Tree Inc. (DLTR) and American Express Co. (AXP).
Lone Pine initiated a new position in Adobe Systems Inc. (ADBE) last quarter that accounts for 1.89% of the fund's total 1Q portfolio.
Article continues below advertisement
Software maker Adobe offers a line of products and services used by creative professionals, marketers, knowledge workers, application developers, enterprises, and consumers to create compelling content and experiences across multiple operating systems, devices, and media. The company's two strategic growth areas are Digital Media and Digital Marketing.
Shift to the software-as-a-service (or SaaS) model to drive growth
In the company's Digital Media segment, Adobe offers Creative Cloud, a subscription-based service for creating and publishing content and applications. The company expects the Creative Cloud offering to be a catalyst for revenue growth in the coming years. To accelerate the adoption of Creative Cloud, Adobe has focused on migrating existing users of its creative products from perpetual licenses to the subscription offering, as well as driving new customer adoption. This move will lead to a sequential decline in perpetual revenue for Adobe Creative Suite 6, Adobe noted in its 10Q filing.
Article continues below advertisement
News reports last year noted that Adobe decided to shift from its lucrative licensing business and invest in the monthly subscription offering Creative Cloud, as more customers adopted rival products that were easily acquired over the web or cloud. Other vendors, such as Microsoft Corp., Oracle Corp., and SAP AG, are also moving to the cloud, as they face competition from newer companies such as Workday and Salesforce.com.
Adobe's Digital Marketing business provides comprehensive solutions that include analytics, social marketing, targeting, media optimization, web experience management, and cross-channel campaign management, as well as premium video delivery and monetization. The company delivers these capabilities through its Adobe Marketing Cloud, an integrated offering enabling marketers to measure, personalize, and optimize marketing campaigns and digital experiences across channels for optimal marketing performance.
Results beat estimates but profit drops
Article continues below advertisement
Adobe's 1Q 2014 results beat street estimates on EPS and revenue despite a drop in profits. The software maker posted a profit of $47 million, or $0.09 a share, down from $65.1 million, or $0.13 a share, in the corresponding period a year earlier. Revenues were flat year-over-year at $1 billion. More than half of Adobe's 1Q revenue came from recurring sources such as Creative Cloud subscriptions and Adobe Marketing Cloud. The company saw 1.844 million paid Creative Cloud subscriptions—up 28% from 1.439 million at the end of fiscal 2013.
Although subscriptions have increased, profit has declined, but analysts are still bullish, as they expect Adobe to earn profits over the long term as more users adopt the company's cloud services. Product sales, which represented 47% of total revenue, dropped 30%, while subscription revenue surged 89%. Revenue from services and support grew 5.1%.
Adobe commented, "Total Digital Media revenue declined 7% to $641.1 million during the first quarter of fiscal 2014 compared to the year ago period as adoption of our Creative Cloud subscription offering continued to increase while CS6 perpetual revenue continued to decline as expected. Revenue from Digital Marketing increased 17% to $314.4 million due to continued revenue growth associated with our Adobe Marketing Cloud, which increased 24%. Revenue from Print and Publishing decreased 14%due to decreases in legacy product revenue."
Digital Marketing also benefited from the acquisition of Neolane in the third quarter of fiscal 2013. In fiscal 2013, Adobe completed acquisitions of the privately held Neolane, a leader in cross-channel campaign management technology, for $616.7 million and the privately held Behance, an online social media platform to showcase and discover creative work, for $111.1 million.
For more on Adobe's results and growth from cloud services, please read Better than expected results for Adobe: Focus on Cloud offerings on the Market Realist website.