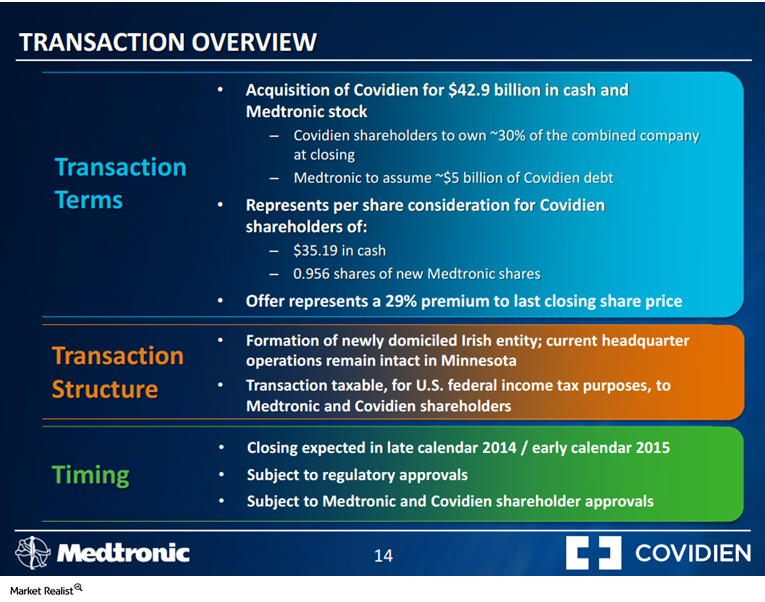 Key overview: Merger arbitrage and the Covidien-Medtronic deal
Basics of the transaction
The Covidien-Medtronic deal is a scheme of arrangement, which is an English-style merger where a court has to approve the transaction once the votes are in. Typically, this court ruling is a formality, although the judge could postpone or disallow the transaction. In the event of a competing offer, Medtronic can change the structure to an offer.
Terms of the transaction
Covidien (COV) Shareholders will receive a combination of cash and stock. Each share of Covidien PLC will be exchanged for 0.965 Medtronic (MDT) shares and $35.19 in cash. The transaction is expected to close in late 2014 or early 2015. Covidien and Medtronic shareholders are expected to receive their respective dividends during the pendency of the deal.
Conditions precedent
The following conditions need to be satisfied in order for the deal to close.
Covidien shareholder vote
Medtronic shareholder vote
Antitrust approval—U.S., EU, China, and other countries
Court approval
SEC approval of MDT proxy statement
Non-solicitation
Article continues below advertisement
Both companies have a non-solicitation agreement with a fiduciary out. This means that if either party is approached by another suitor, they can discuss a merger with them if their Board of Directors deems there to be a bona fide offer that would likely result in a higher bid for the company. In other words, Covidien isn't able to shop itself.
Breakup fee
In the event that Medtronic fails to get the required shareholder vote, it will owe Covidien a reverse termination fee of $850 million. At the moment (subject to verification by the companies), it appears there's no breakup fee on the Covidien side. This is highly unusual, in that a breakup fee is usually paid if the target accepts a higher bid. It's meant to be a deterrent and compensate the buyer for their work. The fact that Covidien was able to get out of paying a breakup fee speaks to its negotiating power.
Other merger arbitrage resources
You can find Market Realist's primer on merger arbitrage analysis here.
Other important merger spreads include Time Warner (TWC) and Comcast (CMCSA) as well as DIRECTV (DTV) and AT&T (T).