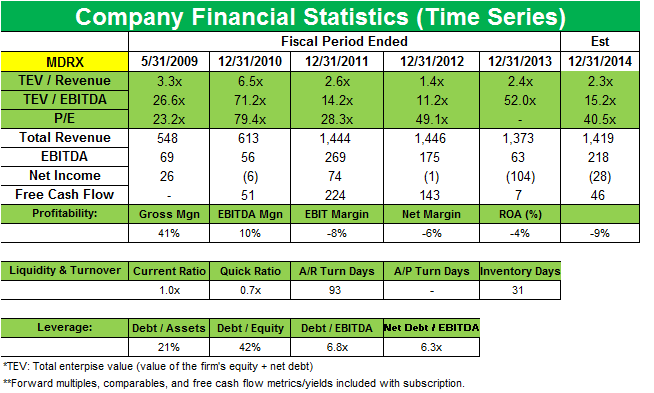 Eminence Capital ups position in Allscripts Healthcare Solutions
By Samantha Nielson

Oct. 30 2019, Updated 10:33 a.m. ET
Eminence Capital and Allscripts Healthcare Solutions
Recent 13Gs filed with the U.S. Securities and Exchange Commission (or SEC) noted that Ricky Sandler's Eminence Capital boosted its positions in Fossil Group (FOSL) and Allscripts Healthcare Solutions (MDRX). According to its 1Q14 13F, Eminence initiated new positions in Cadence Design Systems (CDNS), McDonald's Corp. (MCD), Restoration Hardware Holding (RH), and Ralph Lauren Corp. (RL). It sold shares in Advance Auto Parts Inc. (AAP) and Monster Beverage Corp. (MNST).
Eminence Capital filed a 13G this month with the SEC that showed the fund increased its stake in Allscripts Healthcare Solutions (MDRX) to 5.1% with 9,197,476 shares. Eminence's 13F filed last month revealed that the fund owned 8,359,324
shares in Allscripts at the end of 1Q14.
Article continues below advertisement
Allscripts provides clinical, financial, and population health management solutions to physicians, health systems, hospitals, and post-acute organizations. Its solutions include integrated Electronic Health Record (or EHR) and practice management functionality,  as well as revenue cycle management services, clearinghouse services, and stand-alone electronic prescribing (ePrescribing). It also provides a variety of solutions for home care, hospice, skilled nursing, and other post-acute organizations.
The company earns revenues from sales of its proprietary software and related hardware, professional services, and IT outsourcing services. It has three reportable segments: Clinical and Financial Solutions, Population Health, and Managed Services.
According to a comprehensive study conducted by research company Black Book Rankings, top-ranked EHRs for 2014 include Allscripts, Cerner (CERN), Epic Systems, GE Healthcare, HCS EMR, and Healthcare Management Systems among others. Allscripts said it was named top vendor in the patient health data management and administrative processing, as well as the top vendor in the communications and connectivity categories.
Allscripts underwent transformation in 2013
Article continues below advertisement
Allscripts said in its annual filing that 2013 was a year of "transformation" as it refocused "on several key strategic and operational imperatives aimed at delivering on our critical client obligations and, while our financial results continued to decline, we continued to expand the depth and breadth of our products and platforms. We also took steps to streamline our organizational structure, cut long-term costs and become more efficient. In addition, we closed approximately $1 billion in refinancing activities, which provided us with greater flexibility to achieve our strategic imperatives." Consequently, it signed a number of new clients as well as significant client renewals and expansions, including the extension of an outsourcing agreement with its largest client through 2020. Its bookings, which reflect the value of executed contracts for its solutions, totaled $902 million for fiscal 2013—a 23% increase over the comparable prior year amount of $731 million.
Total revenue was $1.37 billion in 2013—a decline from $1.45 billion for the prior year. Allscripts said the increase in bookings during 2013 didn't result in significant additional software revenue due to the multi-year nature of new agreements, including an increase in the proportion of high-visibility subscription-based and IT outsourcing recurring revenue.
Why population health management solutions is a future growth driver
Article continues below advertisement
In 2013, Allscripts aimed to solidify and advance its population health management solutions via acquisitions of dbMotion, a leading supplier of community health solutions, as well as Jardogs, the developer of FollowMyHealth, a highly-rated, cloud-based patient engagement solutions provider. It noted, "Population Health Management is commonly viewed as the next frontier in healthcare delivery and we expect this rapidly emerging area to be a key driver of our future growth, both domestically and globally." Approximately 42% of the bookings in the 4Q13 were derived from Population Health Management solutions.
Bookings grow 26% in first quarter, but revenue declined
First quarter results were in line with estimates on earnings, but missed on revenue. Bookings grew 26% to $223 million, from $178 million in the year ago quarter driven by new sales of EHR-related software, revenue cycle management, population health management solutions, and managed IT services offerings to new and existing clients globally. Approximately 36% of 1Q14 bookings were from the sale of population health management solutions. Generally accepted accounting principles (or GAAP) revenue was $340 million, down 2% from $347 million in the 1Q13 due to a decrease in system sales. Hardware revenue saw a slight decline as a higher proportion of bookings during the 1Q14 was represented by sales of population health management products and solutions, which generally require less robust hardware solutions for clients. 1Q14 GAAP loss per share was $0.12 compared with $0.07 in the 1Q13.
In January, the company disclosed in an 8K filing that during the next three fiscal years (2014–2016), and based on industry trends and economic conditions it expects non-GAAP revenue to increase at an average compound annual growth rate of approximately 5%–8% annually. Adjusted earnings before interest, taxes, depreciation, and amortization (or EBITDA) is forecast to increase at an average compound annual growth rate of approximately 18%–22% annually.