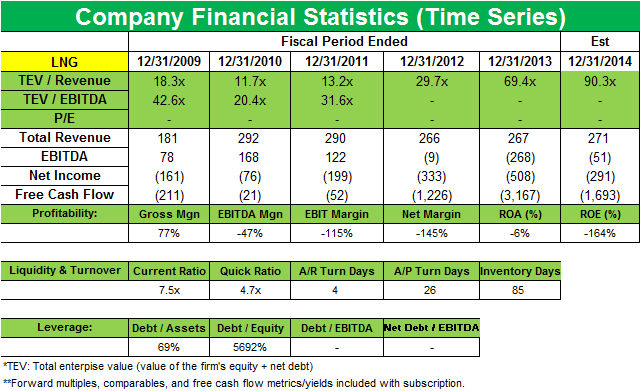 Seth Klarman's Baupost Group buys a new stake in Cheniere Energy
The Baupost Group and Cheniere Energy
Seth Klarman's Baupost Group initiated positions in Cheniere Energy Inc. (LNG), Keryx Biopharmaceuticals (KERX), and RF Micro Devices Inc. (RFMD), and the fund exited its positions in Fidelity National Financial (FNF) and Rovi Corp. (ROVI). The fund also pared its position in British oil company BP (BP).
The Baupost Group added a stake in Cheniere Energy Inc. (LNG) that accounted for 7.57% of the fund's total portfolio.
Article continues below advertisement
Cheniere Energy is a Houston-based energy company primarily engaged in LNG-related businesses. Cheniere owns and operates the Sabine Pass LNG-receiving terminal and Creole Trail Pipeline in Louisiana through a partial ownership interest and management agreements with Cheniere Energy Partners (CQP), which is a publicly traded partnership created in 2007.
Cheniere Energy's projects
The Sabine Pass LNG terminal is located on the Sabine Pass deep water shipping channel less than four miles from the Gulf Coast. It has operational regasification facilities that include the existing infrastructure of five LNG storage tanks with capacity of approximately 16.9 Bcfe, two docks that can accommodate vessels with capacity of up to 265,000 cubic meters, and vaporizers with regasification capacity of approximately 4.0 Bcf/d. Cheniere Partners is developing and constructing natural gas liquefaction facilities (the Sabine Pass Liquefaction Project) at the Sabine Pass LNG terminal adjacent to the existing regasification facilities through a wholly owned subsidiary, Sabine Pass Liquefaction, LLC. Cheniere Partners plans to construct up to six trains, which are in various stages of development. Each train is expected to have nominal production capacity of approximately 4.5 million tonnes per annum (mtpa). The company anticipates that Train 1 will produce LNG by late 2015.
Cheniere is developing a second natural gas liquefaction and export facility near Corpus Christi, Texas. The Corpus Christi liquefaction project includes three LNG trains, each with an annual production capacity 4.5 million tons. The company believes LNG exports from the Corpus Christi Liquefaction Project could commence as early as 2018. Cheniere has signed contracts with companies such as Pertamin, Endesa, Iberdrola, and Gas Natural Fenosa under which these companies will purchase tons of LNG once the project commences.
Updates on existing projects

Article continues below advertisement
For the Sabine Pass Liquefaction Project, the company said the construction on trains 1 and 2 began in August 2012, and as of March 31, 2014, the overall project for Trains 1 and 2 was approximately 63% complete, which is ahead of the contractual schedule. The overall project for Trains 3 and 4 was approximately 27% complete and is expected to become operational in late 2016 and 2017, respectively. For Trains 5 and 6, the company filed a complete application with the FERC in September 2013. Cheniere has received authorizations from the DOE to export 503 Bcf of LNG volumes from Trains 5 and 6 to free trade agreement (FTA) countries. It has also received authorization from the DOE to export up to 767 Bcf per year of domestically produced LNG to FTA countries from the Corpus Christi Liquefaction Project.
Global demand for LNG will increase
Cheniere believes the global demand for natural gas and LNG will increase significantly as nations seek more abundant, reliable, and environmentally cleaner fuel alternatives to oil and coal.
The company said in its 10K filing, "Global demand for natural gas is projected by the International Energy Agency (IEA) to grow by more than 22.5 Tcf between 2010 and 2020, fueled by the growth of emerging economies. Wood Mackenzie forecasts that global demand for LNG will increase by 45%, or 5.14 Tcf, by 2020, from approximately 237 mtpa, or 11.5 Tcf/yr, in 2012, and reach a total of 532 mtpa, or 26 Tcf/yr, by 2030. As a result, the share of LNG in the global natural gas market is expected to increase as markets seek to improve security of supply by accessing a wide portfolio of producers that can readjust deliveries to meet the needs of changing markets."
Cheniere has yet to make a profit
Article continues below advertisement
The company incurred a net loss of $507.9 million and had $6.6 billion of total debt outstanding on a consolidated basis in 2013. Cheniere said, "We will continue to incur significant capital and operating expenditures while we develop and construct the Sabine Pass Liquefaction Project and the Corpus Christi Liquefaction Project. We currently expect that we will not begin to receive cash flows from operations under any SPA until late 2015, at the earliest."
Cheniere recently reported a narrower net loss of $97.8 million, or $0.44 per share, in 1Q 2014 from $117.1 million, or $0.54 per share in the corresponding period the previous year. The decline was primarily a result of decreased general and administrative expenses and decreased LNG terminal development expenses. Total revenue increased 2.5% to $67.5 million.
Why its share price has rallied
Despite Cheniere Energy's inability to generate a profit, shares are up more than 1,000% since 2011, and they doubled last year.
Cheniere Energy is expected to benefit from the exports of LNG, as it was the first to receive a natural gas export license from the Department of Energy (DOE) in 2011.
Article continues below advertisement
Shares rose last month after the DOE announced a revision in the policy to "streamline the regulatory process." An article by Principal Deputy Assistant Secretary for Fossil Energy Christopher Smith on the government website said, "The Department of Energy is proposing to review applications and make final public interest determinations only after completion of the review required by environmental laws and regulations that are included in the National Environmental Policy Act review (NEPA review), suspending its practice of issuing conditional commitments."
Under the new rule, the DOE decision would be made only after the Federal Energy Regulatory Commission (FERC) gives its final environmental review. Cheniere's Sabine Pass is the only LNG export project that has acquired approval from FERC and DOE and is ahead of rivals operating in the space.
News reports last month said that Cheniere Energy CEO Charif Souki was the highest-paid U.S. executive in 2013, receiving $142 million. Shares were down recently after the company had to push back its annual meeting by three months over a shareholder lawsuit regarding Cheniere's 2011 stock incentive plan. It has also seen opposition over a shareholder approval to issue an additional 30 million shares to employees, a Bloomberg report said. According to the advisory firm Glass, Lewis & Co cited by the Wall Street Journal, "The proposed compensation plan could be excessive and dilute existing shareholders' stake by 12%."