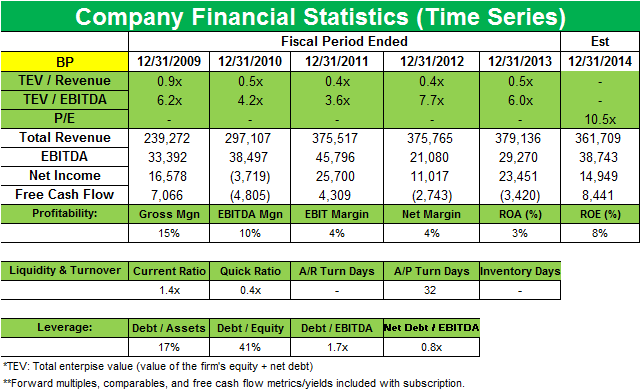 Seth Klarman's Baupost Group sells its stake in British Petroleum
By Samantha Nielson

Dec. 4 2020, Updated 10:52 a.m. ET
The Baupost Group and BP
Seth Klarman's Baupost Group initiated positions in Cheniere Energy Inc. (LNG), Keryx Biopharmaceuticals (KERX), and RF Micro Devices Inc. (RFMD), and the fund exited its positions in Fidelity National Financial (FNF) and Rovi Corp. (ROVI). The fund also pared its position in British oil company BP (BP).
The Baupost Group pared almost half of its stake in British Petroleum (BP), which accounted for 7.80% of the fund's total portfolio in 4Q 2013. The position, which was built on last year, is currently 3.68% of the 1Q 2014 portfolio.
Article continues below advertisement
Following the deepwater horizon explosion and the company's oil spill in the Gulf of Mexico in 2010, BP's stock price saw a decline, and litigation and settlement costs took a toll on BP's valuation. Since then, the company has sold various assets to cover litigation costs and settlement of claims expected to end in 2014. BP saw fourth-quarter profit decline 25% and noted, "Compared with the same periods in 2012, both the fourth quarter and full year 2013 underlying results were affected by the significant impact of BP's major divestment program; weaker refining margins; and higher depreciation and exploration write-offs as the group brought new projects online and increased its investment in exploration."
BP expects to divest a further $10 billion of assets
Following the divestment of $38 billion of assets over three years, BP now has a focused portfolio with growth potential. BP announced in October of last year that it would divest around a further $10 billion of assets before the end of 2015. It will use the proceeds for distributions to shareholders, especially share buybacks. In March 2013, BP announced an $8 billion share buy-back program and, as of January 31 2014, had spent around $6.8 billion for repurchasing shares.
Article continues below advertisement
For 1Q 2014, BP posted profit of $3.225 billion, down from $4.215 billion a year ago, but beat street estimates. BP's first-quarter replacement cost (RC) profit was $3.475 billion, compared with $16.596 billion a year ago. The 1Q 2013 profit included a $12.5-billion gain relating to the disposal of BP's interest in the TNK-BP joint venture. Replacement cost profit is adjusted for non-operating items and fair value accounting effects. Reported production, excluding Russia, for the quarter was 2,131mboe/d—8.5% lower than the first quarter of 2013, reflecting both the expiry in January of the onshore concession in Abu Dhabi and the impact of divestments. The production is expected to be lower in the second quarter due to planned seasonal turnaround activity. BP also said it has decided not to proceed with the development of Utica shale assets in Ohio and also made the decision to halt processing at its Bulwer refinery in Australia.
BP also saw profits impacted by the Russia–Ukraine crisis, as a fall in the value of the rouble led to a 75% drop in profits generated from the oil group's share in Rosneft. Recently, Rosneft's chief executive, Igor Sechin, has been the target of U.S. sanctions. BP, which owns a 19.75% stake in the major national oil company Rosneft, said it stands by its Russian investments. For more on this topic, see the Market Realist series Why the Russia-Ukraine crisis could affect energy investments.
BP continues to grow shareholder value
The company announced a quarterly dividend of 9.75 cents per ordinary share to be paid in June—8.3% higher than a year earlier. BP added in its 1Q earnings release that it's nearing the completion of its current $8 billon share buyback program, with $7.6 billion spent repurchasing shares for cancellation.
Management said, "We expect material growth in operating cash flow, coupled with disciplined investment, to deliver sustainable growth in free cash flow. This will support increasing distributions to our shareholders. As well as progressive growth in the dividend per share, we expect to use surplus cash to support further distributions through share buy-backs or other mechanisms."
To learn more about the latest hedge fund positions, check out Market Realist's 13Fs for Hedge Fund Ownership page.