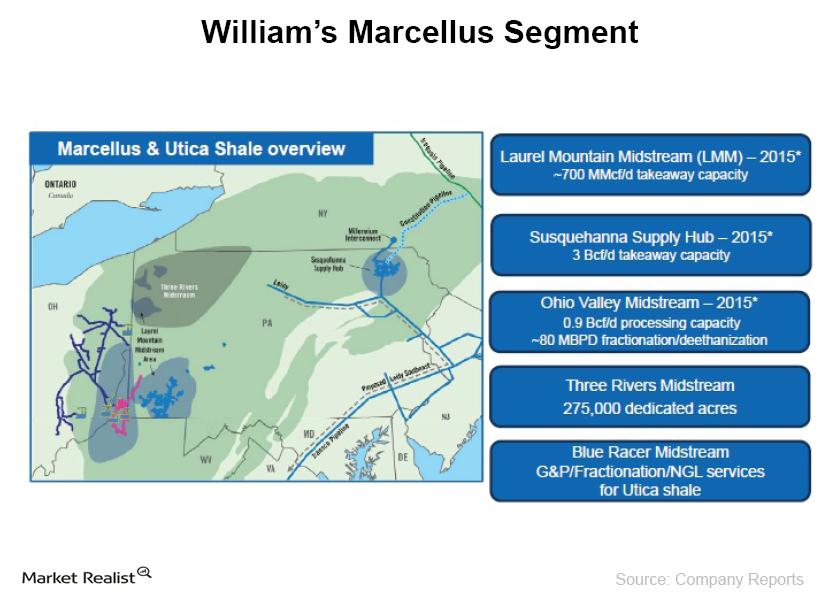 Why Williams Partners is strongly leveraged to the Marcellus Shale
By Keisha Bandz

May. 19 2014, Published 9:00 a.m. ET
Williams Partners and the Marcellus
Williams Partners LP (WPZ) is a leading diversified master limited partnership focused on natural gas gathering and processing. WPZ has major operations in the Marcellus Shale, where it has successfully leveraged its market connectivity with a series of acquisitions, giving it a dominant position in gas gathering in the Marcellus. These positions include the Laurel Mountain Midstream joint venture with Atlas Pipeline Partners (APL), which was acquired by Chevron Corporation (CVX) in 2010, the Access Midstream (ACMP) acquisition in 2013 (Williams Companies, which owns general partner interest in WPZ, also owns a 50% general partner interest in ACMP), which bolstered WPZ's position in the Marcellus, and the Ohio Valley Midstream business, which was borne out of WPZ's acquisition of Caiman Energy's wholly owned subsidiary, Caiman Eastern Midstream LLC, in 2012.
Article continues below advertisement
In 2013, WPZ announced a new midstream JV (joint venture) with Shell Oil Co. (RDSA) to install wet gas handling infrastructure and dry gas infrastructure, targeting Marcellus and Utica gas production. Note that CVX and RDSA are both parts of the Vanguard Total World Stock ETF (VT), which in turn tracks the FTSE Global All Cap Index. Both WPZ and ACMP are a part of the Alerian MLP ETF (AMLP)
The new venture, Three Rivers Midstream, will gather and process Shell's production and will eventually pursue gathering and processing agreements with other producers in northeastern Ohio and northwestern Pennsylvania. Williams also plans to build a complex known as the Susquehanna Supply Hub in northeastern Pennsylvania, which, when fully completed, will be a major natural gas supply hub to serve producers in northeastern Pennsylvania.
Performance in the Marcellus in 2013
William's gathering and processing segment in the Marcellus is in the early stages of developing large-scale energy infrastructure solutions. As we mentioned above, these include the 51% equity investment in Laurel Mountain, 50% equity investment in Access Midstream, the Ohio Valley Midstream acquisition (47.5% equity investment in Caiman Energy), and the Susquehanna Supply Hub.
Laurel Mountain Midstream has nearly 1,400 miles of pipeline with average throughput of 200 mmcf/d (million cubic feet per day). Also, in 4Q13, Access Midstream's throughput increased 31.1% compared to the prior year period. This was mostly because of ACMP'S well connections in the Marcellus. Plus, the Susquehanna Supply Hub currently has a gathering inlet capacity of approximately 1 Bcf/d and is connected to three major interstate gas pipeline systems. Most of these projects are slated to be completed by 2015.
Capital projects in 2014 and 2015
Williams Partners has heavily invested in the Marcellus Shale in 2013—with approximately $3.3 billion dollars. These investments are expected to contribute ~$200 million of distributable cash flow (or DCF) to WPZ in both 2014 and 2015.
Article continues below advertisement
Construction is underway in most of the Marcellus region for infrastructure products that will mostly become operational by 2015. By 2015, the Susquehanna Supply Hub is expected to be capable of delivering more than 3 Bcf/d of Marcellus Shale production into four major interstate gas pipeline systems. These systems include the Laser Northeast Gathering System, which recently became part of Williams' gathering business through an acquisition, the brand-new Springville pipeline, now in service, which connects WPZ's gathering system to three major interstate gas pipeline systems (Transco system), as well as the Tennessee Gas Pipeline and Millennium Pipeline. Plus, to further enhance WPZ's mission of becoming a major gathering system, the company has announced the construction of the new 120-mile Constitution Pipeline, which will connect WPZ's gathering system in Susquehanna County, Pennsylvania, to the Iroquois Gas Transmission and Tennessee Gas Pipeline systems in Schoharie County, New York.
Williams Partners also stated that it will spend $5 billion by 2017 on expanding capacity in the Transco, the nation's largest interstate natural gas pipeline system. The $5 billion includes $2 billion to $3 billion for a project called "Atlantic Sunrise." Part of Atlantic Sunrise is a brand-new pipeline running north-south through more than 100 miles in eastern Pennsylvania. The principal beneficiary of the Atlantic Sunrise project will be natural gas producers in the Marcellus, as pipeline bottlenecks have been a major concern for companies looking to bring natural gas to market from the huge Marcellus Shale formation. The project plans to take surging new supplies of natural gas in the Marcellus producing region in northeastern Pennsylvania to the growing demand centers along the Atlantic Seaboard of New York, New Jersey, and Pennsylvania.
The Atlantic Sunrise addition is part of a larger package of projects set up to increase capacity on the Transco, which is slated for completion by 2017
After strong growth in 2013, Williams Partners forecasts growth of 6% in 2014 and 2015. The infrastructure projects in the Marcellus Shale along with the ideal location of the Transco pipeline set up Williams Partners for years of steady growth amid strong demand.
Read on to the next part of this series to find out more about other midstream names operating in the Marcellus Shale.