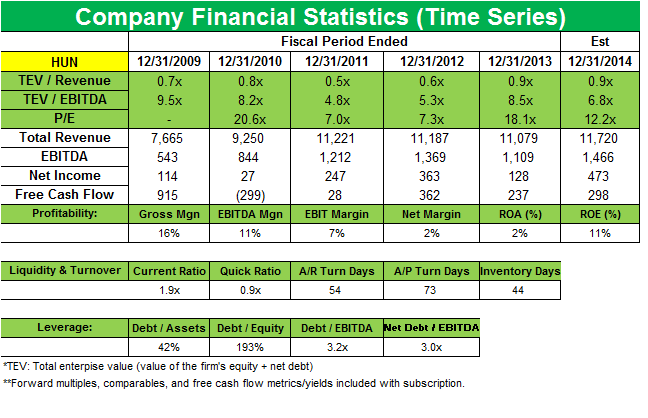 Why JANA Partners sold stake in Huntsman
By Samantha Nielson

Oct. 30 2019, Updated 10:43 a.m. ET
Barry Rosenstein's JANA Partners revealed new positions in the first quarter of 2014. The activist fund bought top new positions including AerCap Holdings N.V. (AER), Leucadia National Corp (LUK), eBay Inc. (EBAY), and Constellium N.V. (CSTM). It sold Charter Communication (CHTR), Safeway Inc. (SWY), and Huntsman (HUN).
JANA Partners' 13F filing said the fund sold its position in Huntsman (HUN) that accounted for 3.27% of JANA's 4Q 2013 portfolio.
Article continues below advertisement
Huntsman is a global manufacturer of differentiated organic chemical products and inorganic chemical products. It operates in five segments: polyurethanes, performance products, advanced materials, textile effects, and pigments. The company's products are used in a wide range of applications, including those in the adhesives, aerospace, automotive, construction products, personal care and hygiene, durable and non-durable consumer products, electronics, medical, packaging, paints and coatings, power generation, refining, synthetic fiber, textile chemicals, and dye industries. It's a leading global producer in many of its key product lines, including MDI, amines, surfactants, epoxy-based polymer formulations, textile chemicals, dyes, maleic anhydride, and titanium dioxide.
The Huntsman net income was $54 million on revenue of $2.76 billion for 1Q 2014 compared to net loss of $24 million in the same period the previous year. Adjusted EBITDA was up 50% to $329 million compared to $220 million in that period during the previous year. The management noted, "The benefits of our previous year's restructuring efforts are visible in both our Advanced Materials and Textile Effects results." and that it "continues to see strong results in our Performance Products and MDI polyurethanes, which make up the core of our earnings."
Article continues below advertisement
Last month, Wilmar Europe Holdings agreed to buy Huntsman's European commodity surfactants business. Huntsman also announced its intention to cease production by October 2014 at its Patrica, Italy commodity surfactants facility. The move is a part of plans announced last October by Huntsman to improve its annual EBITDA by $20 million. Huntsman said it will exit a number of commodity surfactant product lines in Europe and will focus on developing and growing the remaining differentiated surfactants businesses.
In 3Q 2013, Huntsman announced an agreement with Rockwood Holdings Inc. to acquire its performance additives and titanium dioxide businesses for approximately $1.1 billion in cash and the assumption of approximately $225 million in unfunded pension liabilities. It expects $130 million in synergies will come from combining the businesses. The deal will make Huntsman the second-largest global producer of Ti02 and inorganic color pigments, after DuPont. Huntsman expects to unlock shareholder value through an IPO of its new pigments business within two years of closing the Rockwood acquisition. The acquisition is currently undergoing European Commission antitrust review.
A Bloomberg report cited Huntsman CEO Peter Huntsman and noted that the largest maker of textile dyes, said it could look at selling the textile effects unit if profits do not improve. The report added that the unit generated $16 million in 2013 post losses for two years.