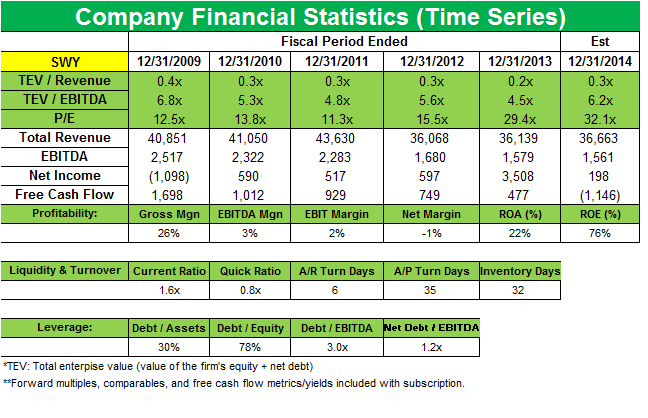 Why JANA Partners sold Safeway stake amid merger
By Samantha Nielson

Nov. 20 2020, Updated 11:09 a.m. ET
Barry Rosenstein's JANA Partners revealed new positions in the first quarter of 2014. The activist fund bought top new positions including AerCap Holdings N.V. (AER), Leucadia National Corp (LUK), eBay Inc. (EBAY), and Constellium N.V. (CSTM). It sold Charter Communication (CHTR), Safeway Inc. (SWY), and Huntsman (HUN).
JANA Partners' 13F filing said the fund sold its position in Safeway Inc. (SWY) that accounted for 3.98% of JANA's 4Q 2013 portfolio.
On March 6, 2014, grocery store operators Safeway and Albertsons, which is owned by New York private equity firm Cerberus Capital, announced a merger agreement valued at approximately $9 billion.
Article continues below advertisement
Safeway was under pressure by activist investor JANA Partners to explore strategic alternatives. JANA disclosed a 6.2% stake in Safeway back in September, following which the second-largest U.S. grocery store chain Safeway adopted a poison pill to counter a hostile takeover. JANA said in its filing that it had discussions with Safeway management about divesting  unprofitable investments and returning more capital to investors. Safeway sold its stores in Canada and Dominick's stores in Chicago, a subsidiary of Safeway, last year. Newswire noted that Safeway was seeing competition from traditional players such as Kroger Co. (or KR), Costco Wholesale (or COST), Wal-Mart Stores Inc. (or WMT) and the Dollar Store.
On February 19, 2014, Safeway announced was in discussions concerning a possible transaction involving the sale of the company. Separately, it decided to distribute the remaining 37.8 million shares it owns of Blackhawk Network Holdings Inc. (approximately 72.2% of the outstanding Blackhawk shares) to Safeway stockholders. Blackhawk, a majority-owned subsidiary of Safeway, is a leading prepaid payment network utilizing proprietary technology to offer a broad range of gift cards, other prepaid products, and payment services. Safeway holds 49% of Casa Ley S.A., the fifth largest food and general merchandise retailer in Mexico, based on sales. It was exploring alternatives to monetize its investment.
Article continues below advertisement
Safeway saw loss from continuing operations, net of tax, which was $83.1 million ($0.36 per diluted share) for the first quarter of 2014. The management attributed the loss "in part as a result of inflation in produce, meat, and pharmacy that was not fully passed along for competitive reasons." Sales and other revenue increased 1% to $8.3 billion in the first quarter of 2014 from $8.2 billion in the first quarter of 2013, primarily due to an identical-store sales (excluding fuel) increase of 1.8%. Fuel sales decreased primarily because the gallons sold decreased 4.7%, and the average retail price per gallon of fuel decreased 4%. Identical-store sales, excluding fuel, increased 1.8%. Gross profit declined 34 basis points to 26.15% of sales in the first quarter of 2014 compared to 26.49% of sales in the first quarter of 2013. Safeway's store brands include Safeway, Vons, Pavilions, Randalls, Tom Thumb, and Carrs stores. Safeway's 1,335 stores generated $36.1 billion in sales in 2013.
Under the terms of the merger agreement with Albertsons, Safeway shareholders will receive cash of $32.50 per share plus a pro-rata distribution of the net proceeds from the expected sale of real estate development subsidiary Property Development Centers, LLC (PDC) and the monetization of Safeway's 49% equity interest in Casa Ley (together valued at an estimated $3.65 per share). The merged entity will lead grocery franchise on the U.S. West Coast, and comprise a network of more than 2,400 stores and 250,000 staff, Reuters noted. The deal is expected to close in the fourth quarter.