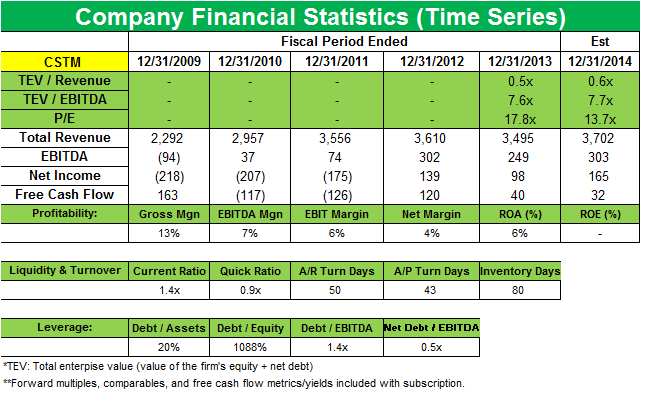 Why JANA Partners opened new position at Constellium
By Samantha Nielson

Nov. 20 2020, Updated 3:45 p.m. ET
Barry Rosenstein's JANA Partners revealed new positions in the first quarter of 2014. The activist fund bought top new positions including AerCap Holdings N.V. (AER), Leucadia National Corp (LUK), eBay Inc. (EBAY), and Constellium N.V. (CSTM). It sold Charter Communication (CHTR), Safeway Inc. (SWY), and Huntsman (HUN).
JANA Partners' 13F filing disclosed a brand new position in aluminum product manufacturer Constellium N.V. (CSTM) that accounts for 1.83% of JANA's 1Q 2014 portfolio.
Article continues below advertisement
Constellium states in its filing that it is a global leader in the developing, manufacturing, and selling of a broad range of highly engineered, value-added specialty plate, coil, sheet, and extruded aluminum products to the aerospace, packaging, automotive, other transportation, and industrial end-markets. The company said it has long-standing, established relationships with some of the largest companies in the aerospace, packaging, automotive, and other transportation industries including Boeing, Airbus, Rexam, Crown, Ball, and Amcor, as well as a number of leading automotive firms.
Constellium's product portfolio is predominantly focused on high value-added, technologically advanced specialty products that command higher margins than less differentiated aluminum products. This portfolio serves a broad range of end-markets that exhibit attractive growth trends in future periods such as aerospace or automotive. It believes its technological advantage and relationship with customers is driven by its preeminent research and development capabilities. The packaging and automotive rolled products segment accounted for 42% of revenues while aerospace and transportation accounted for 34% of Constellium's revenues for the year ending on December 31, 2013.
Article continues below advertisement
Constellium, which was backed by private equity company Apollo Global Management and Rio Tinto, raised around $333 million in Initial Public Offerings (or IPO) proceeds last year. Revenues for 2013 were 3,495 million euros ($4,784), which represented a decrease of 115 million euros, or 3% from 2012 revenues of 3,610 million euros. After adjusting for constant London Metal Exchange (or LME) prices, exchange rates and the divestiture of two soft alloy plants in France, the revenues for 2013 calculated on a like-for-like basis and were 4% ahead of 2012. Constellium's Adjusted EBITDA for 2013 was 280 million euros ($382 million), a 26% increase from 2012.
The management noted that in 2013, Constellium implemented a new contract with Airbus, and signed a new contract with Boeing. Its results were favorably impacted "by the combined enhancement of our product mix, higher sales to the aerospace and automotive markets and the continued benefit from the cost and productivity improvements achieved, partially offset by the limited impact of work stoppages at two of our French plants." In automotive, accelerating trends in both Europe and North America drove expansion on both continents.
In February, the company launched a new aluminum high-strength Crash Management Systems (or CMS) technology for vehicles. Automotive sector analysts expect the use of aluminum CMS to increase in the next five years, particularly in European premium cars. By 2018, aluminum CMS are projected to capture about 30% of the total European automotive market share. In the United States, aluminum CMS are expected to account for nearly 20% market share by 2018. Constellium noted in its release, that combined aluminum CMS production for China, Europe, and North America is expected to reach more than 28 million units by 2018. In January, Constellium said that it  plans to invest up to 200 million euros ($273 million) over the next three years to further grow its European Body-in-White (or BiW) business.
Last month, Constellium launched an offering of $400 million of denominated senior notes due 2024 and 300 million euros of denominated notes due 2021. The company intends to use the proceeds to repay debt and for "general corporate purposes."
Constellium said its key competitors include Alcoa Inc. (AA), Aleris International Inc., Novelis Inc., a unit of India's Hindalco Industries (HNDNF), Norsk Hydro ASA (NHYDY), and Sapa AB.