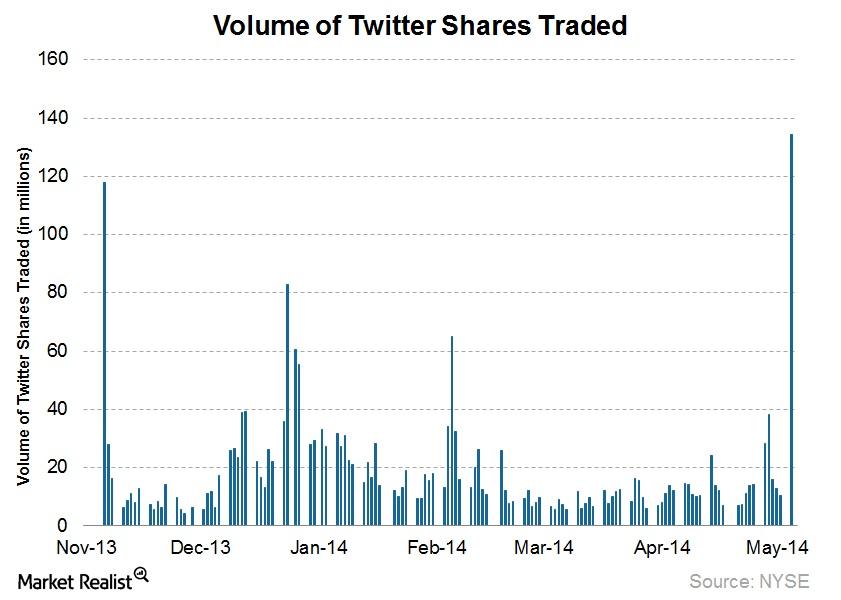 Twitter stock dropped despite many holders' pledge not to sell
By Ingrid Pan

May. 7 2014, Updated 5:29 p.m. ET
Twitter's shareholders and the expiration of the lockup period
Many of Twitter's (TWTR) shareholders had publicly stated that they would not sell shares of the tech company upon the expiration of the lockup period. An 8-K filing dated April 14, 2014, states that the co-founders of Twitter (Jack Dorsey and Evan Williams) as well as CEO Richard Costolo had "no current plans to sell any of their shares of Twitter common stock," and that "Benchmark venture capital funds… have no present intention to sell or distribute stock to their limited partners before or immediately after the expiration of our lockup on May 5, 2014." The total ownership of the above parties represents ~20% of total Twitter stock. Plus, certain media reports stated that holder Risvi Traverse would also hold on to its shares after the lockup expiry. The fund owns ~14% of Twitter's stock.
Article continues below advertisement
Despite approximately 1/3rd of Twitter stockholders pledging not to sell the stock upon expiry, the stock took an unexpected sharp drop on the day. This signals that the market may not have anticipated this much selling pressure from Twitter's other stockholders. Potentially some of these sellers include Twitter's non-executive employees, as well as other institutional holders. Other major TWTR stockholders as disclosed in a recent proxy included J.P. Morgan (8.4% ownership) and Spark Capital (5.5%).
The volume of Twitter stock traded totaled 134 million shares, the highest volume traded ever, including the day of the IPO. Excluding the date of the lockup expiry and the IPO date, the average daily volume for the stock since it became publically traded calculates to 16.8 million shares.
What the negative price action could potentially signal is that insiders don't want to hold on to the stock at current prices of ~$32 per share, preferring to take profit where they can as the stock remains above the IPO price of $26 per share rather than risk another disappointing earnings release and see the stock potentially dip below the IPO price. Plus, some insiders may just want liquidity or to diversify their exposure away from their employee (both working at Twitter and holding Twitter stock is in a sense making a double down bet on the company).
While it's difficult to evaluate a company in its beginning stages with limited free cash flow/earnings, Twitter at $32 per share seems much more reasonable and accurate than where Twitter was at the year-end 2013, at $63.65 per share, or ~160x 2014E EBITDA, ~80x 2015E EBITDA, and ~40x 2016E EBITDA (according to Bloomberg Consensus estimates).
Twitter is a minor component of certain tech and Internet ETFs, such as the Vanguard Information Technology ETF (VGT), the Social Media Index ETF (SOCL), and the First Trust DJ Internet Index Fund (FDN). Twitter is also a small component of the First Trust US IPO Index ETF (FPX).
For more coverage on Twitter, read Why did Twitter's stock plunge despite strong 2014 guidance?