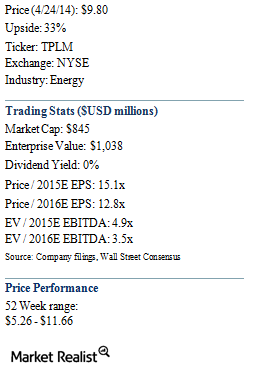 Why Bakken player Triangle Petroleum is an attractive investment
By Samuel Madden, CFA

Nov. 20 2020, Updated 4:39 p.m. ET
Thesis overview
Triangle Petroleum, or "Triangle," (TPLM) is a relatively unknown mini-conglomerate in the oil and gas sector. Its three distinct business lines include a wholly owned E&P operating in the Bakken Shale (TUSA), a wholly owned subsidiary providing pressure pumping and well completion services (RockPile Energy Services), and a midstream JV (joint venture) with First Reserve that provides gathering, transporting, and processing (Caliber Midstream).
Article continues below advertisement
Triangle trades for ~5x or a ~15% discount to its Bakken peers using the midpoint of management's guidance (and sell-side consensus) for consolidated 2014 EBITDA. However, eliminations required under GAAP cause the true combined earnings power of Triangle's three businesses to be significantly understated, so the company could unlock significant value by separating these assets.
The CEO, Jon Samuels, recently signed a new employment agreement that (i) doesn't allow him to sell shares for five years, (ii) compensates him primarily through options with strike prices well above Triangle's current price, and (iii) pays him 3.5% to 5% of gains realized from the sale of the non-E&P segments so he's heavily incentivized to close this valuation gap.
The Market Realist Take
The Denver-based small cap Triangle Petroleum's fourth quarter and full year 2014 results announced last month missed on earnings but beat on revenue estimates. The company reported an adjusted EPS (earnings per share) of $0.11 a share on revenue of $85.51 million, a 257% increase from the fourth quarter last year. Triangle's consolidated revenues for fiscal year 2014 increased 326% to $258.7 million, compared to $60.7 million in fiscal year 2013. Net income for fiscal 2014 increased to $73.5 million, or $1.07 basic EPS from a net loss of $14.4 million in 2013. During the year, the company generated cash flow from operating activities of $85.6 million. Triangle Petroleum operates in Williston Basin of North Dakota and Montana and its core focus area is in the McKenzie and Williams counties in North Dakota. The company's shares are up 56% since 2013.
Article continues below advertisement
Triangle's proved reserves are located in the Bakken Shale and Three Forks formations. Its total estimated net proved reserves grew 175% year-over-year to 40,314 Mboe at fiscal year-end 2014 from 14,637 Mboe reserves. Despite the "tough pricing and winter environment," total production volumes were in line with guidance and increased to 1,929.3 Mboe (5,286 Boepd) for fiscal year-end 2014 from 488.2 Mboe (1,334 Boepd) for fiscal year-end 2013, primarily due to the addition of approximately 1,185.0 Mboe from the company's operated drilling program as well as a 256.1 Mboe increase in production from its non-operated portfolio. It completed 31 gross (23.5 net) operated wells with a three-rig operated program and 81 gross (4.6 net) non-operated wells in fiscal year 2014. Triangle said it spent approximately $313 million in consolidated operated and non-operated drilling and completion capex during the year, which includes approximately $35 million in inter-company eliminations from subsidiaries RockPile and Caliber.
Management said on its earnings call that Triangle USA is currently running a four-rig drilling program. The company is seeing the benefits of techniques such as "downspacing" with seven drilling space units (DSU) containing middle Bakken wells spaced around 600 feet apart, and the value of a vertically integrated model. With a fall in well costs, Triangle capitalized on the benefits of pad drilling and improved well completion techniques. They noted that a transition to cemented liners has delivered wells that are approximately 30% to 40% better than uncemented direct offsets in terms of 30-day cumulative production. Its slickwater fracturing designs uses 40% less gel and has provided similar to slightly improved 90-day cumulative production at a savings of $400,000 per well. The company said initial well results from current infill wells saw about a 15% increase in production.
Article continues below advertisement
The only vertically integrated Bakken player is Triangle Petroleum, but its small cap peers include Emerald Oil, Inc. (EOX), Kodiak Oil & Gas Corp (KOG), Northern Oil & Gas, Inc (NOG), and Oasis Petroleum Inc.(OAS). Large cap Bakken plays include the biggest operator, Continental Resources (CLR), as well as EOG Resources, Inc (EOG), and Whiting Petroleum (WLL). Some of these names are also part of the SPDR Oil & Gas Exploration and Production ETF (XOP).
Last month, Continental cited IHS data and revealed that the Bakken field of North Dakota and Montana reached the milestone of 1 billion bbls of cumulative light sweet crude oil produced during first quarter of 2014. Two-thirds of this total was produced in the last three years, Continental added. The company expects to spend $2.5 billion on development drilling and completions in the Bakken in 2014. Continental Resources President Rick Bott said at the IHS CERA Week energy summit in Houston that Bakken has a potential of around 900 billion barrels and even at a 3.5% recovery rate at present, the industry can expect to extract 32 billion barrels of oil. Improved drilling techniques such as downspacing and pad drilling is expected to enhance output for the companies operating in the Bakken. Goldman Sachs analysts were bullish on Bakken prospects last year, saying they "see production growth of 130,000 barrels a day to 210,000 barrels a day through 2016."