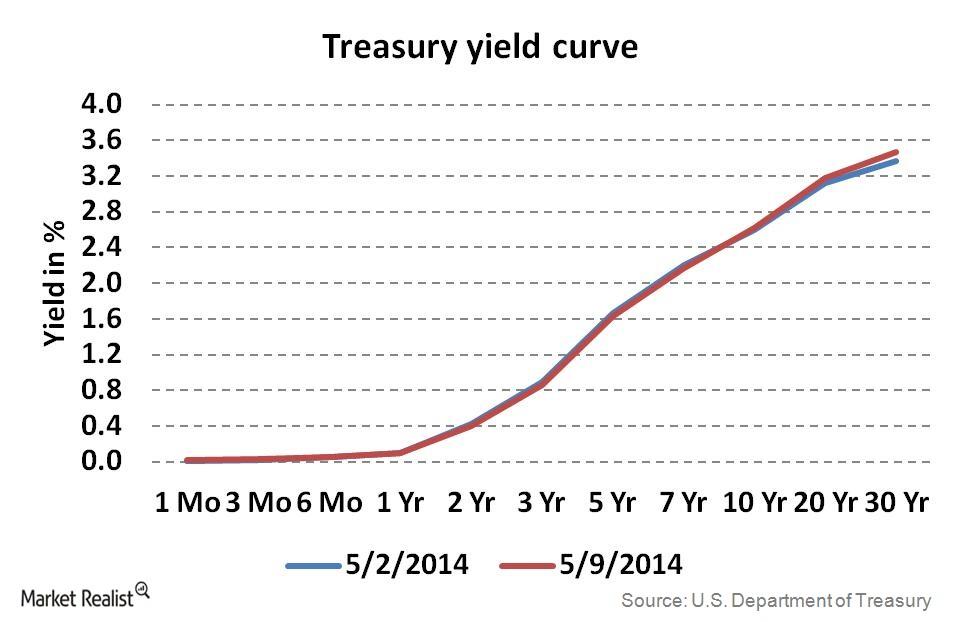 Why Treasury note yields fell, while Treasury bond yields rose
By Mike Sonnenberg

Nov. 20 2020, Updated 3:37 p.m. ET
Last week's market update
The Treasury yield curve saw a mixed shift during the past week, with yields on intermediate-term maturities (IEF) falling by two to four basis points and those for longer-term (TLT) (20-30 years) maturities rising by six to ten basis points.
After data-heavy week ending May 2, the last week (ending May 9) was quieter as only a couple of important economic indicators were released during the week.
Article continues below advertisement
The first one of those was the Purchasing Managers' Index (or PMI) released by the Institute for Supply Management (or ISM) and Markit Intelligence, separately. The manufacturing PMI for April was released on May 1, by both the providers, while that for non-manufacturing and services was released on May 5. The manufacturing PMI released by ISM beat estimates by clocking a reading of 54.9 against consensus of 54.3. On the other hand, the Markit's manufacturing PMI was slightly lower at 55.4 against the consensus of 55.8.
The ISM non-manufacturing sector PMI showed significant improvement in the service sector as reflected in its reading of 55.2 against consensus of 54.2. On the other hand, the Markit services PMI was lower at 55 against the consensus of 55.3. Read more about April's PMI in Market Realist's series, ISM and Markit's key April manufacturing and services releases.
The export-import data showed that the exports rose 2.1% against a 1.1% rise in imports in March. The faster pace of increase in exports narrowed the trade deficit to $40.4 billion in March against $41.9 billion in February.
The Fed chairwoman Janet Yellen addressed the Senate Budget Committee on May 8. She told the Committee that the Fed funds rate will not rise until the economy gains strength. The comments eased concerns of a rate hike, resulting in a drop in yields of intermediate-term securities. The yield on a 30-year bond already hit the lowest since June 2013, at 3.37% on May 2. The yields on 30-year bonds rose over the last week, as they corrected from the low base of the week prior. The yields on Treasury bills (BIL) remained mostly unchanged.
On the stock market front, S&P 500 (SPY) was roughly unchanged over the week, while NASDAQ-100 (QQQ), which has higher proportion of technology companies, closed lower, as technology stock prices dropped over the week.
To know more about Treasury auctions and investment-grade bond issuance for the last week, read the next part of the series.