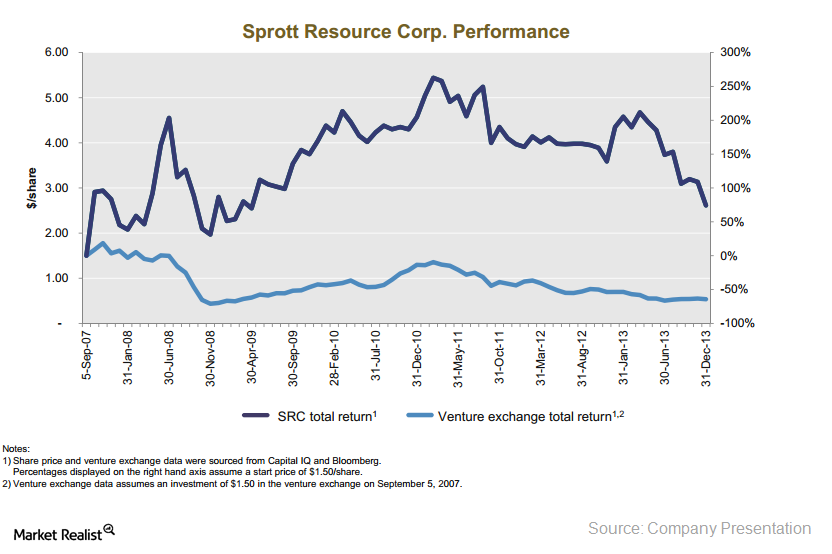 Why Sprott Resource Corp. is an attractive wide-moat stock
By CUSH Capital

May. 5 2014, Published 5:00 p.m. ET
Sprott Resource Corp.
Sprott Resource Corp. (SCPZF) is something of a mini-conglomerate or private equity holding company specializing in the resource space. Each of their individual holdings has moaty attributes, but the nature, size, reputation, and tenure of the parent company, both SRC and Sprott, Inc. (SPOXF), similarly create a moat by consistently creating opportunities that are not available to other investors. One example of this is their partnership with First Nations. Sprott Inc.'s founder, Eric Sprott, is well known among financial circles for his successes in the investment sector. He is also known among Aboriginal circles for his support of First Nations peoples. The reputations of both Eric Sprott and Kevin Bambrough were instrumental in getting the idea of One Earth Farms off the ground.
Article continues below advertisement
With regard to Sprott's moat, land is a big part of the story. They own the largest farm in Canada, with over a million acres spread across four regions, named in the previous part of this series, with Saskatchewan and Alberta representing 50% of the crop acres. Thirty-four thousand acres are crop-farmed. The cultivated land consists of canola, 47%; wheat, 34%; oats, 10%; and peas, 9%. The geographical diversity helps with weather risk, which along with commodity risk is among the two biggest risk factors with a farming operation. This company is called One Earth Farms (OEF). SRC owns 54.3% of OEF, with a few other investment partners owning the rest. They are trying to bring mass-scale agribusiness to that area, which should lead to more efficient use of land and bring a lot of employment to local residents. They recently acquired large farms in Alberta, Ontario and British Columbia. With these purchases, they were also looking to acquire many highly qualified, trained workers. Finding these types of workers has been a challenge for this company so far. They also acquired a lot of good, used equipment with the purchases. The livestock count is over 16,000, with a value of over $24 million alone.
We have been looking at investments in agriculture and food production for years as a way to play the world's insatiable appetite and need for food. With population growth, declining amount of arable land, water issues around the globe, crops being directed to biofuels, aging farmers, and the growing wealth of more developed nations, agricultural investments are poised to benefit, and Sprott gives us an attractive way to play this long-term thesis. One of their latest investments, Potash Ridge, plays into that thesis as well. Potash is mainly used as fertilizer to increase crop production. It is important for agriculture because it improves water retention, yield, nutrient value, taste, color, texture and disease-resistance of food crops. Also, in February of 2013, OEF acquired Beretta Farms, a purveyor of hormone-free and antibiotic-free natural and organic branded meat products in Ontario and British Columbia. This transaction is the first instance of OEF's strategy of vertical integration and branded food products, which is expected to allow OEF to meet the needs of retailers and consumers while generating increased margins from an integrated supply chain.
As was stated in a previous part of this series, Sprott is an attractive company to partner with because of their nonlevered structure and long-term capital. They don't have investors beating down their door for their money back when things go south in the broader market.
Article continues below advertisement
You could say that the management team, along with Eric Sprott, adds to the moaty nature of this company. Mr. Sprott owns 8% of the company, although he owns this through one of the other subsidiaries so his name is not listed among the insiders on the chart in the previous part of this series. Eric Sprott has over 40 years of investment experience and a great reputation. He has a long track record of successful investing, is considered an expert on precious metals and is someone whose investment prowess we respect. Again, notwithstanding his bullish stance on gold amid the downturn since late 2011. This was evidenced in 2008–2009 when SRC took half of their proceeds from two transactions and bought 73,971 ounces of gold, which they have subsequently sold, for a gain of about $25 million. They would have had virtually no return on that money if they had left it in cash. We say this kind of decision adds to the moaty nature of this company because of Mr. Sprott's expertise, longevity in the industry, reputation, lengthy successful track record, and professional balance sheet. Having him as an owner and a resource in the company is something that a start-up company is not going to have. You can't easily recreate someone like Eric Sprott. Lastly on this subject, Mr. Sprott gives this company access to deals that most investors would not have access to. People come to Warren Buffett because they want him to buy their company, and they do the same with Mr. Sprott.
The Market Realist Take
Sprott Resources's annual filing said its revenue, which increased to $46 million in 2013 from $44 million in 2012, continues to be driven primarily by One Earth Farms or OEF (95% for the years ended December 31, 2013 and 2012) with the remaining revenue from One Earth Oil & Gas or OEOG. As a result of the Beretta Farms acquisition in early 2013, the composition of the OEF revenues changed substantially, with nearly 40% of its 2013 revenues related to sales of Beretta Farms–branded products. In 2012 and 2011, OEF revenues were primarily from crop farming together with the remaining revenues generated from cattle farming.
OEF revenues relating to crop farming decreased from 2012 to 2013 as management implemented a plan to reduce the number of farmed crop acres. Conversely, OEF revenues relating to cattle farming almost doubled from 2012 to 2013. In March 2014, OEF concluded to exit its crop farming and focus on growing its cattle farming and Beretta Farms–branded products businesses.
Sprott Asset Management said in its agricultural fund commentary for March that abnormal weather in Southeast Asia and Brazil, coupled with political tensions in Ukraine and Russia, have led to supply concerns, while demand increased for U.S. exports of wheat, corn, and soybeans. Some of the big agribusiness companies exposed to trends in agriculture include CF Industries (CF), Mosaic Co. (MOS), Monsanto Company (MON), and AGCO Corporation (AGCO).