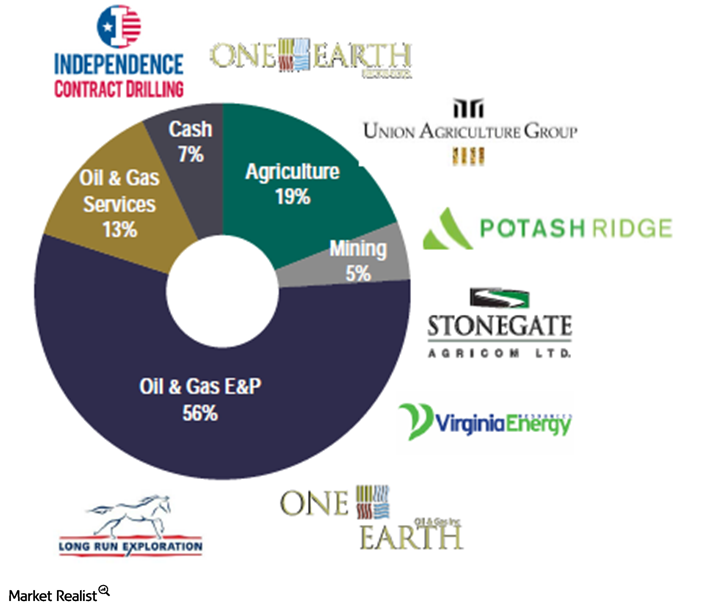 Why Sprott Resource Corp. is an attractive investment
By CUSH Capital

Nov. 20 2020, Updated 1:02 p.m. ET
Sprott Resource Corp.
Sprott Resource Corp., or SRC, (SCPZF, SCP.TO), through its subsidiaries, invests in and operates oil and gas, energy, agriculture and agricultural nutrient projects, precious metals, and other natural resources. SRC passes our 3-M's test (management, moat, and mis-pricing). Our analysis tells us that the company is worth north of CAD$3.50 based on its NAV; even our pessimistic scenario yields a price target of CAD$3.25. In order to satisfy our margin of safety, we recommend investors consider buying under CAD$2.75.
Company overview
Article continues below advertisement
SRC is a Canadian company with investments scattered across Manitoba, Edmonton, Alberta, and Saskatchewan, with the bulk in the latter two provinces, as well as assets in South America and the U.S. Because of Sprott's expertise and connections, they have access to a wide variety of deals that the average retail investor does not. SRC is an attractive partner because of their non-levered structure and long-term capital. They don't have investors banging at their door in tough times wanting their money back. This company, along with the founder of Sprott, Inc. (SPOXF), Eric Sprott, has a great reputation in Canada. They currently have eight main investments in their portfolio.
Here is a quick rundown of its main businesses separated by industries. These descriptions were taken from Sprott's website:
Long Run Exploration ("Long Run") is a publicly traded (OTC: WFREF) oil and natural gas company with assets in the Western Canadian prairies. Long Run was formed in October of 2012 through the merger of WestFire Energy Ltd. and Guide Exploration Ltd. The combined company has access to more than 1.8 million acres of government land, 25,300 boe/d of production (52% oil/48% gas), and a large inventory of exploration and development opportunities. Sprott has invested capital of $154.7 million and holds 20.1 million shares, which is 18.3% of the common shares outstanding and 15.5 million non-voting convertible common shares. With the current price of WFREF as of March 6, 2014, at $4.53, Sprott's holding is now worth $161.3 million.
Article continues below advertisement
One Earth Farms Corp. ("One Earth Farms") was launched in 2009 in partnership with the First Nations of Canada. With crop farming and cattle operations in Alberta and Saskatchewan and retail distribution of meat products in Ontario and British Columbia, it is now one of the largest farms in Canada. One Earth Farms focuses on higher value products, which includes a significant cattle herd raised under natural protocols (grass-fed) free of antibiotics and hormones. In February 2013, One Earth Farms acquired Beretta Family Farms Inc. (Beretta Farms), a purveyor of hormone-free and antibiotic-free natural and organic branded meat products.
Independence Contract Drilling, Inc., ("ICD") is a vertically integrated premium land drilling service provider based in Houston, Texas, that designs, manufactures, and operates the ShaleDriller series of AC drilling rigs. These modern rigs are specifically designed and primarily used to succeed in the unconventional drilling sector. The types of wells these rigs drill are quite technically demanding. They just deployed their seventh rig and have contracts to build numbers eight and nine,, which have already commenced.
Article continues below advertisement
Union Agriculture Group ("Union Agriculture") is one of the largest corporate agricultural landholders and operators in Uruguay. The company's diversified agricultural operations include crops, rice, dairy, cattle, sheep, and other products. They are focused on acquiring high-quality, under-utilized agricultural land and developing it in an efficient and sustainable manner.
StonegateAgricom Ltd. ("StonegateAgricom") is a publicly traded company engaged in the acquisition, exploration, and development of agricultural nutrient projects in the Americas. StonegateAgricom is concurrently developing the Paris Hills Phosphate Project in Southeast Idaho and the MantaroPhosphate Project in Peru. SRC has already realized over $50 million in proceeds from this investment and currently have roughly $17 million unrealized.
One Earth Oil & Gas Inc. ("One Earth Oil & Gas") was formed as a unique partnership between the private sector and First Nations. One Earth Oil & Gas is dedicated to pursuing oil and gas exploration and development opportunities located on First Nations land in Western Canada, primarily in Alberta, and Montana in the United States.
Virginia Energy Resources Inc. ("Virginia Energy") is focused on the exploration and development of the Coles Hill, Virginia, uranium deposit. The U.S. is the biggest user of nuclear power in the world, with 104 reactors providing almost 20% of the nation's electricity needs. However, U.S. domestic uranium mine production totaled only 4 million pounds in 2011, which is less than 10% of annual domestic fuel requirements. Thus, the U.S. remains heavily dependent on foreign imports of uranium.
Article continues below advertisement
Potash Ridge Corporation ("Potash Ridge") is a mineral resource company focused on the development of alunite deposits in Utah. Alunite is a mineral that contains potassium sulphate, high-grade potash, and a key ingredient in agricultural nutrients. Potash Ridge is managed by a seasoned team with senior leadership experience at one of the world's leading mining companies. The company is targeting initial production by 2017 in order to take advantage of the potash demand cycle. Sprott Resources Corp. is set up as a corporation, although almost all of the holdings are held by the partnership, Sprott Consulting LP. SRC owns nearly all of the partnership (approximately 99.99%), other than the managing partnership interest (approximately 0.01%). The managing partner is paid a 2% management fee by SRC. It is not this cut and dried, but they pay the managing partner roughly 20% of the profit of any sale the company makes, which is called an "incentive fee." For a full discussion on the Profit Distribution that SRC pays the managing partner in a year where there are profits, read page 42 of the 2012 Sprott Resources Corp. Year-End MD&A.
The Market Realist Take
The management of Sprott Resource Corp (SRC) said 2013 was a challenging year for natural resource investors, as the sector continued to struggle through a protracted downturn. With SRC's portfolio of resource investments, both its net asset value and share price were negatively impacted by volatile market conditions. One of the main priorities of its new CEO has been to stabilize its capital structure. In November 2013, SRC completed the disposition of its remaining gold bullion holdings for gross proceeds of approximately $76 million.
Article continues below advertisement
CEO Steve Yuzpe added, "Gold prices were extremely volatile in 2013 and, under our previous margin facility, we had little leeway to allow for unexpected price drops. This transaction gave us the financial flexibility to eliminate our outstanding debt, allowed us to implement a more stable capital plan to support our existing investments, and provided SRC with approximately $24 million to pursue investment opportunities, like the $5 million royalty interest investment we announced in January 2014."
For the year ended December 31, 2013, SRC recorded a net loss of $85.2 million ($0.85 loss per basic and diluted share, respectively) compared to a loss of $57.1 million ($0.53 loss per basic and diluted share, respectively) in 2012. The loss comprised a corporate segment loss of $65.0 million, an agricultural segment loss of $16.6 million, and an energy segment loss of $3.6 million. The major components of the corporate segment loss of $65.0 million were the fair value loss net of gain on disposal of gold bullion of $22.7 million, the impairment of certain available-for-sale (AFS) and held-for-trading investments of $25.2 million, the share of loss from associates of $2.8 million and the impairment of Stonegate Agricom of $12.2 million. Stonegate Agricom (SNRCF) is a Canadian public company developing the Mantaro Phosphate Project in Peru and the Paris Hills phosphate and vanadium property in Idaho.
Article continues below advertisement
For 2014, the company believes valuations in the natural resource sector will remain very attractive over the next 18 to 24 months, and as a result, it expects to participate in financings that will provide strong risk-adjusted rates of return to shareholders over a long-term investment horizon. As an investor in and seller of businesses, the company is continuously assessing the optimal window and required financial commitments to execute purchases and sales. SRC's management believes that several of its investments haven't reached their potential, and until they do, the company will continue to support and nurture the investments.
SRC's largest investment is Long Run Exploration (WFREF), which is engaged in the development, acquisition, exploration, and production of oil and natural gas in western Canada. It's specifically focused on controlled exploitation and strategic acquisitions within the Peace River and Edmonton regions of the Western Canadian Sedimentary Basin. The Peace River area sees competition between players such as Baytex Energy Corp. (BTE), Birchcliff Energy Ltd. (BIREF), Crescent Point Energy Corp. (CPG), Canadian Natural Resources Limited (CNQ), and Aroway Energy (ARWJF), among others. SRC's management said during 2013, Long Run Exploration announced a $0.402 cent per share annual dividend. This dividend will provide the company with more than $14 million in annual cash flows. They added that the view on the energy sector remains positive.
Another public investment is Stonegate Agricom (SNRCF), whose objective is to become a leading low-cost producer of high-quality phosphate mineral products through the acquisition, exploration, and development of agricultural nutrient projects. Stonegate has completed a feasibility study and is focused on the development of an underground mine in the Lower Phosphate Zone of its Paris Hills Phosphate Project located in Bear Lake County, Idaho. Plus, the company continues to hold an interest in the Mantaro Project located in Huancayo, Peru. Stonegate's Canadian peers include the Quebec-based Arianne Phosphate Inc. (DRRSF) and Phoscan Chemical (PCCLF), which has a deposit in northern Ontario. Major companies like Potash Corporation of Saskatchewan (POT), Mosaic (MOS), and Agrium (AGU) also provide exposure to phosphate production.