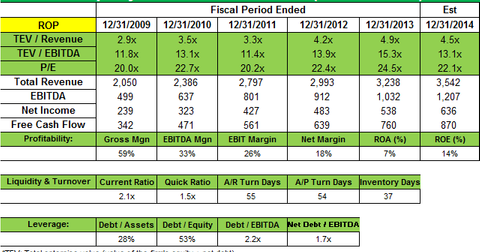 Dan Loeb's Third Point buys a new position in Roper Industries
By Samantha Nielson

Updated
Third Point and Roper Industries
Dan Loeb's Third Point Partners added new positions in Actavis PLC (ACT), CF Industries Holdings Inc. (CF), Verizon Communications Inc. (VZ), Roper Industries Inc. (ROP), and Citrix Systems Inc. (CTXS). Notable sales include Yahoo! Inc. (YHOO) and Abbott Laboratories (ABT).
Third Point initiated a new position in Roper Industries (ROP) last quarter that accounts for 2.26% in the fund's total 1Q portfolio.
Article continues below advertisement
Roper Industries designs, manufactures, and distributes medical and scientific imaging products and software, radio frequency (RF) products, services and application software, industrial technology products, and energy systems and controls products and solutions. It markets these products and services to a broad range of markets, including RF applications, medical, water, energy, research, education, software-as-a-service (or SaaS) information networks, security, and other niche markets. Roper pursues consistent and sustainable growth in earnings and cash flow by emphasizing continuous improvement in the operating performance of its existing businesses and by acquiring other carefully selected businesses.
Roper operates via four segments: Medical and Scientific Imaging, RF Technology, Industrial Technology, and Energy Systems and Controls. The first two segments represented 27.9% of Roper's total net sales.
The industrial solutions provider saw 1Q 2014 results beat Street estimates. Net sales for the quarter increased by 13% compared to the first quarter of 2013 due to organic growth of 8% and sales related to 2013 acquisitions of 5%. Net earnings went up to $147.23 million or $1.46 per share from $124.91 million or $1.25 per share in the previous year. Gross margin was up 120 basis points to 58.6%, while EBITDA increased 19% to $274 million. The company's order backlog as of March 31, 2014, was 7% higher as compared to March 31, 2013. Acquisitions completed in 2013 contributed 5% to the quarter orders.
Management noted that the company's expansion into asset-light medical, technology, and service businesses resulted in free cash flow of $202 million—26% higher than last year's first quarter.
All four operating segments registered growth—especially the Medical & Scientific Imaging segment, which saw net sales up  28% to $256 million. Gross margin for the segment increased to 72.2% from 67.3% in the first quarter of 2013, due primarily to additional sales from medical products and software, which have a higher gross margin, as the segment continued to benefit from favorable end-markets. Roper Industries boosted its medical segment through the acquisition of Managed Healthcare Associates early last year for $1 billion. Managed Healthcare Associates offered software and data analytics to pharmacies and long-term healthcare providers, among many other services.
As a result of its robust first quarter performance, Roper is increasing its full-year diluted earnings per share guidance from $6.05–$6.25 to $6.22–$6.36. Second quarter diluted earnings per share are expected to be $1.46–$1.51.
In December 2013, Roper increased its quarterly dividend paid January 24, 2014, to $0.20 per share from $0.165 per share—an increase of 21%.