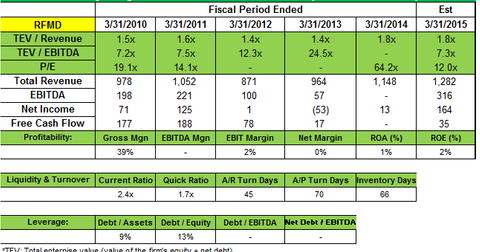 Soros Fund Management opens a new position in RF Micro Devices
By Samantha Nielson

Updated
Soros Fund Management and RF Micro Devices
Soros Fund Management added new positions in Baker Hughes Inc. (BHI), RF Micro Devices Inc. (RFMD), Devon Energy (DVN), Spansion Inc. (CODE), and Marathon Petroleum (MPC) in 1Q14. The top positions it sold include J.P. Morgan Chase & Co. (JPM), Citigroup (C), and J.C. Penney (JCP).
George Soros' Soros Fund Management added a new position in RF Micro Devices Inc. (RFMD) that accounts for 0.52% of the fund's 1Q 2014 portfolio.
Article continues below advertisement
Chipmaker RF Micro Devices designs and manufactures high-performance radio frequency systems and solutions. The cellular handset industry is its largest market, and it offers products for mobile devices, including PA modules, transmit modules, RF power management ICs, switch filter modules, switch duplexer modules, and antenna control solutions.
Shares have risen since RFMD announced a definitive merger agreement under which RFMD and TriQuint Semiconductor Inc. (TQNT) will combine in an all-stock transaction in February. The $1.6 billion merger is expected to create new growth opportunities for the companies in three large global markets—mobile devices, network infrastructure, and aerospace and defense—with scale advantages, innovative new products, and a greatly improved operating model.
Under the transaction, which is intended to qualify as a tax-free reorganization, TriQuint shareholders will receive 1.675 shares of the new merged company (NewCo) and RFMD shareholders will receive one share of NewCo for each TriQuint or RFMD share held. At the closing of the transaction, the companies will execute a one-for-four reverse stock split, resulting in approximately 145 million shares outstanding. Former shareholders of RFMD and TriQuint will each own approximately 50% of the new company post-merger. The transaction represents an implied price of $9.73 for each TriQuint share, representing a 5.4% premium based on the closing price of $9.23 for TriQuint on February 21, 2014.
Article continues below advertisement
The release said the combination will create a leader in infrastructure and defense (with approximately $500 million in annual revenue), with a broad portfolio of products and foundry services supporting applications including radar, next-generation base stations, optical communications, and the Internet of Things. The combination is expected to achieve at least $150 million in cost synergies, $75 million in annualized synergies exiting the first year after closing, and an additional $75 million exiting the second year. The transaction is expected to be accretive to non-GAAP EPS in the first full fiscal year following the transaction's close.
RFMD fiscal 4Q 2014 revenue declined 8.8% to $256 million. Net loss narrowed to $1.0 million or $0.00 per share, compared to a net loss of $16.00 million in the same period the previous year. The company's forecast for the current quarter was above Street estimates at adjusted earnings of about $0.17 per share on revenue of $305 million.
TriQuint supplies radio frequency chips to Apple and Blackberry, while RFMD's biggest customer is Samsung Electronics, which accounted for approximately 22% of RFMD's net revenue in fiscal 2013. According to industry analyst firm Strategy Analytics, the proliferation of multi-band LTE devices is expected to drive phenomenal growth in shipments of antenna tuning components, reaching 1.8 billion units per year by 2018. RFMD also anticipates growth in 4G RF components will outpace smartphone unit growth, with the increasing adoption of envelope tracking, carrier aggregation, and antenna tuning.