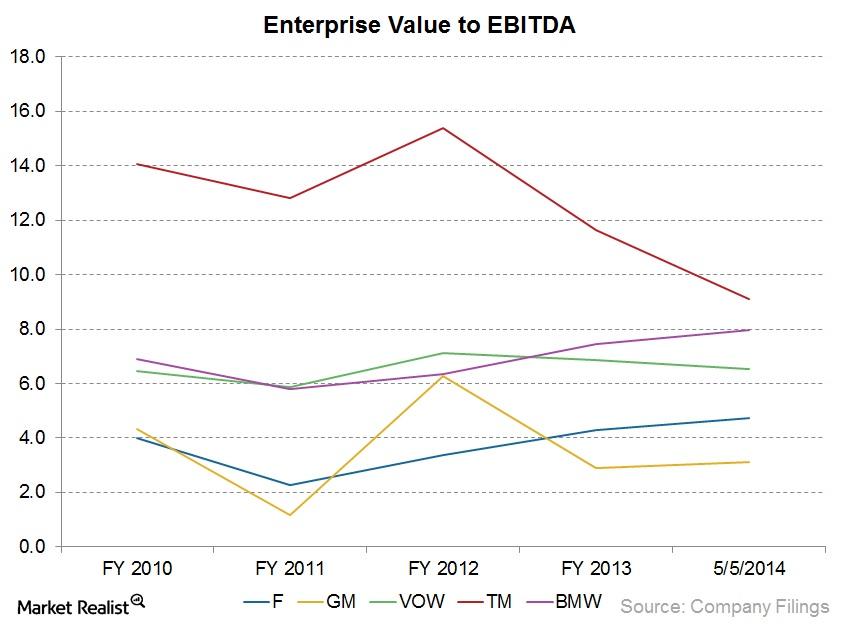 Recommendation: How the market views Ford Motor Company
By William Lowry, CFA

May. 21 2014, Published 1:00 p.m. ET
How the equity market views Ford
Enterprise value is the market price of a company's debt plus the equity market capitalization less cash. It's the company's market price. Dividing this by the company's EBITDA gives you a standardized figure to compare companies. A higher value reflects the market's expectation of higher future earnings. We will include Toyota (TM), General Motors (GM), Volkswagen (VOW), and the BMW Group (BMW) to compare Ford (F) to the industry leaders. One could invest in the industry by buying the exchange-traded fun CARZ.
Article continues below advertisement
As you can see in the above table, Ford has been trading at the bottom of the peer grouping at 4x EBITDA in 2010, and nearly 2x EBITDA in 2011. Ford is the sixth largest market participant globally, and it appears as if the market is discounting it's ability to compete globally. We saw that Ford's EBITDA margin has been better than some market participants over the past five years and has recently dropped below its peers, as it closes European capacity and aggressively invests in high growth markets. The market responded to the recalls made by Toyota (TM) and General Motors (GM) by reducing their values. At the same time, the market is beginning to reward Ford, as it's now trading over 5x EBITDA versus GM trading at 3x EBITDA. BMW (BMW) and Volkswagen (VOW) trade in the 7-9x range. Overall, the index appears to be trading near 7x, and you can invest in it by purchasing the exchange traded fund CARZ. These are from reported numbers and market data.
Looking forward
Let's take a look at the consensus estimates for the companies and compare this to the current enterprise value.
Taking a look at market consensus can also provide a valuable insight into market pricing. Currently, Ford is trading at less than 15x enterprise value to consensus-estimate EBITDA. Dropping Ford and GM would give you an 8x-to-10x forward-looking EBITDA. From this calculation, you can argue Ford is overvalued and GM is undervalued, while VOW, TM, and BMW are more fairly trading.
The next part discusses what the market is saying about the current cash flow yield available in the industry.