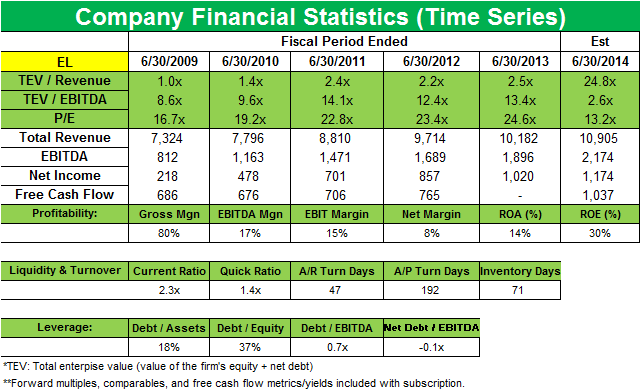 Point72 Asset Management starts a new position in Estée Lauder
Point72 Asset Management and Estée Lauder
Point72 Asset Management added new positions in BlackBerry (BBRY), Liberty Global (LBYTK), Estée Lauder Companies (EL), and Discovery Communications (DISCA). The main positions the fund sold include Foster Wheeler (FWLT) and Broadcom (BRCM). The fund's top position increases include Yahoo (YHOO) and Baidu (BIDU).
Steven Cohen's Point72 Asset Management, which was earlier known as SAC Capital, added a position in Estée Lauder Companies (EL) in 1Q 2014. The 13F filing revealed that the position accounts for 0.23% of Point72 's portfolio.
Article continues below advertisement
Estée Lauder Companies Inc., founded in 1946 by Estée and Joseph Lauder, is one of the world's leading manufacturers and marketers of quality skin care, makeup, fragrance, and hair care products. Its products sell in over 150 countries and territories under a number of well-known brand names, including Estée Lauder, Aramis, Clinique, Origins, M.A.C, Bobbi Brown, La Mer, and Aveda. Skin care products accounted for approximately 44% while Makeup products accounted for approximately 38% of the company's net sales in fiscal 2013. The company's majority net sales are generated outside the United States.
For F2Q 2014, Estée Lauder shares fell, as the company forecast a slowing profit due to weak demand in Europe, Korea, and China. A Citigroup analyst said the decline was a buying opportunity, commenting that "though the 2H14 guidance is a bit disappointing, EL is still a best-in-class growth story."
Estée Lauder posts strong results for fiscal 3Q 2014
The company's recent F3Q 2014 earnings and revenue topped analysts' estimates. Net sales for its third quarter ended March 31, 2014, were $2.55 billion—an 11% increase compared to $2.29 billion in the same quarter the year before. The company reported a 270 basis point increase in operating margin, and net earnings for the quarter rose 19% to $213.2 million, compared to $178.8 million last year. Diluted net earnings per common share rose 20% to $0.54, compared to the $0.45 reported in the prior year. Management said, "These results were driven by the broad global demand for our diverse prestige beauty brands, the strength of our emerging markets, accelerated growth in certain developed markets and solid progress in skin care."
Article continues below advertisement
During the quarter, net sales of skin care products increased 12% to $1,132.1 million. The recent launch of new products and higher sales of La Mer brand products and the Nutritious line of products contributed to the increase. Makeup net sales increased 10%, or $96.5 million, to $1,015.7 million, primarily reflecting higher net sales from Estée Lauder's makeup artist brands and recent launches. Net sales of fragrance products increased 16% to $270.5 million, primarily reflecting higher sales of Tom Ford and Jo Malone fragrances, while hair care net sales increased 4% to $120.8 million, reflecting expanded global distribution of Aveda products to salons and in the travel retail channel, and Bumble and Bumble products to specialty multi-brand retailers.
The company attributes the growth in its sales to accelerated orders from the implementation of its Strategic Modernization Initiative (or SMI), an enterprise-wide global program that should be scalable and used to standardize business processes across brands, operating units, and sales locations. As part of SMI, Estée Lauder expects the continued migration of its operations to SAP-based technologies, with the majority of locations being enabled through calendar year 2014.
Emerging markets and skin care to drive growth
Article continues below advertisement
Prestige beauty product maker Estée Lauder said in its 10Q filing that for the remainder of fiscal 2014, it plans to continue building on its "strengths and heritage of innovation to bring unique and high-performance products with long-term appeal and enduring quality to its consumers." The filing said, "We expect our strategy will enable us to continue to succeed in high growth channels, benefit from regional opportunities, focus on emerging market consumers and enhance our local relevance."
The company said it's seeing continued softness in certain European countries and Korea due to challenging economic environments and competition. The company said it's cautious about an uncertain retail environment in the U.S. in the short term, unfavorable foreign exchange rates in certain emerging countries, and a slowing of the near-term growth trend in China. The company said skin care, which is its most profitable product category, remains a strategic priority for innovation and investment spending, particularly in the Asia-Pacific region and with product launches such as Advanced Night Repair Synchronized Recovery Complex II from Estée Lauder and Dramatically Different Moisturizing Lotion + from Clinique.
For fiscal 2014, Estée Lauder expects global prestige beauty to grow approximately 3% to 4%, tempered by continued softness in certain European countries and Korea and slower near-term growth in China and the United States. The company expects to further improve its gross and operating margins by leveraging its strong sales growth and continuing to reduce non–value-added costs. Net sales are expected to grow between 6% and 7% in constant currency.
Estée Lauder declared a quarterly dividend of $0.20 per share earlier in May. For the nine months ended March 31, 2014, the company purchased approximately 8.7 million shares of its Class A common stock for $600.3 million.