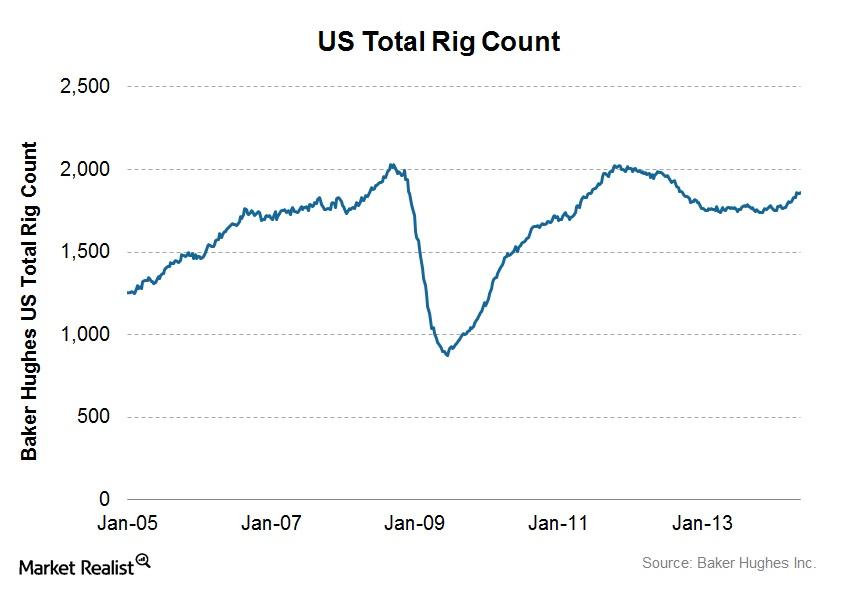 Why should investors pay attention to oil and gas rig counts?
By Ingrid Pan

Dec. 4 2020, Updated 10:52 a.m. ET
U.S. rig count trends show how much inclination companies have to spending on drilling
Rig counts represent how many rigs are actively drilling for hydrocarbons (oil and gas). Baker Hughes, an oilfield services company, reports rig counts weekly. The company notes that rig count trends are "governed by oil company exploration and development spending, which is influenced by the current and expected price of oil and natural gas." So, rig counts can represent how confident oil and gas producers feel about the drilling environment. As rig counts show one measure of oil and gas drilling activity, the figure can also be a useful indicator to gauge the activity levels of oilfield service companies such as Baker Hughes (BHI), Halliburton (HAL), and Schlumberger (SLB)—all of which are part of the Oil Services HOLDRs ETF (OIH) and the Energy Select Sector SPDR (XLE).
U.S. rig counts rose slightly last week and remain up 6% year-to-date
The U.S. drilling rig count increased by six, from 1,855 to 1,861, during the week ended May 16, according to the latest Baker Hughes report. The number of oil rig counts and natural gas rig counts rose by three each.
Year-to-date, the total U.S. rig count has increased by 110, or 6%. Oil rigs have increased by 153 (11%), while natural gas rigs have declined by 46 (-12%). To read further about oil and natural gas rig count trends, continue to the following parts of this series.
Oilfield service companies expect solid U.S. onshore activity through 2014
Article continues below advertisement
Most major oilfield service companies expect U.S. onshore rig counts to be slightly up in 2014 compared to 2013, driven mostly by higher activity in the Permian Basin in West Texas. Both higher rig counts and increasing efficiencies to such higher levels of pad drilling (drilling more than one well on a single well site, which requires fewer rigs running to drill the same number of wells), and faster well drilling times are expected to drive the U.S. oil and gas production up significantly in 2014 compared to 2013.
Baker Hughes noted in its 1Q14 earnings call regarding the U.S. onshore market that Permian activity drove the increase in 1Q14 rig counts, and that continued rig count growth throughout the rest of the year would be supported by Permian activity. BHI expects a 10% increase in rig counts in the Permian Basin over 2014, which is expected to contribute to a 4% overall increase in U.S. rig counts, resulting in a prediction of an average rig count of ~1,830.
Halliburton stated in its 1Q14 earnings call, "In the second quarter we're expecting higher U.S. land activity… with the net result that we should see a low to mid-single-digit percentage improvement in North America revenue in the second quarter and margins will return to second half 2013 levels."
Schlumberger stated on its 1Q14 earnings call, "Now, in terms of activity outlook for North America, on land, we expect solid activity growth in U.S. land in 2014. We see this being led by South and West Texas. And in addition to the number of wells, we also see it supported by, again, efficiency gains and further uptake of new technology."
Continue to the next parts of this series to read about U.S. oil and natural gas rig counts.