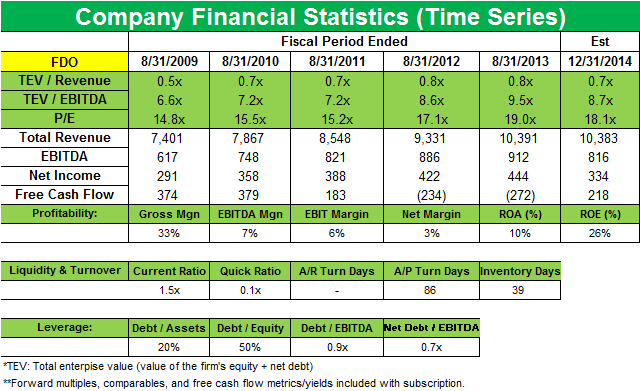 Why did Paulson & Co. sell its Family Dollar Stores stake?
Paulson & Co. and Family Dollar Stores
John Paulson's Paulson & Co. started new positions in Verizon Communications Inc. (VZ), CBS Corp. (CBS), and Valeant Pharmaceuticals (VRX) and upped its positions in Cobalt International Energy (CIE) and American Airlines Group (AAL). Notable position decreases were Family Dollar Stores (FDO) and Freeport-McMoRan Copper (FCX).
Paulson reduced its position in Family Dollar Stores (FDO) last quarter. The position now accounts for 1.84% of Paulson's $20 billion 1Q 2014 portfolio, down from 3.12% in 4Q 2013. The position was established in 1Q 2013.
Article continues below advertisement
Family Dollar Stores operates a chain of more than 8,100 general merchandise retail discount stores in 46 states, providing value-conscious consumers with a selection of competitively priced merchandise in convenient neighborhood stores. Its merchandise assortment includes Consumables, Home Products, Apparel and Accessories, and Seasonal and Electronics. In fiscal 2013, FDO said it remained focused on achieving four corporate goals: build customer loyalty and experience, deliver profitable sales growth, drive continuous improvement, and develop diverse, high-performing teams.
Following two quarters of weaker-than-expected results, the company has initiated an in-depth business review to "identify opportunities to strengthen its value proposition, increase operational efficiencies and improve financial performance." It announced immediate strategic actions to improve performance that include a significant investment to lower prices on about 1,000 basic items, cost cuts, and the shutdown of approximately 370 under-performing stores. These actions are expected to result in $40 million to $45 million of annualized operating profit benefit, beginning 3Q fiscal 2014. The dollar store chain said it intends to slow new store growth beginning in fiscal 2015 to improve return on investment.
Article continues below advertisement
During the second quarter of fiscal 2014, FDO said its financial results and the number of customer transactions in the second quarter of fiscal 2014 were adversely impacted by severe winter weather. It saw numerous store closings and reduced hours of operation as a result of the weather. Its quarterly results have also been affected by macro-economic and the highly competitive and promotional retail environment. With increased financial pressures and challenges including high unemployment rates, volatility in food, gasoline, and energy costs, and uncertainty in healthcare programs, FDO believes its customers continue to focus spending on items they need and less on discretionary purchases. In 1Q 2014, FDO announced the departure of chief operating officer Michael Bloom. Although the introduction of tobacco and store renovations last year attracted customers, they also resulted in significant margin pressure, higher store manager turnover, and lower inventory productivity, FDO's management noted on its 1Q 2014 earnings call in January. Management added, "We strayed from our core strategy of serving the value-conscious consumer."
In fiscal 2Q 2014, net sales decreased 6.1% to $2.7 billion from $2.9 billion, while net income decreased to $90.9 million from $140.1 million. FDO's diluted net income per common share decreased to $0.80 per share from $1.21 per share. Comparable-store sales for the second quarter of fiscal 2014 decreased 3.8%, compared to the second quarter of fiscal 2013.
Paulson initiated a new position in Family Dollar's peer, Dollar General (DG), that accounts for 0.54% of the fund's total portfolio. DG reported 4Q 2013 net sales increase of 6.8% to $4.49 billion in 4Q 2013 and same-store sales increased 1.3%. The increases were driven by sales of tobacco products and perishables. DG said despite severe winter weather and macroeconomic headwinds, both customer traffic and average ticket increased in its same-stores in the fourth quarter. Another peer, Dollar Tree (DLTR), said comparable-store net sales increased 1.9%, primarily due to increased customer traffic for the 13 weeks ended May 3, 2014. It said its discretionary business grew slightly faster than consumables.