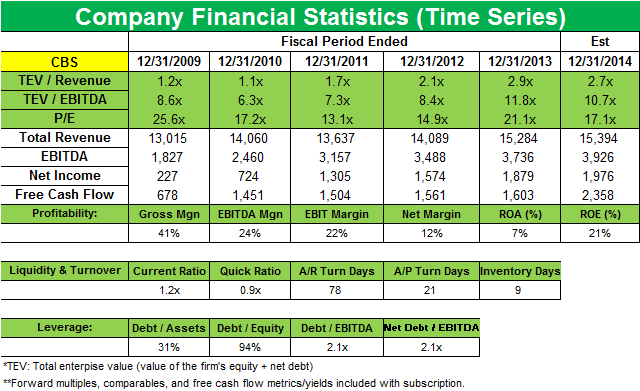 John Paulson's Paulson & Co. buys a new position in CBS in 1Q14
By Samantha Nielson

Dec. 4 2020, Updated 10:52 a.m. ET
Paulson & Co. and CBS
John Paulson's Paulson & Co. started new positions in Verizon Communications Inc. (VZ), CBS Corp. (CBS), and Valeant Pharmaceuticals (VRX) and upped its positions in Cobalt International Energy (CIE) and American Airlines Group (AAL). Notable position decreases were Family Dollar Stores (FDO) and Freeport-McMoRan Copper (FCX).
Paulson initiated a new position in CBS Corp. (CBS) last quarter. The position accounts for 1.35% of Paulson's $20 billion 1Q 2014 portfolio.
Article continues below advertisement
CBS is a mass media company that creates and distributes industry-leading content across a variety of platforms to audiences around the world. It operates businesses that span the media and entertainment industries, including the CBS Television Network, cable program services, television content production and distribution, motion pictures, consumer publishing, television and radio stations, interactive media, and outdoor advertising.
CBS spun off its Outdoor Americas billboard business at the end of March via an IPO. CBS Outdoor Americas sold 23 million shares, or 19% of its stock, for $28.00 per share in the IPO, and raised $615 million. CBS said it intends to dispose of its remaining shares in CBS Outdoor through a tax-free split-off in 2014. CBS also received a favorable private letter ruling from the Internal Revenue Service (IRS) over the conversion of CBS Outdoor to a real estate investment trust (REIT). Following the split-off, CBS Outdoor intends to elect to be taxed as a REIT. Management said, "The separation of this business will bring us that much closer to achieving our goal of becoming a pure content company and, at current market prices, puts us on track to return about $6 billion of value to shareholders in 2014."
Article continues below advertisement
For 1Q 2014, CBS reported revenue decline of around 5% to $3.9 billion, mainly due to the absence of ad revenue from the Super Bowl broadcast and certain NCAA Tournament games. Revenue in the earlier 1Q 2013 included more than $280 million from CBS Television Network's broadcast of Super Bowl XLVII. Content licensing and distribution revenues grew 6%, driven by higher international licensing of television programming. Affiliate and subscription fee revenues rose 9%, led by higher cable affiliate fees, retransmission revenues, and fees from CBS Television Network–affiliated television stations.
Net income was $468 million or $0.78 per diluted share, compared to $463 million or $0.73 per diluted share for the same period the previous year. The increase reflected the growth in operating income and lower-weighted average shares outstanding due to the company's ongoing share repurchases. These increases were partially offset by $11 million higher interest expense, mainly resulting from CBS Outdoor's $1.6 billion of long-term borrowings in January 2014.
CBS expects to benefit from continued growth in revenues in 2014 from MVPDs (multichannel video programming distributors) and television stations affiliated with the CBS Television Network, as well as incremental political advertising sales associated with mid-term elections. It said that advertising revenue comparisons in the second quarter of 2014 will be negatively impacted by the broadcast of two fewer NCAA Tournament games on the CBS Television Network compared to the second quarter of 2013.
In 1Q 2014, CBS spent $2 billion to repurchase 31.4 million shares of CBS Corp. Class B shares. As of March 31, 2014, the company had $3.43 billion of authorization remaining on its share repurchase program.