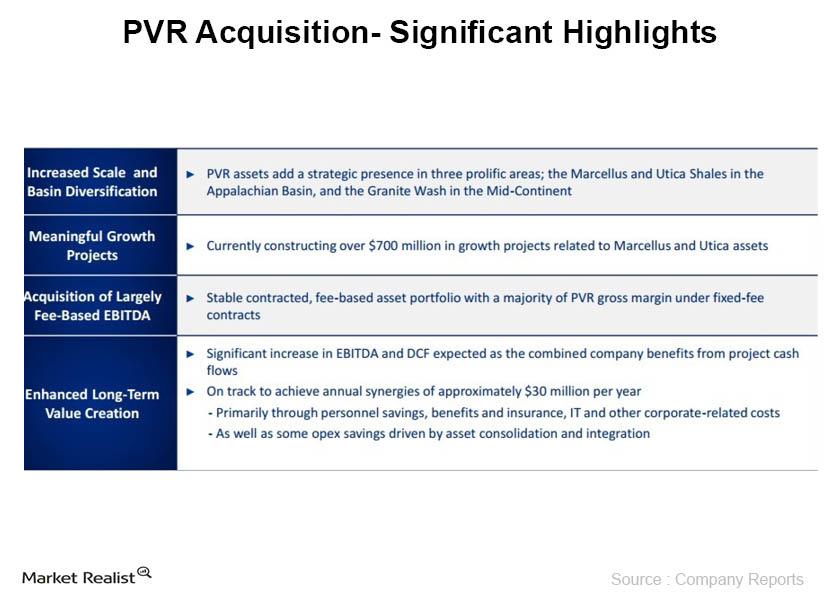 Overview: Regency's recent acquisitions
By Keisha Bandz

Nov. 20 2020, Updated 3:40 p.m. ET
RGP's recent acquisitions
Regency (RPG) announced several acquisitions in 2013. The major acquisitions included the Southern Union Gas Services Ltd. (SUGS) acquisition from Southern Union Gas LLC—an affiliate of Energy Transfer Equity L.P. (ETE) and Energy Transfer Partners L.P. (ETP); the Hoover Energy acquisition; the PVR acquisition from PVR Partners L.P. (PVR); and the Eagle Rock acquisition from Eagle Rock Partners (EROC) midstream business. It is important to note that RGP and ETP are both a part of the Alerian MLP ETF (AMLP) while EROC is a part of the Global X Junior MLP ETF (MLPJ).
PVR acquisition
On March 21, Regency closed its acquisition with PVR Partners. The combination creates a fully integrated midstream partnership platform by further expanding Regency's position in the Appalachia Basin. It also expanded Regency's presence in the Mid-Continent.
Article continues below advertisement
This acquisition is expected to allow Regency to benefit from increased scale, enhanced geographic diversification, and a growing fee-based asset portfolio while delivering additional appealing service options to customers. Also, the high level of producer activity around the Marcellus positions Regency to capture additional upside from organic growth opportunities. Regency expects to achieve approximately $30 million in annual synergies from this acquisition.
Hoover Energy acquisition
On February 3, Regency closed its acquisition of Hoover Energy's (a private company) midstream assets. Hoover gas assets were already connected to Regency's existing Permian Basin gathering system, which facilitated a quick integration for RGP.
This acquisition has enabled Regency to facilitate oil gathering. The existing Hoover system is currently flowing approximately 17,000 barrels a day, which is up from 10,000 barrels a day when it closed in February. Regency plans on having additional expansions for these assets this year.
Eagle Rock acquisition
Eagle Rock Energy Partners L.P. (EROC) is a master limited partnership with both upstream and midstream businesses. In late December, 2013, Eagle Rock entered into an agreement with Regency Energy Partners (RGP). EROC announced that it would sell its midstream business to RGP for $1.3 billion. The management expects the acquisition to be influential for 2014 distributable cash flow per common unit.
However, on February 23, Eagle Rock Energy Partners L.P. (EROC) and Regency Energy Partners L.P. (RGP) received a request for additional information and documents from the Federal Trade Commission (or FTC) in connection with the deal.
On April 30, RGP and EROC jointly announced that they had certified substantial compliance with the FTC in response to its request for additional information. In order to facilitate the FTC's review, both RGP and EROC have agreed not to close on the proposed transaction before June 30, 2014, unless the FTC closes its investigation first. The EROC and Regency acquisition is equally beneficial and crucial for Eagle Rock Midstream Partners. To learn more about this, read the Market Realist article Why Regency is an important deal for Eagle Rock Energy Partners.
Not including the close of the Eagle Rock acquisition, Regency expects its recently announced growth projects to drive 2014 performance. Continue reading the next section of this series to learn about RGP's future growth plans.