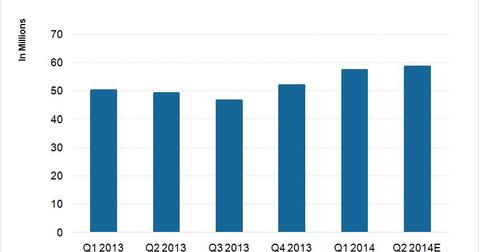 Navios Maritime Partners: A must-know company overview
By Katie Dale

Updated
Navios Maritime Partners
Formed by Navios Maritime Holdings Inc. (NM) in 2007, Navios Maritime Partners L.P. (NMM) is engaged in the seaborne transportation services of a range of drybulk commodities including iron ore, coal, grain, and fertilizer. Navios Holdings owns a 20% interest in Navios Partners, which includes the 2% general partner interest. Meanwhile, Navios Maritime Partners has a 3.5% holding in the Guggenheim Shipping ETF (SEA). Performance For the first quarter of 2014, Navios Maritime Partners' revenue rose 14.4% year-over-year to $57.5 million, led by vessel acquisitions. Consequently, quarterly EBITDA rose 86.3% to $69 million, while net income grew from $18.4 million to $16.2 million over the same period. For the first time since June 2011, Moody's Investor Service has revised its outlook for the global shipping industry to stable from negative. The agency believes that despite tougher conditions, the industry's condition is improving based on reduced bunker prices, slower steaming, and efficiency efforts. It expects global industry's aggregate profits will rise by mid-single digits in percentage terms year-over-year in 2014, in line with their negative 5% to positive 10% growth range for a stable outlook.
Fleet portfolio
Article continues below advertisement
Navios Partners operates 30 vessels with an average term of seven years. Its fleet consists of 14 Panamax vessels, eight Capesize vessels, three Ultra-Handymax vessels, and five Post-Panamax container vessels. From time to time, the company purchases additional vessels, which include vessels from Navios Holdings. These vessels are chartered out for an average remaining charter term of 3.2 years to highly rated customers.
In this series, we will discuss unique features that make Navios Maritime Partners a safer investment compared to other companies such as DryShips Inc. (DRYS), Diana Shipping Inc. (DSX), Safe Bulkers, Inc. (SB), and Navios Maritime Holdings Inc. (NM).
Note: this report was co-prepared by Xun Yao Chen.