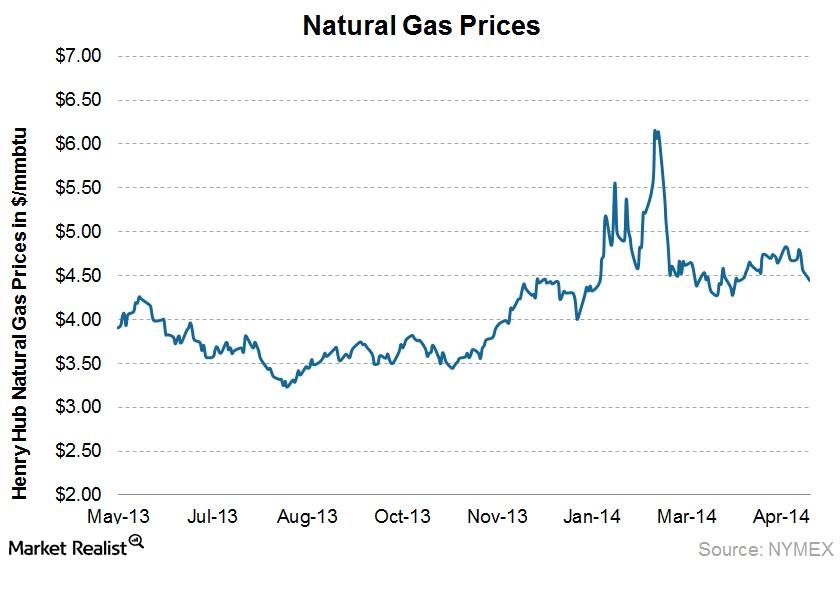 Why did natural gas prices take a tumble over the week?
Natural gas prices traded relatively flat on the week
Natural gas prices closed at $4.53 per MMBtu for the week ended May 9, 2014—down from the $4.67 per MMBtu close the prior week. Natural gas prices traded lower because of the higher-than-expected build in natural gas inventories, the U.S. Energy Information Administration reported. The data indicated a weaker-than-anticipated demand for the fuel. As a result, natural gas prices dropped back and finished at $4.67 per barrel on the week. Natural gas prices have fallen from highs of over $6 per MMBtu earlier this year. Demand had spiked this winter due to colder-than-normal winter weather, but the onset of milder spring temperatures has caused demand and prices to fall back to around $4.50 per MMBtu. Still, natural gas prices right now remain significantly up from 2013, when natural gas averaged ~$3.70 per MMBtu.
Article continues below advertisement
Natural gas prices are especially important for domestic independent upstream names, whose production largely includes natural gas, such as Chesapeake Energy (CHK), Southwestern Energy (SWN), Comstock Resources (CRK), and Quicksilver Resources (KWK). Natural gas price movements are also relevant for commodity ETFs such as the U.S. Natural Gas Fund (UNG), an exchange traded fund designed to track the price of Henry Hub natural gas (the standard benchmark for domestic natural gas prices).
Natural gas prices are low from a long-term perspective
From a long-term historical perspective, natural gas has been trading at low levels over the past few years. Prior to the financial crisis of 2008, natural gas had reached peaks of over $15.00 per MMBtu. Since 2008, a considerable amount of natural gas supply has come online without an equivalent increase in demand due to the discovery and development of large natural gas shale resources in the U.S. Many investors expect natural gas prices to remain relatively depressed, as the development of shale resources has allowed companies to produce natural gas economically, at lower prices.
This past week's movements in natural gas prices were neutral for natural gas companies. From a medium-term perspective, natural gas is still up significantly, from where it was a few months ago (the mid-$3-per-MMBtu range). However, prices remain low from a long-term perspective.
For companies weighted toward natural gas assets and production (such as CHK, SWN, CRK, and KWK) and the U.S. Natural Gas Fund ETF (UNG), natural gas prices have an important effect on valuation.
Continue to the next part of this series to read about how natural gas liquids' prices can affect certain energy companies.