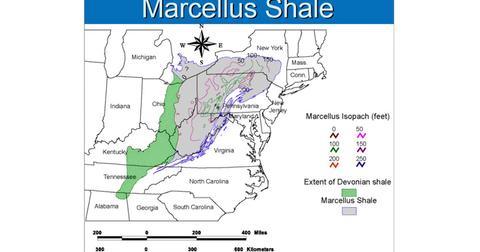 Must-know: An investor's guide to the Marcellus Shale gas play
By Keisha Bandz

Updated
An introduction to the Marcellus Shale
The Marcellus Shale is sedimentary rock buried thousands of feet beneath the Earth's surface, and it's one of the largest natural gas plays in the world. The Marcellus Shale play runs through northern Appalachia, primarily in Pennsylvania, West Virginia, New York, and Ohio. The United States Geological Survey (or USGS) estimates the formation's total area to be around 95,000 square miles, ranging in depth from 4,000 to 8,000 feet.
Article continues below advertisement
The surge in drilling activity in the Marcellus Shale began in 2008 and has carried on well into 2013 and 2014. The 400-year-old Marcellus Shale formation is estimated to contain more than 410 trillion cubic feet of natural gas and could supply U.S. consumers' energy needs for hundreds of years. According to the U.S. Energy Information Administration (EIA), the Marcellus now produces about 18% of the country's natural gas, compared to 2% back in 2008. Also, the EIA states that the 2013 Marcellus shale natural gas production reached 3.9 Tcf (trillion cubic feet). Pennsylvania accounted for 3.2 Tcf and is now the second leading natural gas–producing state, behind Texas, even as Pennsylvania accounts for six of every ten wells now drilled into the shale. Driller interest is highest in central and northeast Pennsylvania, where the shale is deepest and thickest. As of February 2014, gas rigs operating in the Marcellus totaled 82.
Heightened interest in the Marcellus Shale
Upstream
Range Resources (RRC), based in Fort Worth, Texas, started the present interest in the Marcellus Shale in 2003 when the company drilled a well in central Pennsylvania using the same horizontal drilling and hydraulic fracking technology it was successfully employing in Texas' Barnett Shale. Heightened interest from other companies began in 2005. By 2008, drillers were applying the latest technology, with extremely high initial natural gas production rates. In its guidance for 2014, RRC allocated 87% of its capital expenditure to the Marcellus, where it will continue to drill and construct pipelines and other facilities. Range Resources remains a major player in the Marcellus play.
Midstream
Williams Partners (WPZ), Crestwood Midstream (CMLP), Regency Energy Partners (RGP), and MarkWest Energy Partners (MWE) are major midstream companies focusing on investing in the Marcellus in 2014.
Article continues below advertisement
In 2014, Williams Partners LP plans a new midstream JV (joint venture) with Shell Oil Co. to install wet gas and dry gas handling infrastructure targeting Marcellus and Utica gas production. The new venture, Three Rivers Midstream, will gather and process Shell's production and will eventually pursue gathering and processing agreements with other producers in northeastern Ohio and northwestern Pennsylvania. Another Midstream joint venture involving WPZ is the joint venture with Atlas Pipeline Partners (APL) in 2010 to form Laurel Mountain Midstream LLC, which includes approximately 1,400 miles of pipeline with an average throughput of 200 MMcf/d (million cubic feet per day)
Williams also plans to build a complex known as the Susquehanna Supply Hub in northeastern Pennsylvania. When fully completed, the facility will be a major natural gas supply hub to serve producers in the region. By 2015, Williams Partners expects to be gathering 5 Bcf/d (billion cubic feet per day) in the Marcellus Shale.
Both Crestwood and Regency Partners are also stated to make infrastructure-related investments in the Marcellus in 2014, where CMLP is stated to spend ~$375 million for a gathering and processing project. RGP has already closed a merger with PVR Partners LP this year, which will allow Regency to benefit as it expands its geographic footprints in the Marcellus.
MarkWest has also provided guidance that it would spend 69% of its capex in the Marcellus this year. In 2014, MWE plans to increase processed volumes in the Marcellus by approximately 75% year-over-year and begin operations at five new processing plants that will increase the total capacity in their Marcellus segment to nearly 3.2 billion cubic feet per day (or bcf/d)
Note that WPZ, APL, CMLP, MWE, and RGP are all part of the Alerian MLP ETF (AMLP), while RRC is part of the S&P Oil & Gas Exploration & Production ETF (XOP).
Continue to the next part of this series to find out about the leading upstream company investing in the Marcellus this year.