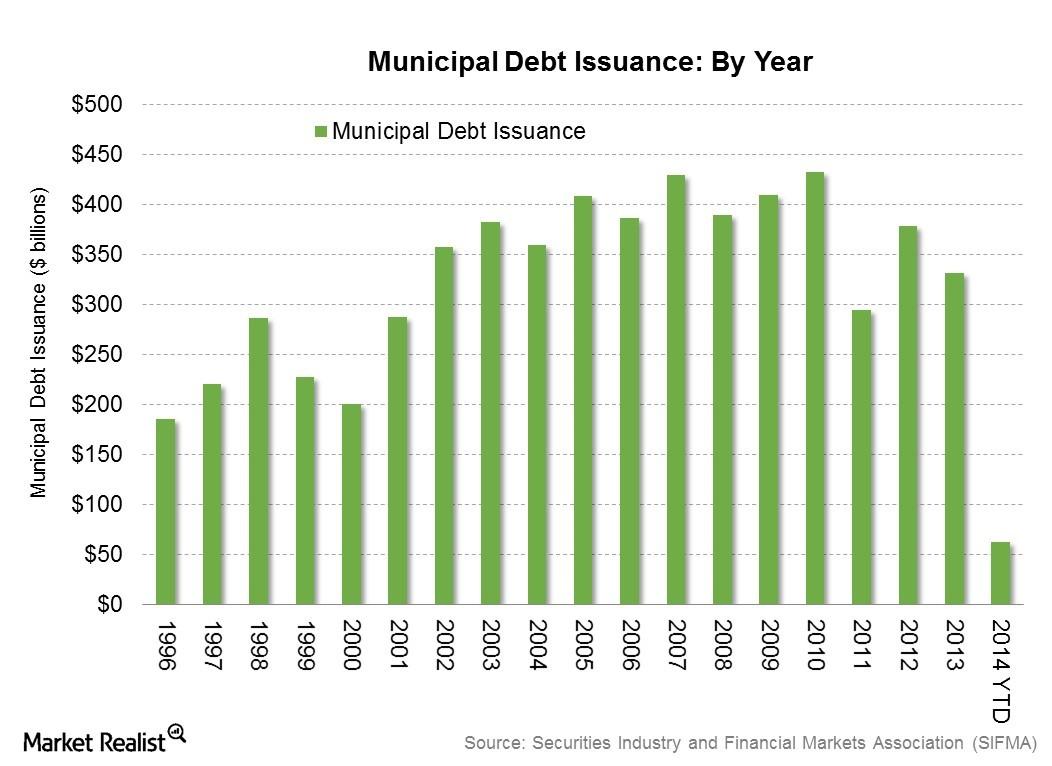 Why did muni maturities decline in the primary market in Q1 2014?
Observing the key trends
In the last section, we discussed municipal bond (MUB) issuance in Q1 2014 in terms of call features and interest rates. In this section, we will analyze other key trends observed in the market with respect to maturities, trading volumes and insured muni issuance.
Average debt maturities decline
Average maturity for new municipal bond (TFI) issues came in lower at 15.2 years in Q1 2014 compared to 16.3 years in 2013 and an average of 17.7 years over the period 1996-2013. This is largely due to the decline in issuance of revenue bonds which typically have higher maturities. Revenue bonds (RVNU) are usually issued to finance a specific project. The cash flows from the project are used to pay down the debt burden from the revenue bonds issued. For more on why revenue bond issuance declined, please read Part 3 of this series.
Trading volumes
Article continues below advertisement
According to the Securities Industry and Financial Markets Association (or SIFMA), there was a 1.8% increase in trading activity to $10.2 billion in 1Q14 on a quarter on quarter basis, although trading activity declined by ~7% on a year-over-year basis. The number of trades decreased by 2.8% and 2.3% on a quarter-over-quarter and year-over-year basis.
Insured issuance sees spike
According to the Securities Industry and Financial Markets Association (or SIFMA), ~$2.7 billion insured municipal bonds were issued in the first quarter of 2014, a decline of 5.3% quarter on quarter and an increase of 2.7% over the comparable quarter last year. The ratio of insured issuance to the total issuance of $60.4 billion (excluding private placements) was 4.6%.
ETFs investing in insured muni debt include the PowerShares Insured National Municipal Bond Portfolio (PZA) and the Insured NY Municipal Bond Portfolio (PZT). PZA has exposure to older Puerto Rico debt, but as the fund invests only in insured muni debt this should protect investors from the risk of default.
Part 10 of this series discusses the current yield advantage provided by municipal debt.