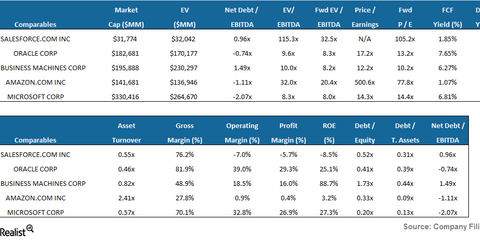 How does Salesforce perform versus its cloud computing peers?
By Samantha Nielson

Updated
Salesforce performance
We compared Salesforce (CRM) with its peers in the enterprise cloud computing space—namely, Oracle (ORCL), International Business Machines (IBM), Microsoft (MSFT), and PaaS peer Amazon (AMZN), which leads the IaaS space with its Amazon Web Services. Salesforce is currently trading at a high forward price-to-earnings ratio of 105x, which implies that investors are expecting high growth. Oracle, Microsoft, and IBM are seeing forward price-to-earnings at an average of 14x. Salesforce's operating and profit margin are in the negative. Both Salesforce and Amazon have a low free cash flow yield compared to their peers.
Article continues below advertisement
Salesforce and its peers saw a rally last year and at the beginning of this year but declined as part of the larger selloff in technology and Internet-based momentum stocks at the end of March. Cloud computing services have gained popularity especially among startups because of cheaper costs. Salesforce states that CRM is shifting toward cloud computing, as instead of buying and maintaining expensive servers and software to manage customer conversations and information, companies can use web-based (cloud) CRM applications and get a high return on investments. Another feature of cloud CRM apps is multitenancy. With an architecture similar to that of Amazon.com and Google, all customers share a common technology, run on the latest release, and benefit from automatic upgrades. So they can focus on running their businesses instead of managing technology.
Gartner believes "CRM will be at the heart of digital initiatives in coming years" and forecasted continued strong growth across all public cloud services market segments, with a CAGR of 17.4% from 2011 through 2017. End-user spending on public cloud services is expected to grow 18% in 2013 to $132 billion and almost $250 billion by 2017, including cloud advertising. Gartner expects CRM market growth to stay moderate in 2014, following three strong years of investment. CRM software revenue is forecast to reach $23.9 billion in 2014, with cloud revenue accounting for 49%. SaaS- or cloud-based CRM deployments currently represent more than 40% of all CRM deployments and look set to reach 50% in 2015.