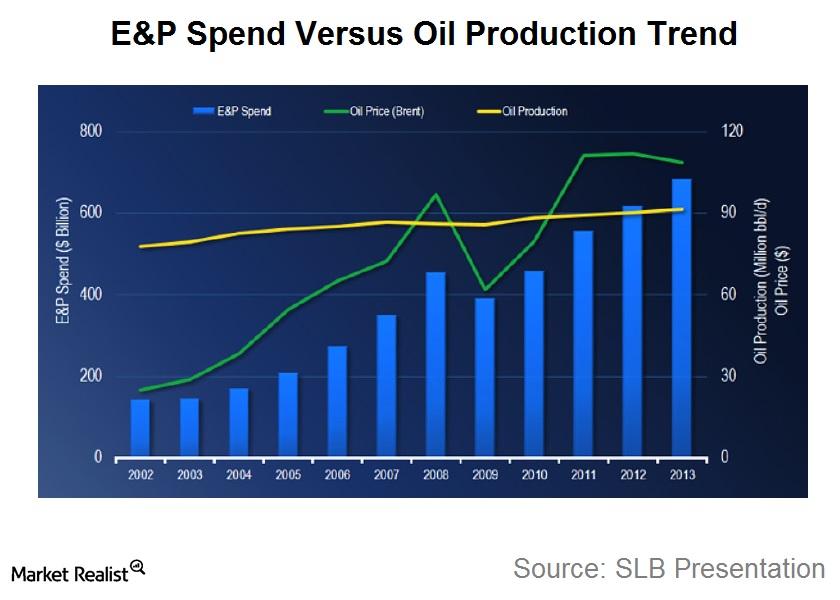 The major factors for oilfield service names like Halliburton
By Ingrid Pan

Nov. 20 2020, Updated 3:51 p.m. ET
Key factors
Oilfield service (or OFS) companies provide services such as drilling and completing wells, evaluating oil and gas reserves, maintaining wells, and offering other related goods and services. Their revenue comes from upstream oil and gas companies—the companies that have rights to hydrocarbon reserves and selling their production. Upstream companies, such as ExxonMobil (XOM) or Chevron (CVX), usually don't own significant oilfield equipment assets, but rather, their assets are largely the oil and gas reserves they'll produce and drill. Companies like XOM and CVX contract oilfield service companies such as Schlumberger (SLB) and Halliburton (HAL) to provide these services.
Article continues below advertisement
Upstream companies' capital expenditures that are directed towards activities such as drilling and completing wells (or other related oilfield activities) generate revenue for OFS names. Higher upstream capex means higher revenues (which usually translates into higher earnings) for the OFS sector. Upstream capital expenditures can be driven by a few factors, the most important of which is crude oil and natural gas prices. High commodity prices increase the cash flows of upstream energy companies, which generates more cash available to put towards capex and makes investment in new wells even more profitable.
Prices are determined by supply and demand dynamics. Generally, demand grows when economic growth is also strong. However, demand also relates to other factors, such as the availability and price of substitute sources of energy (nuclear, renewables, coal, et cetera) as well as weather (as energy is used for home heating and air conditioning), refinery capacity and configuration, and energy efficiency.
Article continues below advertisement
Supply is determined by various factors, one of the most important of which is OPEC (the Organization of the Petroleum Exporting Countries), which comprises major oil producing and exporting countries such as Saudi Arabia, Libya, and Iraq. OPEC meets periodically to coordinate energy policy that can affect production rates and oil prices.
The availability, profitability, and decline rates of oil and gas reserves also affect supply. For example, in the U.S., supply has increased rapidly, as new technologies have led to the profitable exploration and development of vast new resources, such as the Marcellus Shale. While natural gas prices have been low over the past few years from a relative standpoint, natural gas production in the U.S. continues to creep up, in part due to the prolific nature of areas such as the Marcellus. Many of the new shale plays have steep decline rates in production (meaning the flow rates of oil and gas decrease sharply over time), which also creates an impetus for more capex spending. Declining production from mature fields that are being depleted also negatively affects supply.
When commodity prices fall, upstream energy companies cut back on capital expenditure, which means lower earnings for the OFS names. So, as commodity prices can be volatile and also cyclical, so can upstream companies' cash flows, and therefore oilfield service companies' earnings. This is exhibited by the companies' betas (Schlumberger—1.60, Halliburton—1.73, and Baker Hughes—1.64, as sourced from Google Finance). A beta greater than 1 means the movement of the stock price is theoretically more volatile than the movement of the broad market.
As we discussed in the prior part of this series, given current supply and demand dynamics for oil and natural gas and commodity price levels, oilfield service companies expect that 2014 will see higher revenues and margins than 2013. The major downside risks to oilfield service stocks include economic weakness that puts downward pressure on commodity prices and a downturn in the general market, major cutbacks in upstream companies' capex, and multiple compression. Plus, investors are currently watching the North American pressure pumping market, which had shown weakness over the past few years, given an excess supply of equipment. A slower-than-anticipated recovery could put negative pressure on earnings and, consequently, stock prices. Conversely, a faster-than-expected recovery in North America pressure pumping, higher commodity prices and E&P capex, and strong global economic growth could drive valuations higher.
To learn more about oilfield services companies and other key energy companies, see Market Realist's Energy and Power page.