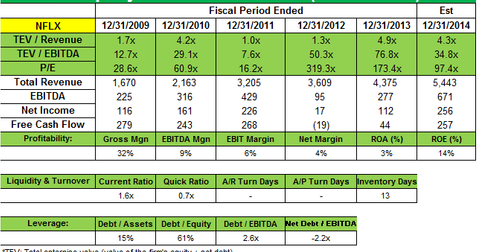 Why did Icahn Associates trim its position in Netflix in 1Q14?
By Samantha Nielson

Updated
Icahn Associates and Netflix
Icahn Associates added a new position in eBay (EBAY) and the quarter saw no stake disposals. Icahn raised the fund's holdings in Apple (AAPL) and Herbalife (HLF). Icahn's fund reduced its exposure to Netflix (NFLX) in 1Q 2014.
Icahn Associates trimmed its existing position in Netflix Inc. (NFLX) that accounts for 2.40% of the fund's U.S. long portfolio as per the 1Q 2014 filing. The holding was decreased by 420,958 shares to 2.2 million shares in the quarter. Netflix is one of the world's leading Internet television network with more than 48 million streaming members in over 40 countries that enjoy more than two billion hours of TV shows and movies per month, including original series.
Icahn first disclosed a 9.98% stake in Netflix in 3Q 2012 consisting of a 1% direct stake and the remaining in options. Icahn said back then that Netflix was "undervalued" and noted in an interview with the Wall Street Journal that the company was an ideal target for an acquisition.
Article continues below advertisement
In October of last year, the fund cut its stake in Netflix and said in an SEC filing that the decision to sell 2,989,000 shares of Netflix "was made by Carl Icahn in view of the 457% increase in the price of those shares since the original investment at approximately $58 per share." Icahn added in the filing that "as a hardened veteran of seven bear markets I have learned that when you are lucky and/or smart enough to have made a total return of 457 percent in only 14 months it is time to take some of the chips off the table." According to reports, the Netflix stake was reduced to 4.5% in October from 9.4% in June.
The October SEC filing stated, "Despite its notable appreciation in just over one year to $323 per share, for the reasons set forth below, we believe the company remains significantly undervalued. As a subscription service priced at only $7.99 per month, we believe Netflix is one of the great consumer bargains of our time." The filing added, "Netflix's predominately fixed content cost (variable primarily to the extent management chooses to further improve the service) gives the business model massive operational leverage. Our recognition of this operational leverage, combined with our expectations for both domestic and international subscriber growth with modest price increases over time, has been and continues to be the core of our investment thesis."
Icahn believes new subscriber additions and price increases will drive growth
Article continues below advertisement
Icahn, via the SEC filing, stated, "At just $7.99 per month, we think Netflix has pricing power – and while we do not expect price increases for the next two years we think it is reasonable to anticipate that the company could ultimately raise prices to $9.99 per month over the course of the next five years (this equates to a very modest annualized increase of roughly 4.6%). Together, we expect these new subscriber additions and price increases would raise domestic streaming revenues by $4.3 billion annually. Even if the company decides to increase spending on cost of revenues (largely content) by $1 billion annually (a 55% increase) in order to seek to achieve this growth by further improving the user experience, the operating leverage would still be impressive, adding $3.3 billion to domestic contribution profit."
Market Realist reported last month in an article titled Netflix will raise its prices after better-than-expected earnings that Netflix said it will raise the price of its streaming service by $1 to $2 per month for new subscribers from the present rate of $7.99 per month. The company's 1Q 2014 earnings beat estimates and it added 2.25 million net U.S. subscribers and 1.75 million international subscribers in the first quarter.
Netflix's international segment revenue is poised to grow
Article continues below advertisement
Icahn's October filing further said that Icahn Associates "believe (Netflix)'s international opportunity is even larger in the long term. We strongly support the company's strategy to reinvest its domestic profits into international growth and recognize that its rapidly improving domestic operating profit implies an accelerated pace for future international expansion, with large new markets launched in 2014 and beyond."
Netflix said in 1Q 2014 its international revenues currently amount to 25% of its total streaming revenue and it expects the international segment to eventually surpass its U.S. market, similar to other Internet firms. International contribution losses shrank by $22 million quarter-on-quarter, with losses more than halved on a year-over-year basis due to the strong growth in paid members.
FBR Capital analyst Barton Crockett upgraded the stock and said, "The company is pulling the trigger on price hikes, delivering better operating leverage internationally than we expected, and meeting lofty subscriber growth expectations domestically while beating them internationally. Because of these positives, we are now arguing that international is worth more than the U.S."
Netflix's peers include Amazon's (AMZN) Prime Instant Video service. Netflix noted in its shareholder letter that Amazon has repurposed its content deals to serve Amazon Prime Instant Video in the UK and Germany and is investing in creating awareness of this new model. The streaming service added that since much of the content on Netflix and Amazon Prime (as well as Hulu in the U.S.) is mutually exclusive, many consumers see value in subscribing to all three networks.