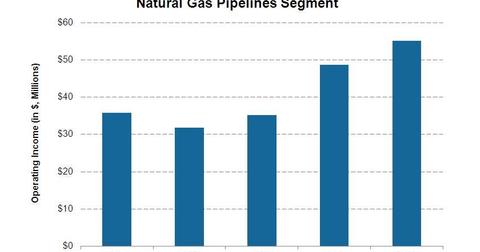 High contract volume: A steady cash flow for Natural Gas Pipeline
By Alex Chamberlin

Updated
ONEOK Partners' Natural Gas Pipeline segment
ONEOK Partners' (OKS) Natural Gas Pipeline segment serves the company's 6,500 miles of pipeline and ~54 billion cubic feet of storage capacity. The segment generated revenues through long-term, fee-based contracts. In 2013, approximately 90% of the natural gas pipeline transportation capacity and 92% of natural gas storage capacity were contracted. The company operates the natural gas pipeline and storage services in North Dakota, Minnesota, Wisconsin, Illinois, Indiana, Kentucky, Tennessee, Oklahoma, Texas, Kansas, and New Mexico.
Article continues below advertisement
The operating income for the Natural Gas Pipeline segment for 1Q14 was $55.1 million versus an operating income of $48.7 million in 4Q13, an increase of ~13%. This was primarily due to the higher rates on OKS' intrastate natural gas pipelines and increased contracted capacity on Midwestern Gas Transmission. In 1Q14, 5,866 thousand dekatherms per day of natural gas transportation capacity was contracted, or 4% higher compared to 4Q13. Transportation capacity subscribed was 93% in 1Q14.
Terry K. Spencer, the Chief Executive Officer of OKS, commented in the conference call of 1Q14, "The Natural Gas Pipelines segments first quarter 2014 results were significantly higher, up 53% due to increased rates and park-and-loan services as a result of strong weather-related seasonal demand. This level of park-and-loan activity was driven by strong Midwest weather-related demand, and clearly demonstrates the value of our market-connected natural gas pipeline assets, particularly during periods of peak demand. These assets primarily serve on-system customers, such as local natural gas distribution companies, electric generation facilities and large industrial customers, or consumers that require natural gas to operate their business."
Article continues below advertisement
Due to the significant increase in natural gas being produced in the U.S. shale plays, the number of marketing companies that contract for natural gas storage capacity has declined in the past few years. This increase in supply has led to the natural gas' location price differentials to narrow across the country and stable natural gas prices. The trend has prompted many electric utility companies to use natural gas as input, shifting from predominant coal usage. This had led to higher demand for OKS's natural gas storage and transportation services including natural gas delivery to their facilities. Around its pipeline, OKS had 35 coal-fired power plants. So the expected demand would go higher in future, other factors remaining constant.
Recently, FERC decreased the tariff for the Viking Gas Transmission interstate natural gas pipeline, effective January 1, 2014. Following the new rate, long-term transportation rates are approximately 2% lower than the previous rates. Viking serves gas distribution companies in Minnesota, North Dakota, and Wisconsin.
ONEOK Partners, L.P. (OKS) is a master limited partnership operating in the midstream energy space. OKS is also part of Alerian MLP ETF (AMLP), MLP ETF (MLPA), and Global X MLP & Energy Infrastructure ETF (MLPX). OKS is also a component of Alerian MLP Index ETN (AMJ).