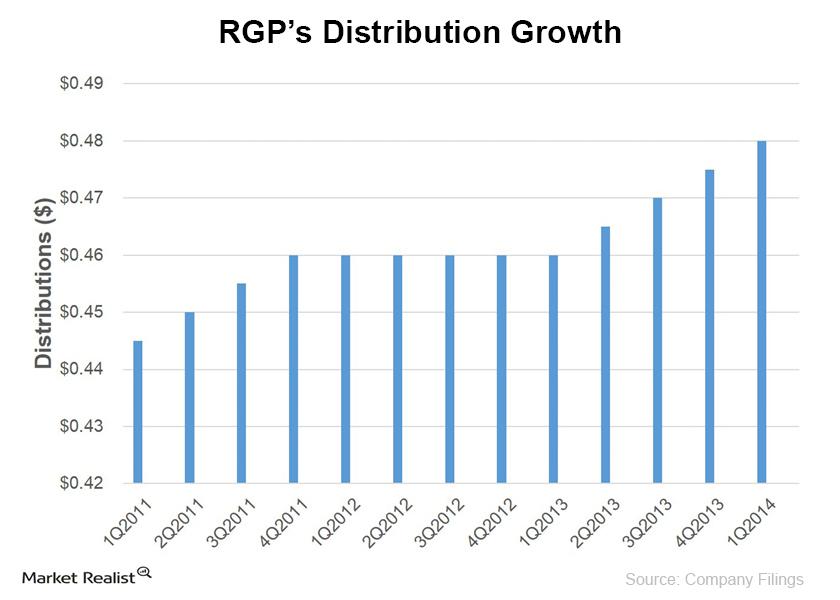 Growth oriented acquisitions: Good for RGP's distribution growth
By Keisha Bandz

Nov. 26 2019, Updated 2:29 p.m. ET
Regency Energy Partners
Regency Energy Partners LP (RGP) is a midstream operator of natural gas pipelines, gathering systems, and processing facilities. It is engaged in natural gas gathering and processing, compression and transportation of natural gas, crude oil, and natural gas liquids. Energy Transfer Equity (ETE) is the general partner of Regency Energy (RGP), and it also holds about ~9% of the limited partner units. ETE is a part of the First Trust North American Energy Infrastructure Fund (EMLP), while RGP is a constituent of the Alerian MLP ETF (AMLP).
On April 28, Regency announced a cash distribution of 48 cents or $0.48 per outstanding common unit for the first quarter ended March 31, 2014. This represents a 1% growth over the previous quarter and 4% growth year-over-year. The distribution will be paid on May 15, 2014.
Article continues below advertisement
Regency has been making smart acquisitions recently, which have been driving distribution growth. It recently acquired PVR Partners (PVR) for $5.6 billion, which boosted its operations in the Marcellus Shale, the Utica Shale in Ohio, and the Granite Wash fields in Texas and Oklahoma. This was closely followed by Regency announcing that it will be acquiring Eagle Rock Midstream Partner's (EROC) midstream business. Eagle rock has a strong presence in Texas. So, this acquisition will further boost RGP's gathering, processing, and transporting business in the Texas basins. The deal is yet to go through and is stated to close in the later part of 2014. Upon closing, the management expects the acquisition to be immediately accretive to cash flow. Regency also recently closed a $300 million deal with Hoover Energy Partners.
The fact that Regency has been making growth oriented acquisitions is a lis point, as this strategy has allowed it to diversify across major regions, resulting in stable and reliable cash flows, and in turn, maintain consistent distribution. So, RGP's expanding footprints across major basins have been the driving force behind its growth. The above distribution amounts to $1.92 on an annualized basis and represents a yield of 7%.
The 2014 outlook
In 2014, Regency expects growth to continue as its acquisitions come on-line and start contributing toward increased revenues. The management expects a 6-8% increase in distributions in 2014. One major acquisition Regency hopes to close is with Eagle Rock, which is largely considered to be a "win-win" for both the companies.
To know why Regency is an important deal for EROC, read Why Regency is an important deal for Eagle Rock Energy Partners. To keep up with its growth strategy, Regency is stated to invest approximately $540 million in growth capital expenditures this year.
The following part of the series discusses one more MLP, which announced distribution growth.