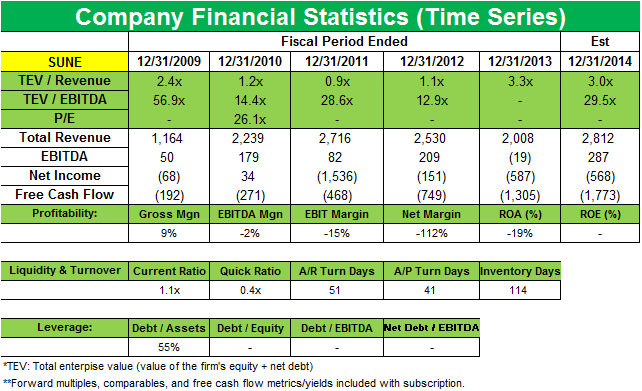 Why did Greenlight increase its position in SunEdison?
By Samantha Nielson

May. 22 2014, Updated 9:00 a.m. ET
Greenlight Capital invests further in SunEdison
David Einhorn's Greenlight Capital initiated new positions in Conn's Inc. (CONN), American Capital Agency Corporation (AGNC), National Oilwell Varco (NOV), and Lam Research Corporation (LRCX). Notable increased positions included SunEdison (SUNE) and General Motors (GM) was a top disposal.
Greenlight increased its position in SunEdison (SUNE) from 0.23% in 4Q 2013, to 3.34% of the fund's 1Q 2014 portfolio.
Article continues below advertisement
SunEdison is a major developer and seller of photovoltaic energy solutions and a global leader in the development, manufacture, and sale of silicon wafers to the semiconductor industry. Its solar business develops, finances, installs and operates distributed power plants, delivering predictably priced solar energy and services for its commercial, government, and utility customers.
According to Einhorn's 1Q 2014 investor letter that elaborated on the thesis, "The declining cost of solar energy combined with the rising cost of conventionally produced electricity should position SUNE as a winner. The company has built a large pipeline of attractive projects secured by credit-worthy buyers of electricity. Until recently, the good business was mixed in with two bad ones: manufacturing wafers for semiconductor companies, and assembling commodity solar modules for developers. Historically, the company's poor balance sheet forced it to sell many of its solar development projects at discounted prices to raise capital."
In December, the PV energy provider announced its plan to monetize certain of its solar generation assets by aggregating them under a dividend growth-oriented subsidiary SunEdison Yieldco and spinning it off via an IPO. SunEdison Yieldco is to own assets located in North America, as well as projects in the United Kingdom and Chile. The company expects to raise up to $300 million from the planned spin off in 2Q 2014. It recently announced its contribution and sale of a portfolio of projects to SunEdison YieldCo, and the capitalization was financed with a $250 million facility extended by Goldman Sachs.
Article continues below advertisement
SunEdison is also spinning off its semiconductor materials unit, SunEdison Semiconductor Limited (SSL), via an up-to-$250 million IPO. According to Bloomberg, the IPO is scheduled this week and SSL plans to offer 7.2 million common shares at a price of $13 to $15 per share. Sumsung Electronics will be investing in SSL's IPO via a private placement of shares. Samsung Fine Chemicals, a joint venture of Samsung and SunEdison, will purchase $100 million worth of SSL stock through the private placement. Samsung Electronics and SSL have entered into a long-term agreement for Samsung Electronics to purchase semiconductor wafers from SSL.
Greenlight's investor letter further added,"The company has now exited the solar module assembly business and is in the process of monetizing its semiconductor wafer business through an IPO. Later this year, we expect the company will IPO a newly-created Yieldco, which will house its most attractive solar projects rather than selling them to third parties. NRG Yield Inc. is a comparable company that trades at 12x EBITDA and has a 3% dividend yield. Were Yieldco to trade at 9x EBITDA and a 5% dividend yield it would imply a value for the solar business of ~$34 per share. SUNE expects to run its development business close to breakeven in future periods. Adding in the value of the soon-to-be IPO'ed semiconductor business and subtracting a modest amount of corporate net debt would suggest a sum of the parts value for SUNE of ~$35 per share. Our average entry price is $15.55 and SUNE shares ended the quarter at $18.84."
Article continues below advertisement
SunEdison's 1Q 2014 results missed on estimates. Net loss increased to $613.6 million or $2.31 per share, from $89.4 million or $0.40 per share a year earlier because of a $25.0 million revenue recognized on the Tainergy contract amendment during the first quarter of 2013. Operating loss was lower sequentially, primarily due to higher solar project volume in the first quarter of 2014. It reported non-GAAP revenue of $577.6 million, a 34% increase from $431.3 million driven by higher solar project volume and higher sales of solar materials, but partially offset by lower average prices. The company's pipeline expanded by 323MW reaching 3.6GW, with 463MW of that in various stages of construction in the first quarter of this year.
Despite the lackluster results, SunEdison said for the second quarter, it expects to sell 60MW to 80MW at an ASP of $2.85 to $3.15 in its solar plants. It plans on retaining 100MW to 120MW during the quarter, and follow the strategy of holding additional projects on the balance sheet, creating significant value for the company. The management said, "We expect 2014 to be a strong year for solar project completions, based on our growing pipeline and our project construction plans over the next few quarters."