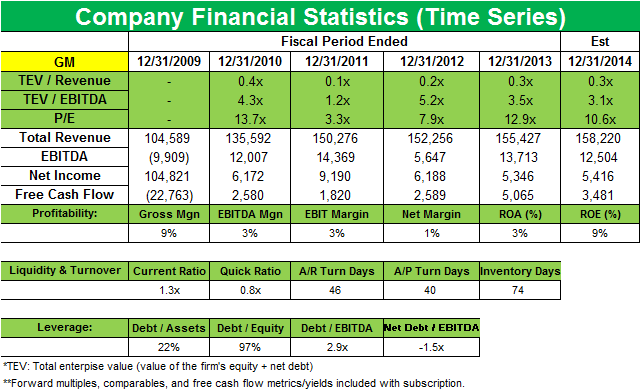 Why Greenlight decided to exit its position in General Motors
By Samantha Nielson

Nov. 20 2020, Updated 3:24 p.m. ET
Greenlight exits from General Motors
David Einhorn's Greenlight Capital initiated new positions in Conn's Inc. (CONN), American Capital Agency Corporation (AGNC), National Oilwell Varco (NOV), and Lam Research Corporation (LRCX). Notable increased positions included SunEdison (SUNE) and General Motors (GM) was a top disposal.
Greenlight disposed of its stake in General Motors (GM), which accounted for 9.55% of the fund's 4Q 2013 portfolio. The automaker was a hedge fund favorite in the fourth quarter of 2013 and saw Eton Park, JANA Partners, George Soros, Bronson Point Management, Third Point, Omega Advisors, and Hayman Capital initializing or increasing stakes.
Article continues below advertisement
General Motors Company (GM) designs, builds, and sells cars, crossovers, and trucks. It's the largest U.S.-based automobile manufacturer and the second largest automobile manufacturer globally. It operates via four automotive segments: GM North America (GMNA), GM Europe (GME), GM International Operations (GMIO), and GM South America (GMSA). Its total worldwide retail vehicle sales were 9.7 million for 2013.
According to Greenlight's investment thesis for the disposal outlined in its letter, "GM went through a successful product refresh cycle, pared losses in Europe, and bought back stock from the government. We expected 2014 to be an earnings break out, and exited early this year when earnings guidance revealed it would not be."
For 1Q 2014, the Detroit automaker missed on revenue estimates but beat the earnings. GM posted $37.4 billion in first quarter revenue, up 1.4% from the year-ago quarter. However, profits plunged 86% as the company was impacted by a $1.3 billion charge over a major product recall. Net income in the first quarter declined to $108 million or $0.06 a share, from $873 million or $0.58 a share in the year-earlier period. It also saw a $0.3 billion in restructuring costs.
Article continues below advertisement
The company has seen investigation by the U.S. safety regulators, Congress, SEC ,and the Department of Justice over a massive recall of 7 million vehicles worldwide mainly because of faulty ignition switches that have been linked to at least 13 deaths. GM said in its SEC filing that approximately 2.6 million vehicles were recalled to repair ignition switches that could result in a loss of electrical power under certain circumstances, preventing front airbags from deploying in the event of a crash, and to fix ignition lock cylinders that may allow removal of the ignition key while the engine is running, leading to possible rollaway or crash. It recently recalled more than 50,000 luxury SUVs to fix a faulty software error that can lead to an "inaccurate fuel gauge," Reuters noted. The automaker will also pay a $35 million fine as part of an agreement with the National Highway Traffic Safety Administration (NHTSA).
In 1Q 2014, GMNA retail vehicle sales decreased by 2% compared to the year-ago sales figure. Combined Chevrolet, Buick, and Cadillac passenger car sales increased 2%. Truck sales, which include pickups, vans and large SUVs, decreased 5%. GM's losses in Europe widened to $284 million from $152 million in the year ago period on restructuring expenses but said it is encouraged by the improving customer sentiment and economic growth in the United Kingdom and the Eurozone market. It said it expects to achieve breakeven results by mid-decade. The company noted its European operations continue to show signs of improvement underscored by its first Opel and Vauxhall market share increase in 14 years, in 2013. It also saw a Venezuela currency devaluation charge of $400 million. Its financial unit GM Financial saw revenues go up 103.2%, to $1.1 billion during the quarter.
Article continues below advertisement
GM noted that in April, its dealers delivered 254,076 vehicles in the United States, and total sales were up 7% compared with the year ago period. It noted, "Retail demand was steady in April, and truck sales and transaction prices were especially strong." Retail sales were up 8% and GM expects to increase its retail market share from March.
Although international operations revenues were down in 1Q 2014, the company said vehicle sales in China increased 6.3% on an annual basis last month to a record 278,263 units in April. The strong performance took GM's sales for the first four months of 2014 to a record 1,197,375 units, an increase of 11% on an annual basis, the release said. In 1Q 2014, GM estimated a market share of 15.2% in China and sold 919,000 vehicles, a 12.6% increase over the comparable period last year. GM said its global market share was 11.1% in 1Q 2014, which is down two-tenths of a point from a year ago.
GM forecasted a modest global industry growth in 2014 driven by the U.S., China, and Europe. Based on this outlook and the introduction of key vehicles globally, the company expects its total earnings, before interest and tax (EBIT) adjusted, to modestly improve and said it expects EBIT-adjusted margins will be similar to last year. Apart from new vehicle launches, GM announced plans to open four additional plants in China through 2015, enabling production of up to 5 million units annually.