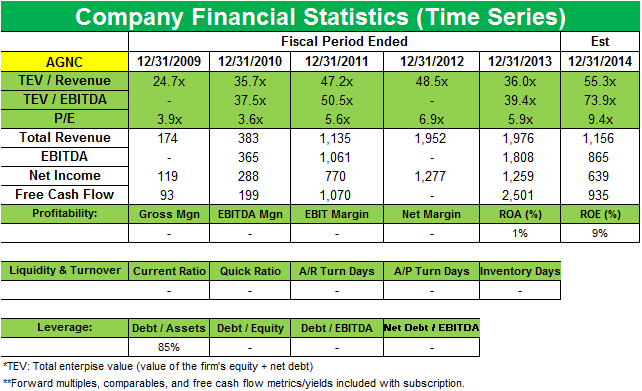 Greenlight opens a new position in REIT American Capital Agency
Greenlight invests in American Capital Agency Corporation
David Einhorn's Greenlight Capital initiated new positions in Conn's Inc. (CONN), American Capital Agency Corporation (AGNC), National Oilwell Varco (NOV), and Lam Research Corporation (LRCX). Notable increased positions included SunEdison (SUNE) and General Motors (GM) was a top disposal.
Greenlight disclosed a new position in American Capital Agency Corporation (AGNC). It accounts for 1.69% of the fund's 1Q 2014 portfolio.
Article continues below advertisement
AGNC is a real estate investment trust (REIT) that earns income primarily from investing on a leveraged basis in agency mortgage-backed securities. These investments consist of residential mortgage pass-through securities and collateralized mortgage obligations (CMOs) for which the principal and interest payments are guaranteed by government-sponsored enterprises or GSEs such as the Federal National Mortgage Association (Fannie Mae) and the Federal Home Loan Mortgage Corporation (Freddie Mac), or by a U.S. Government agency, such as the Government National Mortgage Association (Ginnie Mae).
Given the challenging market conditions and significant volatility throughout 2013, AGNC prioritized risk management over near-term earnings. It took steps to reduce leverage, increase hedge positions, and altered the composition of its asset portfolio. These actions reduced its exposure to rising rates and widening agency MBS spreads, but drove a decline in its net spread income per common share. The company's defensive positioning, coupled with the reduction in its net book value and taxable income, led it to lower its dividend. In light of the portfolio rebalancing actions taken during 2013, AGNC believes it is well positioned to respond to attractive investment opportunities as they arise in the current steeper yield curve, wider spread environment.
Article continues below advertisement
The REIT posted a loss of 0.41 per share for 1Q 2014, and a net interest income of $291 million, down 28.5% year-over-year. The favorable landscape for agency MBS led to AGNC's economic return for the quarter of 5.1%, or 20.5% on an annualized basis. As of March 31, 2014, the company's net book value per common share was $24.49, or $0.56 higher than the December 31, 2013, net book value per common share of $23.93, led by tighter mortgage spreads on the company's 15-year securities. Its investment portfolio totaled $70.5 billion of agency MBS, including $14.1 billion of net long TBA mortgage positions, at fair value. The company also held $352 million of investments in other agency mortgage REIT equity securities.
AGNC said in its quarterly filing that the first quarter of 2014 saw some stability return to the fixed income markets. After being one of the hardest hit sectors in 2013, fixed-rate agency MBS prices were generally higher over the first quarter largely due to lower long-term rates and lower levels of implied volatility (lower option prices). The yield curve flattened during the quarter as the market began to anticipate a shift in the Fed monetary policy toward a moderate pace of tightening, potentially beginning mid-2015. During the quarter, the Fed continued to taper its asset purchase program at a pace of $10 billion per meeting, spread equally between agency MBS and the U.S. Treasury instruments. A continued decline in new mortgage origination volumes more than offset the reduced Fed purchases and generally supported mortgage performance despite significant selling on the part of fixed-income money managers.
The management noted that it remains optimistic about the outlook for the agency MBS market, as low origination volumes and conservative MBS positioning should compensate for the continued tapering of the Fed's agency MBS and U.S. Treasury purchases. They added that April had been a very good month for agency MBS providing a solid 'tailwind' for economic returns so far, during the second quarter.
For 1Q 2014, AGNC declared common dividends of $0.65 per share. Since its May 2008 initial public offering, the company has paid a total of $4.4 billion in common dividends, or $28.26 per common share. It also announced a Series A Preferred Stock dividends of $0.50 per preferred share. It also had $1 billion remaining available under board authorization for share buyback through December 31, 2014.