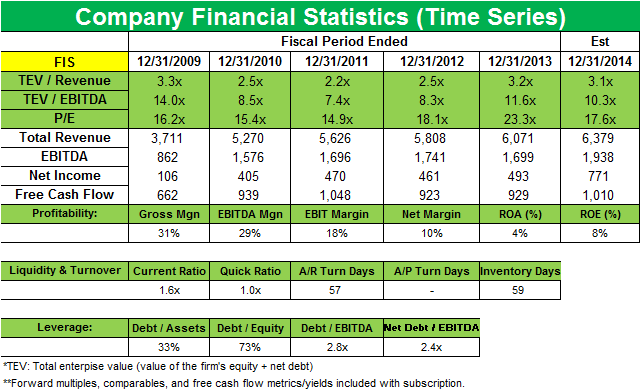 Cantillon ups its stake in Fidelity National Information Services
By Samantha Nielson

Aug. 18 2020, Updated 5:23 a.m. ET
Cantillon Capital and Fidelity National Information Services
William von Mueffling's Cantillon Capital Management's saw one new position in its 1Q 2014 portfolio, in Sirona Dental Systems Inc. (SIRO), but no stake sales. Existing position increases included Fidelity National Information Services (FIS), W.W. Grainger Inc. (GWW), and Ambev SA-ADR (ABEV). Stake reductions included The Coca-Cola Co. (KO) and Waters Corp. (WAT).
Cantillon increased its position in Fidelity National Information Services Inc. (FIS), which now accounts for 9.58% of its total portfolio in 1Q 2014 from 6.8% in the prior quarter.
Article continues below advertisement
Based in Jacksonville, Florida, Fidelity National Information Services Inc. (FIS) is a provider of banking and payments technologies, complemented by strategic consulting services, professional services, and outsourcing services. Through the Capco brand, the company globally delivers a wide range of information technology consulting and transformational services to financial institutions. The company reports its results via four segments: the Financial Solutions Group (FSG), Payment Solutions Group (PSG), International Solutions Group (ISG), and Corporate and Other. It primarily generates revenue from a combination of recurring technology and processing services, consulting and professional services and software license fees.
The company said it's benefiting from the trend of client migration to an outsourced model to improve its profitability. As a provider of outsourcing solutions, it benefits from multi-year recurring revenue streams, which help moderate the effects of year-to-year economic changes on its results. Its consulting services revenue grew at an increased pace in 2013, and it expects this trend to continue in 2014. It sees opportunity in the current demand for innovative solutions in the payments market that will deliver faster, more convenient payment solutions in mobile channels, Internet applications, and cards. It said the current market pressures in the financial services industry create an opportunity for its consulting and professional services. Many financial institutions are at an inflection point that demands that they transform their businesses to significantly reduce their cost base while also responding to the competitive pressures of innovation and to increased regulatory oversight with regard to information technology and related processes. Fidelity is currently investing in resources to pursue this market opportunity.
FIS posted first quarter GAAP revenue of $1.52 billion compared to $1.48 billion a year earlier, below estimates. GAAP net earnings from continuing operations increased to $155 million, or $0.53 per diluted share, compared to $148 million, or $0.50 per diluted share, in the same quarter the previous year. Despite challenging global economic conditions, FIS said its international business continued to experience growth, including in Latin America, Europe, and Asia. The majority of the company's European revenue is generated by clients in Germany, France, and the United Kingdom. Processing and services revenue increased to $1,520.30 due to increased demand for professional and consulting services, incremental revenues from 2013 acquisitions, and growth from international operations resulting from FIS's expanded presence across Europe, Latin America, and Asia.
FIS repurchased approximately 3.2 million common shares at a total cost of around $175 million and paid shareholder dividends of $70 million in the first quarter 2014, compared to $100 million and $65 million, respectively, in the same quarter the previous year.
For 2014, FIS expects organic revenue growth of 4.5% to 6.5% and EPS from continuing operations of $3.05 to $3.16.