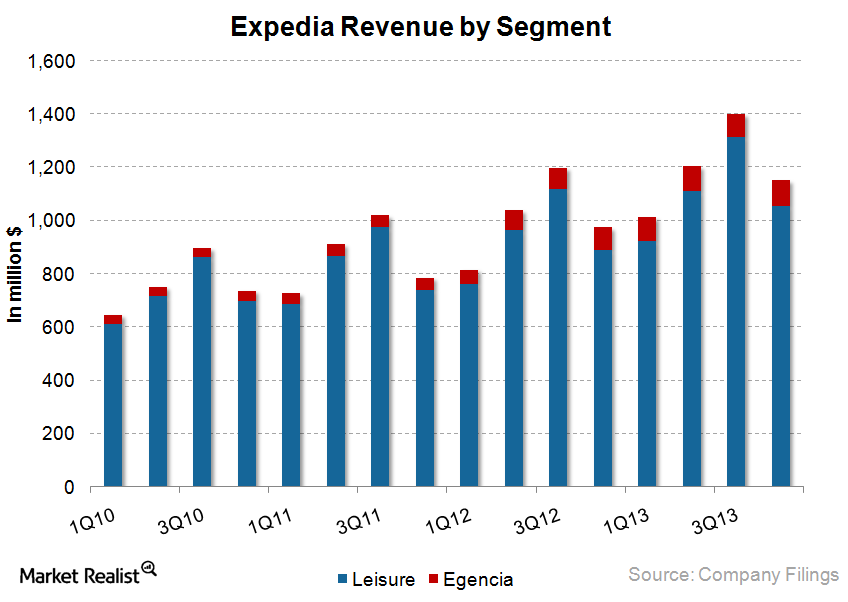 Why Expedia saw revenue from hotel bookings and advertising rise
By Samantha Nielson

May. 8 2014, Updated 9:36 a.m. ET
Expedia sees revenue increase
Expedia (EXPE) reported better than expected results for the fourth quarter of 2013. Revenue was up 18% year-over-year to $1.152 billion due to growth in hotel room nights and advertising and media revenue. Gross bookings increased 21% (excluding foreign exchange) primarily driven by room night growth at its majority-owned, China-based eLong (LONG), Brand Expedia, and Hotels.com. Increase in advertising and media revenue was primarily driven by metasearch website trivago. Revenue from hotel accounted for 71% of the total revenue in the fourth quarter of 2013, air accounted for 8%, and all other revenue sources, including advertising and media revenue, accounted for the remaining 21%.
Article continues below advertisement
In terms of reportable segments, revenue increased 18% year over year to $4.406 billion within the main Leisure segment driven by an increase in worldwide hotel revenue, as well as advertising and media revenue for 2013. The Egencia segment, which provides managed travel services to corporate customers and was boosted by the acquisition of VIA Travel, saw revenue increase 25% t0 $365 million. Adjusted EBITDA, which is the primary operating metric for Expedia, increased 31% year-over-year to $242 million as compared to fourth quarter 2012 driven by a combination of healthy top line growth and a leverage on fixed costs.
The scenario in the fourth quarter of 2013 was an improvement from last year when Expedia missed earnings estimates in the first two quarters and stock price plunged. In the first quarter of 2013, the company invested in new technology such as mobile applications, and its overall spending growth outpaced growth in sales. The management said the increased investment for mobile was to compete effectively with other OTAs such as Priceline (PCLN), TripAdvisor (TRIP), and Orbitz Worldwide (OWW). Moreover, revenue per room night decreased for both the first and second quarter primarily due to hotel product mix shift to Asia Pacific, where average daily rates (ADRs) and revenue per room night are much lower.
Article continues below advertisement
Morever, Expedia said in the second quarter of 2013 that growth at its opaque offerings website, Hotwire was below expectations driven by a combination of both rental cars and hotels. The management said the business was fairly weak and, "in an environment with rising occupancy and rising ADRs, we continue to see inventory pressure, so to speak, on the Hotwire front." Market Realist recently reported that Expedia's Hotwire.com faces competition from Priceline's Express Deals and Name Your Own Price opaque deals services. Read Why Priceline and Expedia clash over "opaque" hotel offerings for details.
For 2014, Expedia expects full-year adjusted EBITDA to grow in the range of 13% to 16%. It expects adjusted EBITDA to be down year-over-year in the first quarter, adding that a majority of the total adjusted EBITDA dollar growth is expected in the later part of the year. The management said Easter in April 2014, has pushed revenue and profitability into the second quarter. It also expects significant growth in selling and marketing expenses for both eLong and trivago in the first part of the year.
Analysts believe secular trends in the OTA space have been favoring stocks such as Priceline and Expedia. A Goldman Sachs analyst said last month, "macroeconomic trends in the U.S. and Europe and mobile and meta search are continuing to drive market share consolidation and long term margin improvement for the largest OTA's."