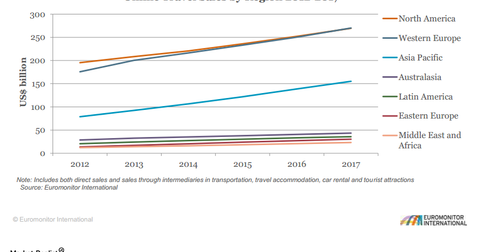 Why is Expedia focusing on growth in international markets?
By Samantha Nielson

Updated
Expanding internationally
Expedia has been investing to expand its international footprint via acquisitions such as VIA Travel, trivago, eLong (LONG), and joint ventures such as the one with Air Asia, as growth in its core U.S. market has slowed down. Domestic bookings increased 19% and international bookings increased 24%, totaling $4.1 billion, and accounted for 45% of worldwide bookings in 2013 versus 44% in the prior year. In terms of Asia Pacific, the management said on the second quarter earnings call, "we're going to continue to invest in that marketplace because we really do think that we are building a scale operation and securing possibly a leadership position in that marketplace."
Article continues below advertisement
China-based eLong (LONG), which is majority-owned by Expedia (EXPE), competes with local websites such as Ctrip International (CTRP) and Qunar (QUNR). IResearch said in 3Q13, Ctrip led OTA market share in China with 48.9%, followed by eLong and 17u. Bloomberg recently reported citing unconfirmed sources that Chinese search engine giant Baidu's (BIDU) Qunar unit is in talks for a merger with Ctrip.com International. The report added, citing IResearch, that China's online travel market transaction volume is expected to grow to 465 billion yuan ($75 billion) by 2017, with the middle class increasing spending on leisure and entertainment. PhoCusWright said the Chinese travel market grew 11% (9% in renminbi terms) to $96.2 billion in 2012. With double-digit gains through the forecast period, China will account for nearly a third of the regional travel market by 2015.
eLong said last year that it's shifting its focus from online bookings to mobile bookings for its hotel products and established an innovation fund of $100 million to promote mobile travel products and services. Its mobile hotel bookings comprised more than 30% of total hotel room nights stayed in the fourth quarter of 2013, compared to 25% in the third quarter. Cumulative downloads of eLong mobile apps now exceed 45 million. Expedia and its peer Priceline too have been investing in mobile applications to drive bookings. Read Why Priceline expects mobile bookings to catalyze growth for more information.
Article continues below advertisement
According to PhoCusWright's Asia Pacific Online Travel Overview Sixth Edition: Special Report for ITB Asia, in 2012, APAC overtook Europe to become the world's largest regional travel market. APAC travel gross bookings grew 7% to reach $326.2 billion in 2012, bypassing Europe's $319.6 billion. At 3.8%, Europe was the slowest growing region globally in 2012. In comparison, the U.S. travel market surged 8% to reach $303 billion. But the U.S. market is losing steam, and growth will hover around 5% through 2015, the report added. Assuming stable currency and macroeconomic conditions, the APAC travel market will expand 8% to $351.9 billion in 2013. The region will maintain its growth through 2015 to reach $407.3 billion in gross bookings, a 25% increase over 2012, the report estimated.
Market research company Euromonitor International said in a presentation titled Game-Changing Technology Key to Capturing the New Online Travel Consumer that global online travel market is far from mature in 2014, continuing its steady growth in all travel categories and in all regions, driven by emerging markets but also by healthy performances recorded in the advanced economies. North America was the leading region for online travel sales in 2013, but will record the lowest growth over the next five years, albeit at a still healthy 7% average annual rate. By 2017, Western Europe is forecasted to reach North America at the top of the ranking and Asia Pacific is expected to be the fastest growing region over the next five years in terms of online travel sales, which are set to double from $78 billion in 2012 to $155 billion in the region in 2017.