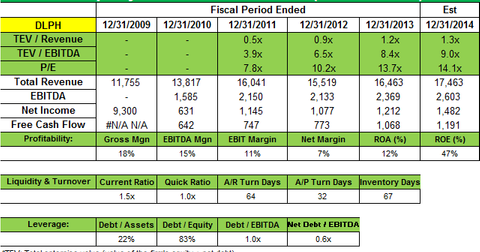 Singer's Elliott Management sells its Delphi Automotive shares
By Samantha Nielson

Nov. 20 2020, Updated 12:49 p.m. ET
Elliott Management and Time Warner
Paul Singer's Elliott Management added new positions in Boyd Gaming Corp. (BYD), SM Energy Co. (SM), and Hornbeck Offshore Services (HOS) and sold stakes in NetApp Inc. (NTAP) and Time Warner Inc. (TWX). A notable position reduction for the fund was Delphi Automotive (DLPH).
Elliott Management trimmed its position in Delphi Automotive PLC (DLPH) in 1Q 2014. The position accounted for 6.66% of the fund's 4Q 2013 portfolio and currently stands at 0.36% of the 1Q 2014 portfolio. A consortium of lenders led by Elliott Management and partner Silver Point Capital took control of Delphi, which was a former division of General Motors (GM), after it came out off bankruptcy protection in October 2009. Elliot and Silver Point's 18% stake in Delphi was worth $640 million in 2009 but more than doubled in value to $1.54 billion within a year.
Article continues below advertisement
Delphi is a global vehicle components manufacturer that provides electrical and electronic, powertrain, active safety, and thermal technology solutions to the global automotive and commercial vehicle markets. It's one of the largest vehicle component manufacturers, and its customers include all 25 of the largest automotive original equipment manufacturers (OEMs) in the world. In line with the growth in emerging markets, Delphi has been increasing its focus on these markets, particularly China, where it has a major manufacturing base, including investments in four new manufacturing facilities in 2012 and 2013, and strong customer relationships. It generated approximately $2.7 billion in revenue from China in 2013.
Delphi faces a lawsuit with GM over a vehicle recall
Delphi is currently in the news, as it manufactured the defective ignition switches that are connected to General Motors' massive recall of around 2.6 million vehicles. Both companies have been facing lawsuits over the recall as the faulty ignition switches have been linked to at least 13 deaths. A Reuters report in March said Delphi informed U.S. congressional investigators that GM approved the faulty switch design in 2002 although it didn't meet GM specifications. GM, which is Delphi's largest customer, attributed around 17% of its net sales, per Delphi's annual report cited by newswires.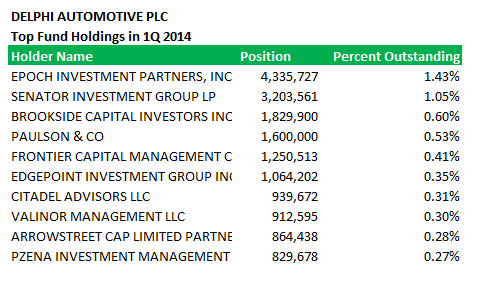 Delphi's revenue growth is driven by Asia and U.S.
Article continues below advertisement
Delphi reported 1Q 2014 earnings and revenue that beat expectations. Revenue of $4.3 billion was up 6% reflecting continued strong growth in Asia and North America. Delphi reported first quarter U.S. GAAP net income of $320 million and earnings of $1.04 per diluted share, up 16% from $276 million and $0.88 per diluted share in the prior year period. The company saw revenue growth of 12% in Asia, 8% in North America, and 2% in Europe, partially offset by declines of 9% in South America. The auto parts manufacturer said its Europe sales continue to be impacted by persisting economic uncertainties in the region that have resulted in tepid growth in OEM production. The company said in its 10Q filing, "Our overall lean cost structure, along with improving sales in North America as the U.S. economy continues to strengthen, and above-market sales growth in the Asia Pacific region, specifically China, enabled us to maintain strong gross margins consistent with the prior year period."
Delphi revised its outlook and expects 2014 adjusted earnings between $4.80 and $5.00, an increase from its earlier forecast of between $4.70 and $4.95 a share.
Delphi continues to drive shareholder value
In 1Q 2014, Delphi repurchased 2.38 million shares for approximately $157 million under its existing $750 million share repurchase program, leaving approximately $33 million available for future share repurchases under this program. Its board has authorized a new $1 billion share repurchase program, which will commence following the completion of the existing program. In January, the board approved an increase in the annual dividend rate from $0.68 to $1 per ordinary share and declared a quarterly cash dividend of $0.25 per ordinary share.
To learn more about the latest hedge fund positions, check out Market Realist's 13Fs for Hedge Fund Ownership page.