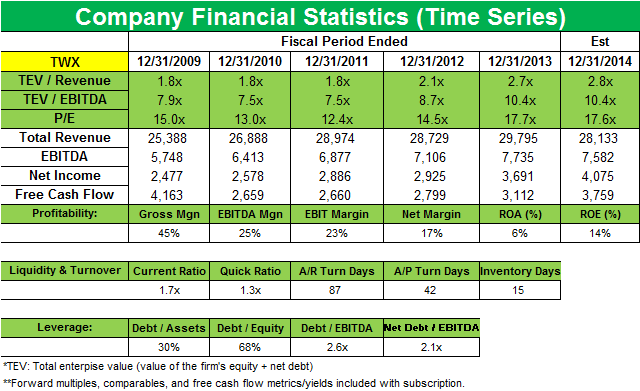 Paul Singer's Elliott Management sells its shares in Time Warner
By Samantha Nielson

Aug. 18 2020, Updated 6:35 a.m. ET
Elliott Management and Time Warner
Paul Singer's Elliott Management added new positions in Boyd Gaming Corp. (BYD), SM Energy Co. (SM), and Hornbeck Offshore Services (HOS) and sold stakes in NetApp Inc. (NTAP) and Time Warner Inc. (TWX). A notable position reduction for the fund was Delphi Automotive (DLPH).
Elliott Management sold its position in Time Warner Inc. (TWX) in 1Q 2014. The position accounted for 1.17% of the fund's 4Q 2013 portfolio and was initiated in the same quarter.
Article continues below advertisement
Time Warner is a leading media and entertainment company whose major businesses encompass brands such as TNT, TBS, CNN, HBO, Cinemax, Warner Bros., New Line Cinema, People, Sports Illustrated, and Time. Time Warner classifies its operations into four reportable segments: Turner, Home Box Office, Warner Bros. and Time Inc.
Time Warner authorizes a spinoff of Time Inc.
Time Warner announced in March that its board has authorized management to proceed with plans for the complete legal and structural separation of the company's publishing unit Time Inc. from Time Warner. The spinoff is expected to be completed during the second quarter of 2014. On the distribution date of June 6, 2014, Time Warner shareholders will receive one share of Time Inc. common stock for every eight shares of Time Warner common stock.
As of March 31, 2014, Time Inc. published 23 magazines in print in the U.S., including People, Sports Illustrated, InStyle, and Time, and over 70 magazines outside the U.S. Time Inc. also operated over 45 websites that collectively have millions of average monthly unique visitors around the world. The segment saw declines in its print advertising and newsstand sales as a result of market conditions in the magazine publishing industry as well as the economic environment in the United States and internationally. Time initiated a significant restructuring plan in 1Q 2014 and said it expects additional headcount reductions and real estate consolidations.
Article continues below advertisement
As part of the spinoff, Time Inc. said it plans to raise an aggregate $1.4 billion of debt through an offering of unsecured senior notes and by entering into a secured term loan facility. It will use the expected net proceeds from this financing to fund the acquisition of Time Inc.'s UK publishing business, which is currently owned by a wholly owned subsidiary of Time Warner. The remaining net proceeds from this financing will be used to pay a special cash dividend to Time Warner Inc.
Time Warner's strong results are driven by The Lego Movie and HBO
Time Warner results beat estimates for 1Q 2014. Revenues, excluding Time Inc., increased 10% to $6.8 billion in the first quarter of 2014 due to growth at Warner Bros., Turner, and Home Box Office. Adjusted EPS excluding Time Inc. were $0.97 versus $0.77 for the same quarter the year before.
Turner revenues rose 5% to $2.6 billion, benefiting from growth of 7% in subscription revenues and 5% in advertising revenues. The increase in domestic networks advertising was mainly due to the 2014 NCAA Division I Men's Basketball Championship tournament, including the airing of additional games, and higher pricing. HBO revenue grew 9% to $1.3 billion due to higher domestic subscription rates and the consolidation of HBO Asia and HBO South Asia. HBO saw higher home video revenues, which benefited from sales of Game of Thrones: The Complete Third Season. Warner Bros. revenues increased 14% to $3.1 billion due to a stronger theatrical slate, led by The Lego Movie and 300: Rise of an Empire. Revenues also benefited from an increase in video game revenues, growth in initial telecast revenues, and higher international television licensing revenues. Time Inc. revenues increased 1% to $745 million due to the acquisition of Time Inc. Affluent Media Group (formerly American Express Publishing Corporation). Excluding the impact of acquiring AMG, revenues would have decreased 5%.
Time Warner boosts shareholder value
In January 2014, Time Warner's board authorized a total of $5 billion in share repurchases. It said it returned almost $1.3 billion to shareholders in the form of share buybacks and dividends in 1Q 2014. Time Warner also announced a $2 billion debt offering this month and said the net proceeds from the issuance of the notes and debentures will be used for general corporate purposes, including share repurchases. It declared a $0.3175 per share quarterly dividend last month.