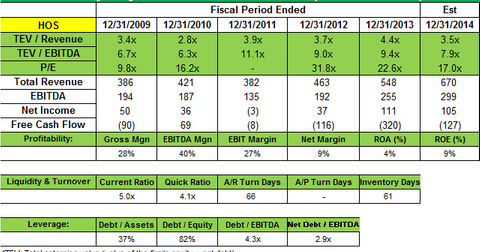 Elliott Management buys a new stake in Hornbeck Offshore Services
By Samantha Nielson

Updated
Elliott Management and Hornbeck Offshore Services
Paul Singer's Elliott Management added new positions in Boyd Gaming Corp. (BYD), SM Energy Co. (SM), and Hornbeck Offshore Services (HOS) and sold stakes in NetApp Inc. (NTAP) and Time Warner Inc. (TWX). A notable position reduction for the fund was Delphi Automotive (DLPH).
Elliott Management took a new position in Hornbeck Offshore Services (HOS) last quarter. The position accounts for 0.58% of the fund's $5.05 billion portfolio.
Article continues below advertisement
Hornbeck Offshore Services, Inc. is a leading provider of marine transportation services to exploration and production, oilfield service, offshore construction, and U.S. military customers. It owns and operates one of the youngest and largest fleets of U.S.-flagged, new-generation offshore supply vessels (or OSVs) and multipurpose supply vessels (or MPSVs). Since 2007, the company has expanded its new-generation fleet from 25 OSVs focused in the Gulf of Mexico (the GoM) to 55 OSVs and four MPSVs primarily operating in three core geographic markets: the GoM, Brazil, and Mexico. The company's new-generation OSVs and MPSVs have enhanced capabilities that allow the company to more effectively support the premium drilling equipment required for deep-well, deepwater, and ultra-deepwater drilling and to provide specialty services.
Hornbeck misses 1Q 2014 estimates
Despite revenue and earnings increases year-over-year, 1Q 2014 results missed estimates. Revenues were $136.6 million for the first quarter of 2014, an increase of $4.1 million, or 3.1%, from $132.5 million for the first quarter of 2013 but a decrease of $8.3 million, or 5.7%, from $144.9 million for the fourth quarter of 2013. Consolidated net income was $11.8 million, or $0.32 per diluted share, compared to net income of $6.2 million, or $0.17 per diluted share, for the same quarter last year. But net income was down sequentially from $22.2 million, or $0.61 per diluted share, for the fourth quarter of 2013.
Soft market conditions bring down dayrates and utilization 
Article continues below advertisement
Dayrates and utilization were also down. Average new-generation OSV dayrates for 1Q 2014 were $26,237 compared to $27,781 for 4Q 2013. New-generation OSV utilization was 75.3% compared to 86.7% for the same quarter the year before and 79.4% for the sequential quarter. Hornbeck said the year-over-year decrease in utilization is primarily due to 223 incremental vessel-days out-of-service for regulatory recertification during the first quarter of 2014 compared to the same period the year before, along with transitory softness for high-spec OSVs operating in the GoM spot market. The soft market conditions were primarily the result of delays in the commissioning and activation of incremental offshore drilling rigs coupled with the delivery of additional high-spec OSVs into the GoM. Hornbeck believes the number of offshore drilling rigs forecasted to become active in the GoM during the remainder of 2014 will reduce this temporary oversupply of OSVs.
Hornbeck said in its 10Q filing that two of the principal threats facing the upstream market in the GoM are the ability of operators and drilling contractors to comply with the new regulatory requirements and general economic conditions. As of April 30, 2014, there were 66 high-spec, Jones Act–qualified vessels under construction in U.S. shipyards that will deliver through 2016. Seventeen of these vessels are being constructed by Hornbeck. "The level and timing of fleet additions, if not commensurate with the level and timing of additional drilling units, have had and we expect will continue to have at least through mid-year, a negative impact on utilization and dayrates in the GoM," the company noted in its filing. Effective, or utilization-adjusted, new-generation OSV dayrates are expected to be in the $23,000-to-$24,000 range for full-year 2014.
Hornbeck is bullish on future prospects—especially in Mexico
Article continues below advertisement
Management said on its 1Q earnings call that it has "good evidence" that the "worst of these market conditions is behind us." There is an overall improvement in the average active rig count in the Gulf of Mexico and "rig pricing has recently softened." The decline in prices might lead to demand from new as well as existing rig customers who want to take advantage of better pricing and renewed expiring contracts.
Hornbeck expects additional opportunities in Mexico, where its primary customer is the state-owned oil company PEMEX. With allegations of fraud made against Oceanografia, the largest provider of offshore vessel services to PEMEX and one of Hornbeck's principal Mexican competitors, the company anticipates there will be additional opportunities for its vessels to provide offshore services to PEMEX. In December 2013, Mexican Congress voted in favor of allowing the government to grant contracts and licenses for exploration and extraction of oil and gas to multinational firms, which had been prohibited under Mexico's constitution for several decades. In the first quarter of 2014, PEMEX was required to submit proposals for existing holdings it believes it has the capability to develop. These projects, which could include joint ventures, are expected to provide additional demand drivers in Mexico.
Article continues below advertisement
In Brazil, where Petrobras is Hornbeck's single largest customer, the company said current high operating costs as well as regulatory complexity and bureaucratic inefficiency are impacting its ability to generate operating margins in Brazil. Hornbeck's long-term view in Brazil is that its preeminence as a deepwater drilling region will offer significant opportunities, particularly as its newbuild vessels are delivered. Those vessels will have the large capacities necessary for remote and ultra-deepwater drilling regions, such as the pre-salt Brazilian market.
Wunderlich Securities recently commented, "After a period of weakness in the US Gulf of Mexico offshore support vessel market we believe the region is poised to improve in 2H14 as new rig deliveries drive demand that will absorb excess capacity. Our estimates remain cautious but we believe that in 2015 the company should begin generating $9+ in free cash flow per share."