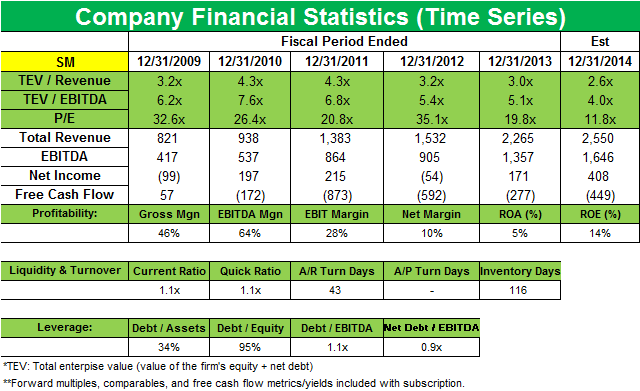 Paul Singer's Elliott Management adds a new position in SM Energy
By Samantha Nielson

Nov. 20 2020, Updated 11:14 a.m. ET
Elliott Management and SM Energy
Paul Singer's Elliott Management added new positions in Boyd Gaming Corp. (BYD), SM Energy Co. (SM), and Hornbeck Offshore Services (HOS) and sold stakes in NetApp Inc. (NTAP) and Time Warner Inc. (TWX). A notable position reduction for the fund was Delphi Automotive (DLPH).
Elliott Management took a new position in SM Energy Co. (SM) last quarter. The position accounts for 0.67% of the fund's $5.05 billion portfolio.
Article continues below advertisement
SM Energy is an independent energy company engaged in the acquisition, exploration, development, and production of oil, gas, and NGLs in onshore North America. Its assets include leading positions in the Eagle Ford shale and Bakken and Three Forks resource plays, oil-focused plays in the Permian Basin, and positions in emerging plays in East Texas and the Powder River Basin in Wyoming. Its portfolio comprises onshore properties with established production and reserves, prospective drilling opportunities, and unconventional resource prospects.
Why shares plunged following 4Q results in February
Shares fell 17% in February, as the company missed earnings and cash flow estimates in its fourth-quarter results. SM Energy's average daily production of 144 MBOE/d for the fourth quarter of 2013 was above the midpoint of the company's guidance range of 139 to 146 MBOE/d. Production growth was driven by strong results in the company's operated Eagle Ford shale and Bakken and Three Forks programs. Production grew 4% sequentially in the fourth quarter of 2013 over the preceding quarter and 31% over the fourth quarter of 2012. Management said on the earnings call, "Our actual oil rate was down slightly quarter-over-quarter due to the fact that most of our Eagle Ford completions during the fourth quarter were in southern lower oil yield areas than in the third quarter."
Article continues below advertisement
SM Energy also saw analyst downgrades in February, and a Keyblanc analyst noted, "The Company's Eagle Ford estimated ultimate recovery or EURs were largely revised lower despite incorporating longer lateral lengths, which increased the average well cost, while the EUR oil mix generally declined across its acreage."
Recent 1Q results beat estimates
However, 1Q results beat earnings and revenue estimates. SM Energy posted net income for the first quarter of 2014 of $65.6 million, or $0.96 per diluted share. Total operating revenues for the first quarter of 2014 were $632.7 million compared to $484.2 million for the same period of 2013, a 31% increase. SM's reported average daily production decreased by 4% from production of 143.8 MBOE per day in the fourth quarter of 2013 due to the sale of Anadarko Basin properties at the end of 2013. The company's operated net production in the Eagle Ford shale averaged 76.3 MBOE per day in the first quarter of 2014, a 2% sequential increase from the prior quarter.
The company said it has another emerging new venture play in the Powder River Basin in Wyoming. During the first quarter of 2014, SM added a second drilling rig in the basin and expects to move to three rigs by the end of the second quarter to accelerate the delineation of the Powder River Basin play area. It also forged agreements to acquire acreage in the Powder River Basin for approximately $100.0 million plus approximately 7,000 net acres.
SM's future outlook on oil, gas, and NGL pricing
Article continues below advertisement
SM said it has entered 2014 with a planned capital program of approximately $1.9 billion, of which approximately $1.7 billion will be focused on drilling and completion activities. It expects that approximately 85% of its drilling budget will be spent on the Eagle Ford shale, Bakken/Three Forks, and Permian shale programs.
SM noted in its 10Q filing that it expects future prices for oil, gas, and NGLs to be volatile. In addition to supply and demand fundamentals, as a global commodity, the price of oil will continue to be impacted by real or perceived geopolitical risks in oil producing regions of the world, particularly the Middle East. The relative strength of the U.S. dollar compared to other currencies could affect the price of oil. The supply of NGLs in the United States is expected to continue to grow in the near term as a result of the number of industry participants targeting projects that produce these products. Gas prices have been under sustained downward pressure due to high levels of supply in recent years, although cold weather during recent winter months provided a near-term increase in pricing. Longer-term, the company thinks there remains a large amount of productive supply—particularly in the Northeast United States, which it anticipates will exert downward pressure on natural gas pricing.
For more on current oil and gas prices, please see Market Realist's Why oil and natural gas traded in opposite directions.
Moody's recently upgraded SM Energy's rating, "supported by the company's production and proved developed (PD) reserve scale, balanced exposure between natural gas and liquids production with a growing emphasis on liquids, and a relatively low cost structure that yields cash margins and returns competitive with similarly rated peers. "