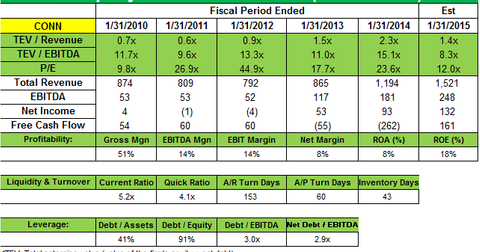 Why did Greenlight Capital initiate a position in Conn's?
By Samantha Nielson

Updated
Greenlight Capital initiated a new position in Conn's Inc.
David Einhorn's Greenlight Capital initiated new positions in Conn's Inc. (CONN), American Capital Agency Corporation (AGNC), National Oilwell Varco (NOV), and Lam Research Corporation (LRCX). Notable increased positions included SunEdison (SUNE) and General Motors (GM) was a top disposal.
Greenlight disclosed a new position in Conn's Inc. (CONN), which accounts for 1.92% of the fund's 1Q 2014 portfolio.
Article continues below advertisement
Conn's is a leading specialty retailer that offers a broad selection of quality, branded durable consumer goods and related services, plus, a proprietary credit solution for its core credit constrained consumers. It also has a credit segment dedicated to providing short and medium-term financing for its customers. For the year ended January 31, 2014, Conn's generated 28.6% of total product sales from the sale of home appliances, and 26.0% from the sale of furniture and mattresses. With 58 of Conn's 79 stores in Texas, it believes it continues to benefit from strong demographic trends, as Texas was the second largest state by nominal GDP in 2013, according to the Bureau of Economic Analysis. For 2014, Conn's financed approximately 77.3% of its retail sales, including down payments, under its in-house financing program.
On the investment thesis, Greenlight said, "In February, the company announced 33% comparable store sales growth in Q4 with strong gross margins. However, it also announced increased credit losses and reduced earnings guidance from a range of $3.80-$4.00 to a range of $3.40-$3.70 for calendar 2014. Given the market's past experience with deterioration in subprime credit, the stock reaction was severe: The price fell from $79 at the start of the year to $32 on the news. We believe that this is a retailer with 15% to 20% unit growth and current double digit comparable store sales growth, and that the market overreacted to moderately bad news. We acquired shares at an average price of $35.49 and they ended the quarter at $38.85."
Article continues below advertisement
Conn's shares plunged in February after the company cut its profit forecast due to impact of increased provision for bad debt because of higher-than-expected accounts receivable charge-offs. The customer portfolio balance was $1,068.3 million at January 31, 2014, increasing $326.7 million from a year ago. Provision for bad debts rose year-over-year due to a 50% expansion in receivable originations together with higher than anticipated charge-offs and delinquency rates in December and January. The percentage of the customer portfolio balance greater than 60 days delinquent was 8.8% as of January 31, 2014, compared to 7.1% a year ago and 8.5% as of October 31, 2013.
The fiscal 2015 earnings guidance also saw impact from lower expected sales increases, especially in the electronics category. The management noted, "Sustained below-normal temperatures and the related higher energy costs in some of our markets also temporarily impacted our consumer's income available for debt service." It also saw a decline in vendor-supported promotion of televisions year-over-year.
Article continues below advertisement
For 4Q 2014, Conn's earnings and revenue missed market estimates. Consolidated revenues increased 44.3% to $361.1 million, while adjusted diluted earnings grew 37.0%, to $0.74 per share, from $0.54 per share. Same store sales grew 33.4%, with the pace of expansion decelerating in January to 18.3%. Product margins expanded in all major product categories. Furniture and mattress gross margin expanded 360 basis points to 50.3%. Furniture and mattress sales contributed 26.2% of the total product sales. Full year 2014 revenues increased 38.0% to $1.19 billion, while same-store sales grew 26.5%. Consumer electronic sales decreased primarily due to previous store closures. On a same-store basis, sales decreased 3.3% with growth in home theater and audio sales offset by a reduction in television, gaming hardware, and accessory item sales.
Credit revenues increased 41.9%, to $59.1 million due to the increase in the average receivable portfolio balance outstanding. Provision for bad debts increased $25.4 million, to $38.1 million for the fourth quarter. The management said, "Credit portfolio performance improved since quarter end with delinquency declining. Modifications to underwriting standards implemented in the third quarter were providing benefits to delinquency in the current quarter."
The company expects fiscal year 2015 earnings guidance of $3.40 to $3.70 per diluted share. Same stores sales are expected to grow 5% to 10%. It expects Credit segment provision for bad debts of between 8.0% to 10.0% of the average portfolio balance outstanding, based on the above same-store sales and new store openings.