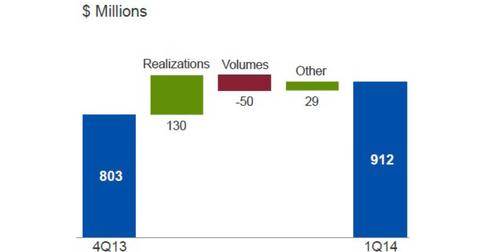 Why did Chevron miss its earnings estimates in 1Q 2014?
By Keisha Bandz

Updated
Chevron's earnings missed Wall Street consensus estimates 
Chevron's quarterly revenue for Q1 2014 was $49.03 billion. On a year-over-year basis, this represented a decline of 6.2%, and compared with the consensus estimate which was $53 billion, it was a miss of 7.5%. CVX's adjusted earnings amounted to $4.5 billion. On a year-over-year basis, this represented a decline of 26%, and on a quarter-over-quarter basis, it represented a decline of 8%. This is the ninth consecutive quarter, where Chevron has missed its estimates. The company reported $2.36 earnings per share (or EPS) for Q1 2014, down from previous year's $3.18 by ~26%, missing the $2.51 consensus estimate by $0.15.
Article continues below advertisement
This decline in earnings was expected thanks to the interim update that CVX had provided for its 1Q14 earnings on March 31, 2014. Chevron anticipated a decline in earnings, due to harsh weather conditions, exchange rate fluctuations, or unfavorable foreign exchange rates, asset impairment charges, and a fall in production from upstream and downstream segments. CVX had expected to report a negative foreign currency impact of $100 million for the quarter. For context, in 4Q13, Chevron reported a positive foreign currency impact of $200 million. The actual impact of the foreign exchange fluctuation was $225 million, way higher than what was expected. That negatively impacted upstream earnings.
On a segment-wise basis, the worldwide upstream segment's earnings declined by 27% year-over-year to $4.31 billion due to lower crude oil and natural gas production and price realization, along with higher exploration expenses. As per the company report, average sales price per barrel of crude oil and natural gas liquids was $99 in the latest quarter, down from $102 a year ago. According to the report, crude prices were affected by global economic factors. Plus, production fell by 2.3% year-over-year this quarter to 2.59 million barrels of oil equivalents per day. The report stated that current year's production was affected by harsh weather conditions especially in Kazakhstan. Exploration expenses and negative foreign exchange fluctuations were also major causes for the decline in production.
Article continues below advertisement
On a quarter-over quarter basis, the U.S. upstream earnings were up by $109 million. This was primarily due to higher realization on account of the rise in the U.S. natural gas prices. Higher realizations increased earnings by $130 million. However, the positives were offset by negatives like harsh weather conditions, exploration expenses, and negative foreign exchange fluctuation. Even the rising natural gas prices, which curbed the total decline to some extent, couldn't help CVX achieve increased earnings. So, declining production was largely the reason why Chevron missed its earnings estimates.
International Upstream segment earnings were also down by 29%, to $3.4 billion compared to the previous year and down by 15% compared to the previous quarter. The decrease was again due to lower crude oil production and realizations. Foreign exchange fluctuation was also responsible for the decline as negative foreign currency earnings of $355 million impacted the segment.
The earnings of the Downstream segment, which includes refining, marketing and chemical operations, were up 1.3% year-over-year to $710 million. This was due to higher refining margins and lower operating expenses. However, the company reported a decline in refinery input due to harsh weather and increased maintenance activities at multiple refineries. The U.S. refinery input declined 0.9% quarter-over-quarter to 863,000 barrels per day (BPD).
On a quarter-over-quarter basis, the U.S. Downstream results increased $157 million, this was largely because the chemicals segment's performance increased by $80 million in 1Q14 versus 4Q13. Plus, operating expenses (or opex) was $95 million lower quarter-over-quarter.
The International Downstream segment also fared well in this quarter. Its earnings were up 130%, to $288 million largely because of higher refinery margins and positive foreign exchange movements of $70 million.
So, both the U.S. and International Upstream segments' performances pulled down Chevron's overall earnings largely because of lower crude oil production and realizations.
Article continues below advertisement
Major oil companies like Chevron, ExxonMobil, etc., faced production challenges. During the first two months of the quarter, average oil and natural gas production in the U.S. fell 4.2% from the same period last year to 637,000 barrels of oil equivalent per day (BOE/D). Realized oil price in the U.S. declined 3.4% on a yearly basis, to $91.26 per barrel (bbl), whereas realized price for natural gas improved by 51.1% during the same period, to $4.7 per thousand cubic feet (MCF).
Note that Chevron is a part of the Energy Select Sector SPDR Fund (XLE), Vanguard Energy ETF (VDE), SPDR S&P Oil & Gas Exploration & Production ETF (XOP), and iShares U.S. Energy ETF (IYE).
Major capital projects
Despite the lower volumes, outlook for Chevron's production remains positive, thanks to its major growth projects that are stated to come online soon and boost production by 20% by 2017 (more on this in the following parts of the series). Another reason why investor outlook for Chevron's growth may be positive is because of the 7% increase in the quarterly dividend, to $1.07 per share, which was announced On April 30. Currently, CVX stock pays 8% dividend, resulting in a yield of 3.4%.
Capital expenditure 
Article continues below advertisement
Chevron is currently investing very large sums into capex projects to grow production, as the company expects to spend $40 billion in capex this year. Based upon current oil prices, the company is projected to outspend its operating cash flow. Chevron expects massive returns from these investments. However returns from investments are dependent on future oil and natural gas prices, as well as the volume of production generated from the capex projects. Also, to offset the massive cash needs required to finance these investments, Chevron is targeting roughly $10 billion in divestments for the period 2014-2016. Total debt for the quarter increased by $2.6 billion, to $23 billion.
Share repurchases
Chevron also has a stock repurchase program under which it repurchases its own stock from shareholders in exchange of cash, which are then either retired or available for re-issuance. As part of the stock repurchase program, Chevron repurchased $1,250 million worth of shares in the first quarter and expects to repurchase the same amount in the second quarter.
Stock performance
Investors were expecting the weak earnings posted by Chevron due to the interim report provided a month ago. Stock price movements remained flat. Post the earnings announcement on May 2, markets closed at $124.72, a decline of 0.17% from the previous day's price of $124.94.
To summarize, Chevron has been unable to grow production. Although the company has been increasing dividend every quarter, it's critical to Chevron that its investments start paying out.
To know more about CVX's major capital projects, read the next part of the series.