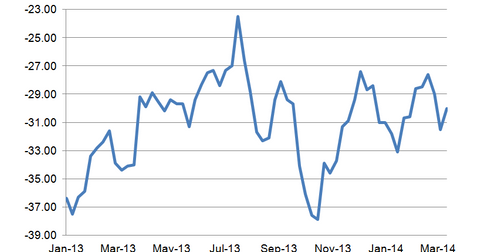 The Bloomberg CCI survey: Consumer comfort at a 9-month high
By Surbhi Jain

Updated
The Bloomberg Consumer Comfort Index
The Bloomberg Consumer Comfort Index (or the Bloomberg CCI), a weekly indicator produced by Langer Research Associates of New York, tracks the Americans' views on the condition of the U.S. economy, their personal finances, and the buying climate.
The index is based on a four-week moving average of 1,000 responses. The percentage of households with negative views on the economy, personal finances, and buying climate is subtracted from the share with positive outlooks and the difference is divided by three. The results can range from +100, indicating every participant in the survey had a positive response to all three components, to -100, signaling all views were negative.
The index level that came out on Thursday, April 24, rose to -25.4 for the week ended April 20, much stronger than the preceding weeks' reading of -29.1. This was the highest level that the index has reached since August last year, as consumers seem more comfortable in providing for their families.
Article continues below advertisement
Among the components of the index, personal finances jumped to the highest level since April 2008. There was also a good gain in the component that measures whether it is a good time to buy needed goods and services. Consumers' views on the state of the economy also rose from a -52.9 level to a -49.9 level, indicating that the percentage of participants that are positive about the economy, personal finances, and buying climate, has increased.
Investors' takeaway
Consumer spending drives two-thirds of the economy. This influences the stock and bond markets to a great extent. Consumer behavior in a way, drives economic growth. When not confident, the consumer will not be willing to spend, and this will eventually affect overall economic growth.
Stock investors prefer increase in consumer spending fueling economic growth, which translates to healthy corporate profits and higher stock prices. Fixed income investors like to keep a tab on economic growth, so that it doesn't lead to inflationary pressures dampening bond prices.
As far as the Bloomberg CCI is concerned, the index level and its components together give important clues to consumer behavior and an outlook for the direction of consumer spending. The more confident consumers are about the economy and their own personal finances, the more likely they are to spend. It is easy to see how this index of consumer attitudes gives insight to the direction of the economy.
The Consumer Discretionary Select Sector SPDR Fund (XLY), which includes companies like McDonald's Corporation (MCD), Amazon (AMZN), and Nike, Inc. (NKE) in its portfolio, and the SPDR S&P Retail ETF (XRT), are popular ETFs in the consumer discretionary equities ETFs category. Changes in consumer spending are also reflected in the performance of these ETFs.
Another important indicator tracking consumer sentiments is the Consumer Sentiment Index which was released on Friday, April 25. The next part of this series discusses how consumer sentiment has changed for the month of April.