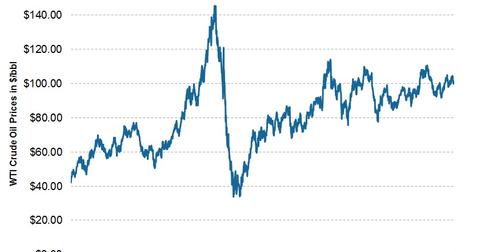 The Big 3 oilfield service companies expect more activity in 2014
By Ingrid Pan

Updated
Must-know commentary
The following is a summary of macro commentary offered by the Big Three oilfield service companies—Baker Hughes (BHI), Schlumberger (SLB), and Halliburton (HAL), which are significant components of the VanEck Vectors Oil Services ETF (OIH) and the Energy Select SPDR ETF (XLE).
Crude oil outlook
Worldwide demand for oil continues to grow, with "strong demand trends" from the OECD and Middle East. Meanwhile, supply growth from North America (driven by U.S. shale plays) is just enough to keep pace with demand growth, while other oil production growth regions (SLB noted Iraq, Brazil, and the Caspian) are "struggling" to meet production targets. The service companies expect oil to average roughly ~$100 per barrel through 2014, which supports continued growth in drilling activities and, ultimately, growing revenues for the oilfield services sector.
Natural gas outlook
Article continues below advertisement
On the U.S. natural gas front, inventories are far below the five-year average, which was driven by a much colder-than-average winter. BHI commented that getting storage levels back up to average before the winter heating season approaches in late 2014 would require inventories building up by 3 trillion cubic feet. This, in turn, would require natural gas injections into storage to "approach record levels every week between now and then."
Low natural gas inventories have supported prices through 1Q14. However, SLB expects that strong natural gas production through the rest of 2014, driven by the prolific Marcellus Shale, will create a more balanced supply and demand situation for natural gas. Higher natural gas prices could spur more natural gas–directed drilling, which would be positive for the service companies. Meanwhile, international natural gas markets are supported by Chinese demand, which continues to grow at "double-digit" rates.
Worldwide activity levels
Offshore activity in the Asia-Pacific region remains strong, with offshore rig counts up to their highest level since 2010, led by China, Malaysia, Vietnam, and Australia. Onshore activity in the Middle East is also strong, with record-high rig counts in Saudi Arabia in March.
In the U.S., activity in the Permian Basin has caused an inflection point and well counts are set to rise. Permian activity is also concentrated towards more technology-intensive operations, such as horizontal drilling, and longer laterals (well lengths) as well as increased adoption of new technologies.
Service intensity continues to increase worldwide, with companies drilling wells that are deeper and more complex. These trends are positive for oilfield service names.
Continue to the next part of this series to find out more about what drives oilfield services activity.